It had been ages since I was at a racetrack. I would occasionally go with my Dad and Grandfather when I was a kid. Santa Anita Park, in Arcadia, has always been one of my favorite tracks.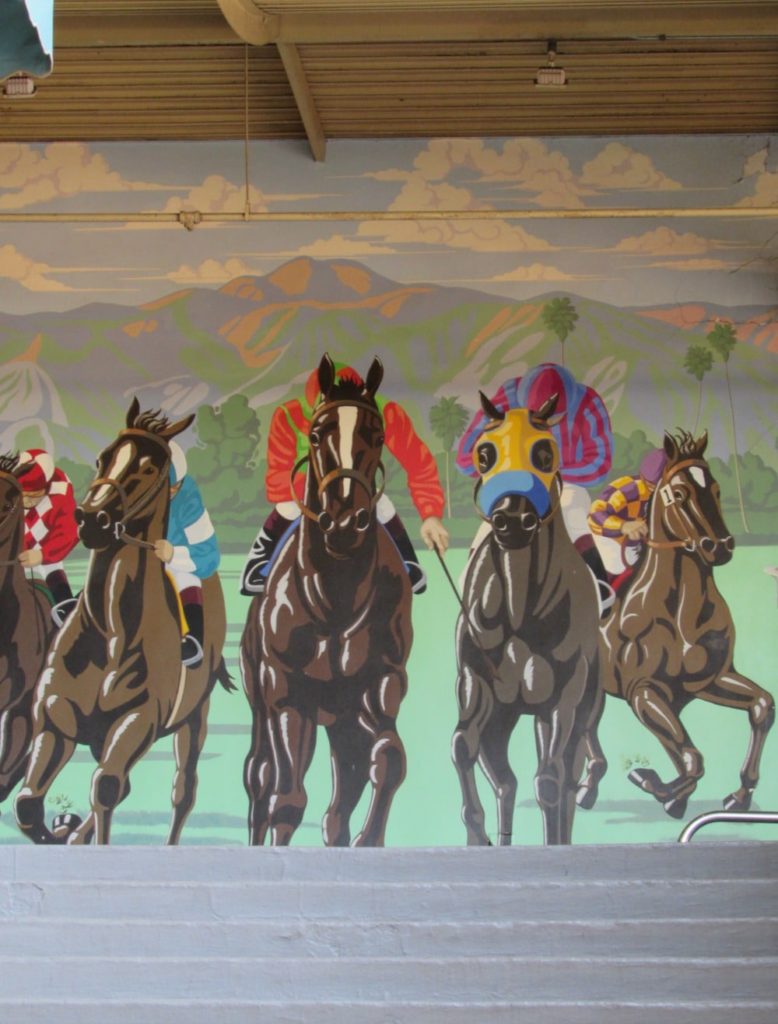 The FrontRunner Restaurant
I went to join up with a group celebrating a birthday at the FrontRunner Restaurant, which is a perfect spot to watch the horses run, enjoy cocktails, and food. If it's hot outside, as it often is in the summer, it's the coolest place to be.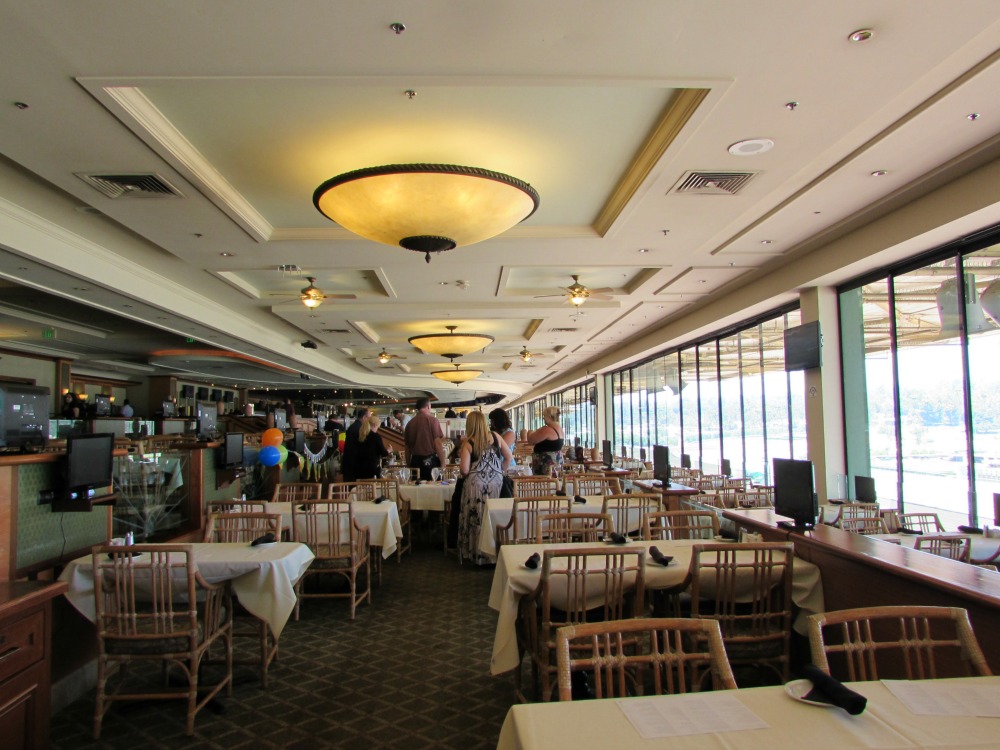 It's located on the 5th floor and features floor-to-ceiling windows that look out to the track. You get a panoramic view of the San Gabriel Mountains in the background.
The restaurant has a 215 ft bar which is the second-longest bar in the world.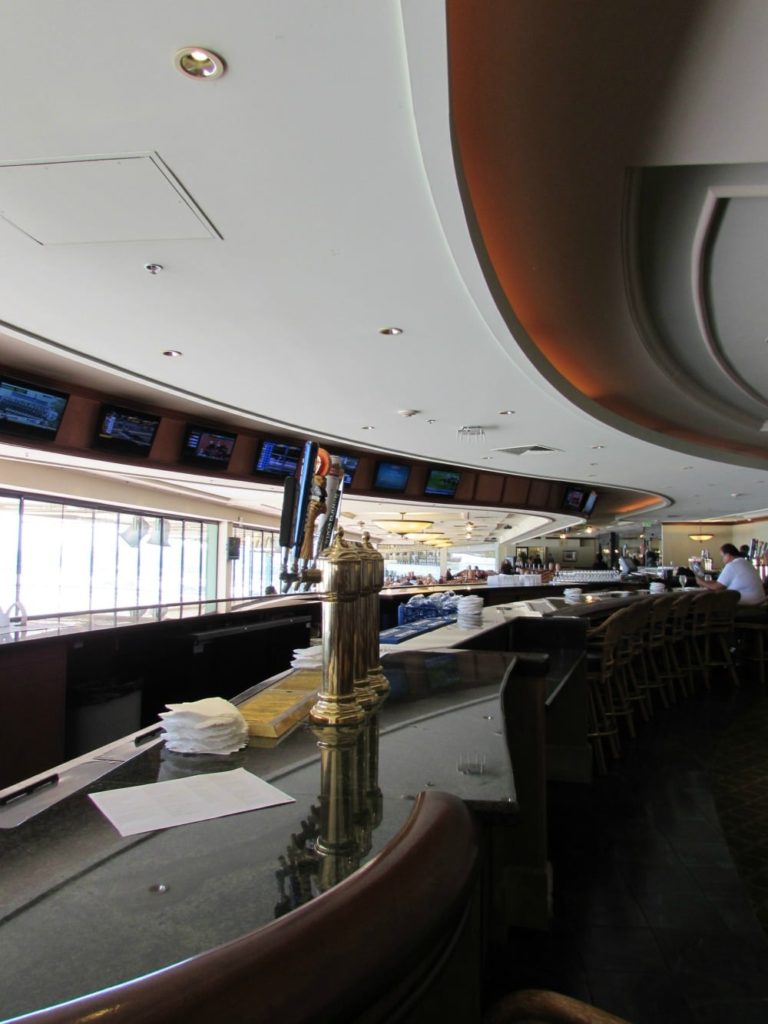 The FrontRunner is often used for conferences, private parties, and other events.
Order their Macho Mary
The Macho Mary is the Santa Anita version of a Bloody Mary and is one of their specialty drinks. The mix includes citrus and part of the reason it's so good is that they let it marinate for at least 24 hours. Believe me, it's good!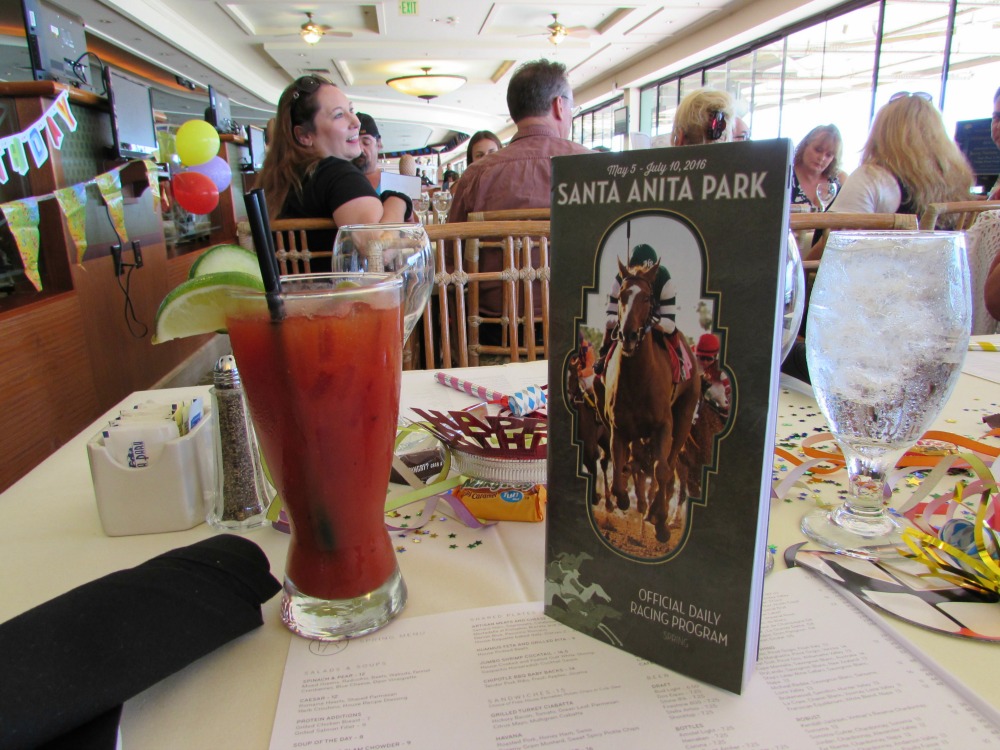 The history of Santa Anita Park
Movie studio owner and producer Hal Roach and Dr. Charles H. Strub, a San Francisco Dentist opened Santa Anita Park in 1934 after parimutuel gambling was made legal in 1933. It was designed in art deco-style by leading Los Angeles architect Gorden B Kaufmann. The track is located in Arcadia about 45 minutes from Downtown Los Angeles and east of Pasadena.
It was preceded by an earlier racetrack located nearby that was erected by Elias J."Lucky" Baldwin, in 1907.  He owned a great deal of property in Pasadena, Sierra Madre, and Arcadia at the time.
The Old Turf Club
When I was a kid, we used to watch the races at the old Turf Club which is still there and often used for parties and filming.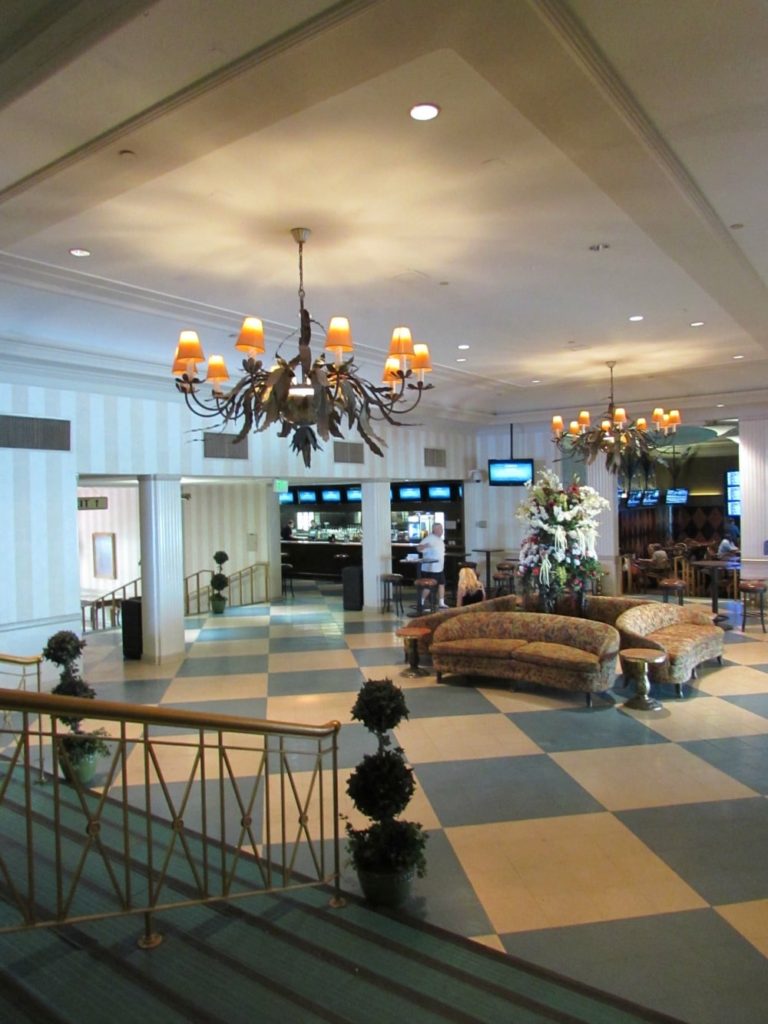 The most elite venue at Santa Anita Racetrack is The Silks (Turf Terrace) on levels 3 and 4. It offers a more formal and elegant sit-down dining experience.
The Chandelier Room which has been recently renovated is a private event space that has a private entrance and elevator. It holds up to 500 guests for receptions and 250 for seated dinners.
The races
One of my favorite things to do at the track, (because I'm clueless about betting) is to go down to the paddock to watch the horses getting ready to race. You can see them being fitted in an open stable at the front of the Park.
A few minutes before post time, the jockeys will parade them quickly around the grass paddock and head off to the gate. In the center of the grass is a statue of Sea Biscuit who raced at Santa Anita Park before going on to win the Triple Crown.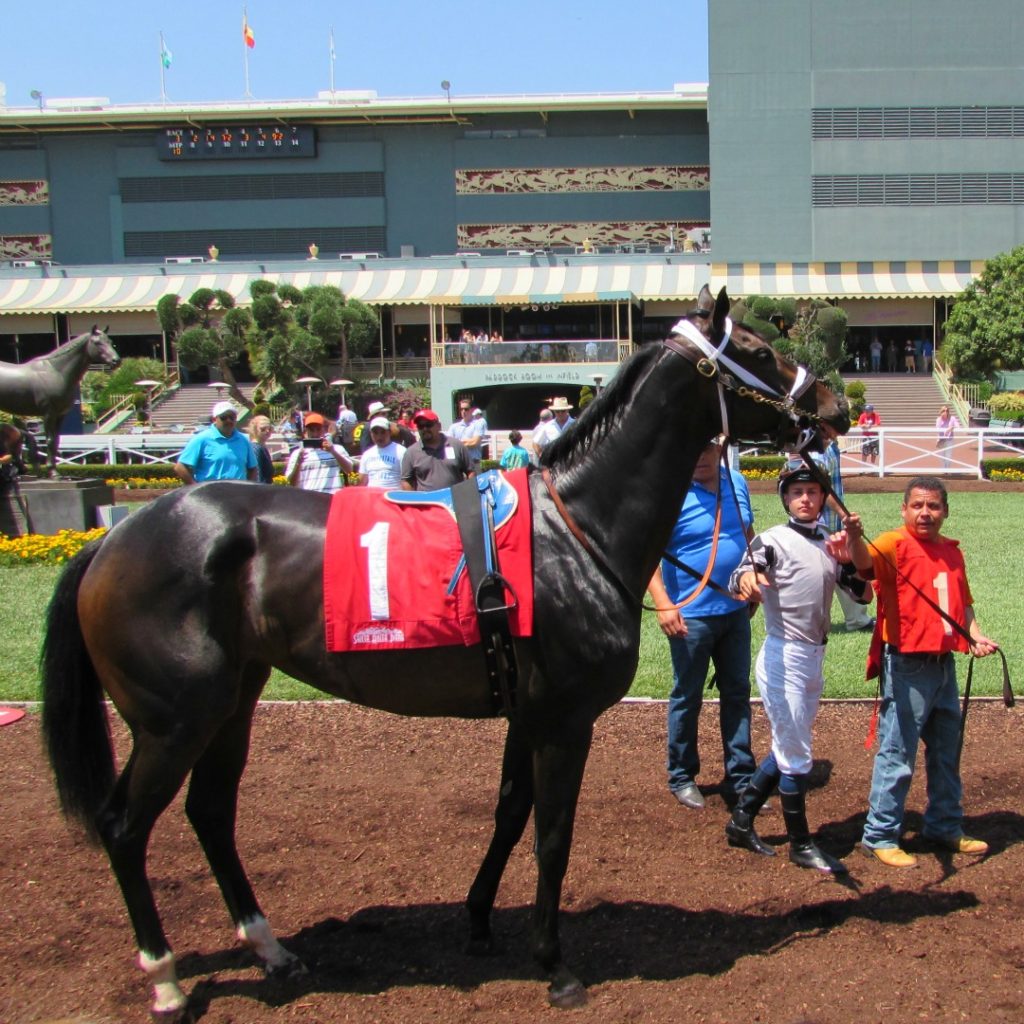 Gotta love those jockeys
I remember watching Bill Shoemaker and Liffit Pincay Jr race at Santa Anita Park. Today's jockeys still hang out near the stable in the jockey room until their horses are ready to ride.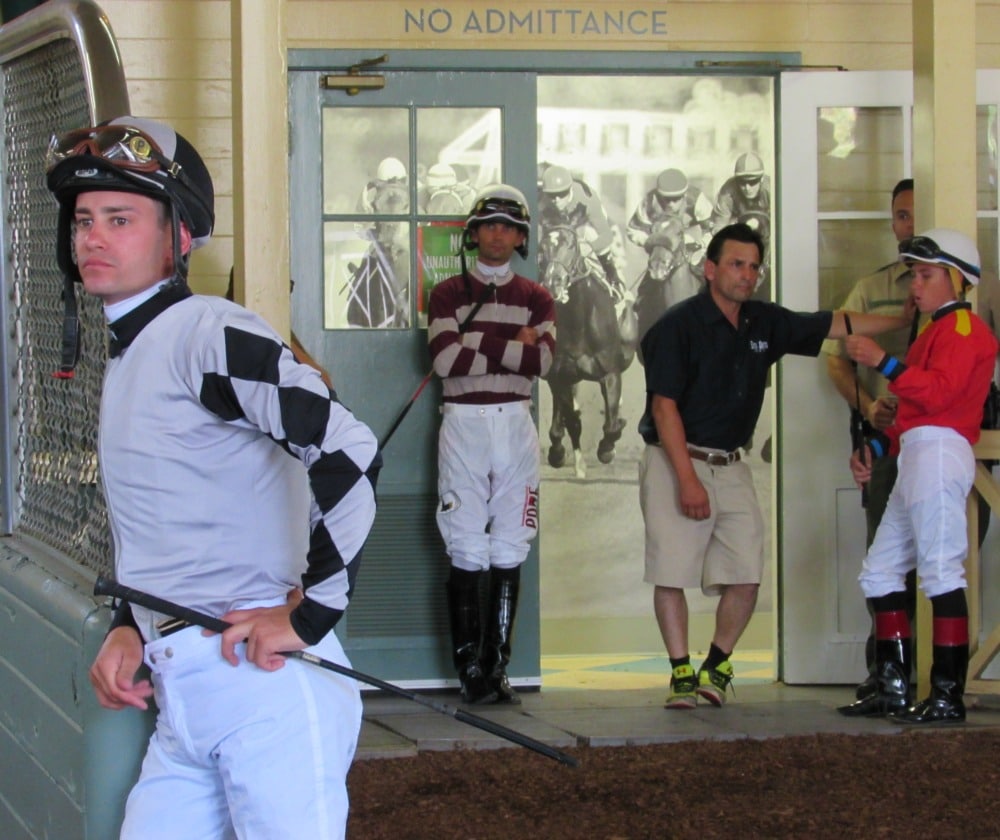 Women's intuition
My method of betting is to watch the horses walk the paddock and then try to guess who will be the winner based on their spirit. It isn't very methodical and rarely ever works but it's fun.
A man sitting with us at the Frontrunner told us about the time his mother got fed up with his dad because he teased her for going with her intuition rather than analyzing the stats. One horse had just taken a big dump on the paddock right before a race was about to start. She told her husband that it would win because it felt so much better now. The horse won and Bill's dad never teased his mother again.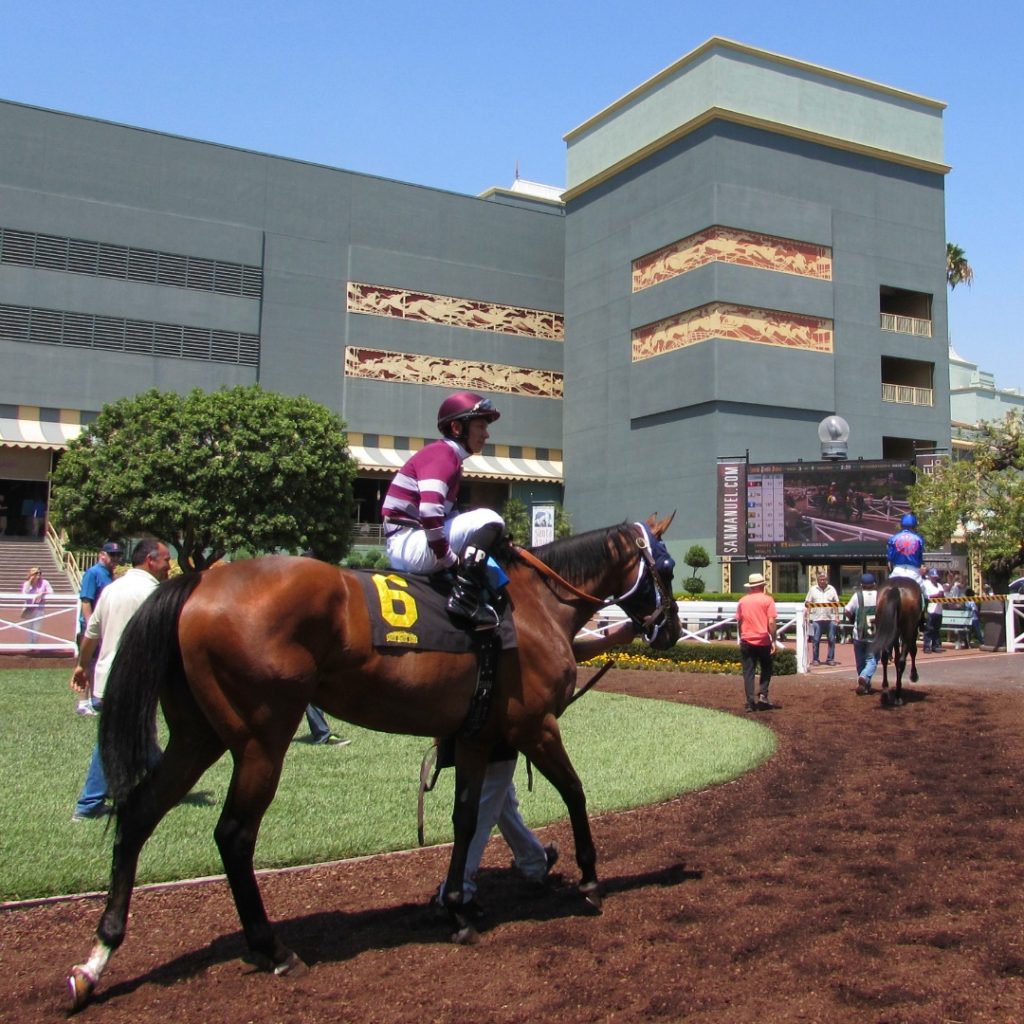 Thoroughbreds are stunningly majestic and magical to watch as they saunter in front of you. I know some people are opposed to horse racing, but as one of my friends mentioned, you can tell they love to race. Some have attitudes like "I'm the big enchilada. Watch me annihilate those other weenies."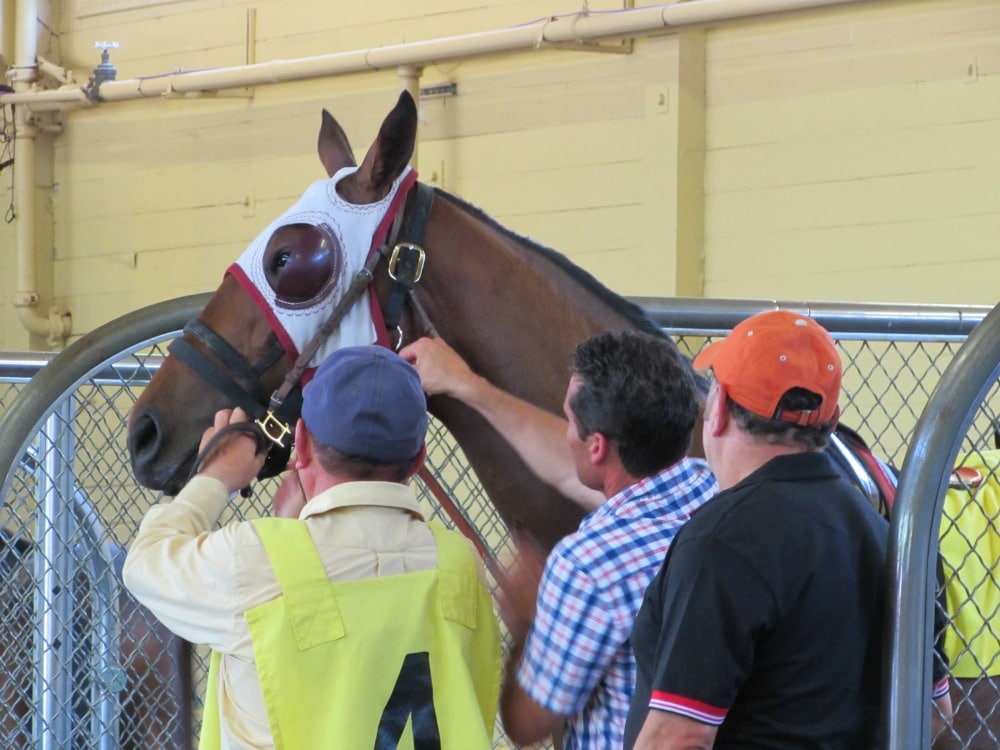 Because the FrontRunner Restaurant is on the 5th level, we only went down to the paddock once. It was more of an effort to go down than I remember as a kid and it was blazing hot outside. Instead, we had more Bloody Mary's, champagne, while we munched juicy grass-fed burgers. What a lovely way to spend a Sunday.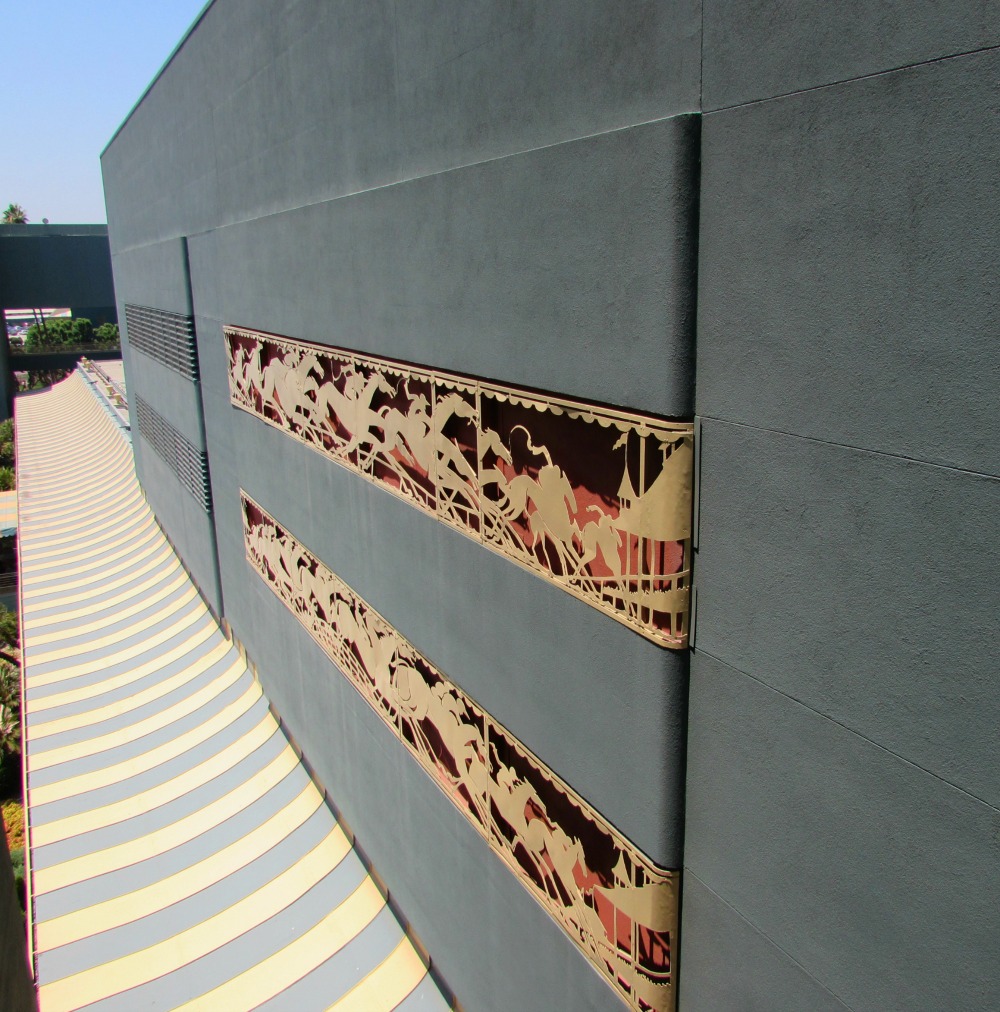 Santa Anita Racetrack has experienced numerous mysterious horse deaths in recent years due to shady medication practices. New regulations have been put in place to resolve the situation. Otherwise, the future of horseracing and racetracks will be in serious jeopardy.
If you love horses you may also enjoy reading my post about the Los Angeles Equestrian Center.
Check out the top things to do in Arcadia here.
What is your favorite racetrack? Please leave a comment below.
This post may contain affiliate links. I will receive a tiny amount of compensation at no extra cost to you if you make a purchase.