I love learning about the past and a local gathering to talk about the history of drinking in Los Angeles piqued my interest.
Did you know the California wine industry started in Los Angeles and not the Napa Valley?
I didn't either until I attended a soirée at an old Hollywood bar put on by the Museum of the American Cocktail a division of the National Food & Beverage Foundation called "Imbibing LA: Boozing it Up in the City of Angels – From Sacred Wines to Tiki Bars." It was all about the history of drinking in Los Angeles that included the beginnings of the California wine industry, the first breweries in Downtown Los Angeles, speakeasies during Prohibition, and Post Depression-era Polynesian Palaces.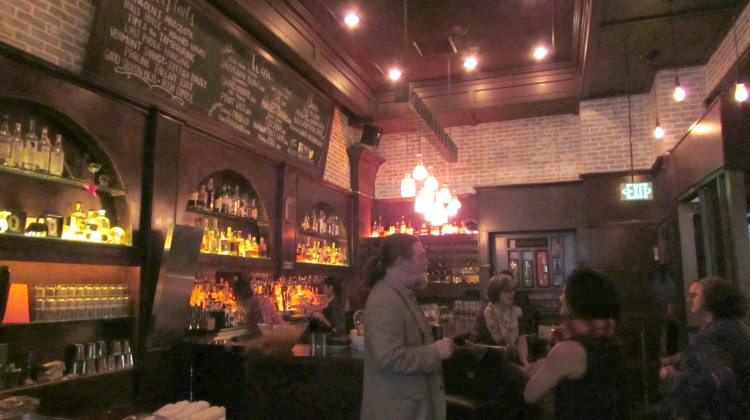 Who could resist going when there are cocktails involved?
Our lively and alcohol-influenced discussion was led by culinary historian Richard Foss. He's also a science fiction writer, theater director, restaurant reviewer, and author of "Food in the Air and Space: The Surprising History of Food and Drink in the Skies." Barkeepers Jeremy Lake and Rhino Williams hosted the event at The Lost Property Bar in Hollywood. It's a deep-wooded Welsh pub that specializes in whiskey and is a trendy drinking establishment in the heart of Hollywood. There wasn't a sign in sight so it's easy to miss on the North East corner of Hollywood and Vine near the historic Pantages Theatre.
During the evening, our group of eager food and drink aficionados was served a tasty array of food paired with Los Angeles-inspired vintage cocktails. They included:
Jerry Thomas Orange Punch from Jerry Thomas' 1887 Bartenders Guide
Bamboo cocktail made with the addition of orange oil – late 1800's
Wiz Bang Cocktail – made with Dutch gin, ginger, cider, and nutmeg
and a Don the Beachcomber concoction with a name I didn't catch. (By that point I was getting loopy)
I took copious notes and will attempt to translate what I learned below.
All food and drink have a cultural context whether it comes from a religious ritual or otherwise. That being said. . .
. . . the history of drinking in Los Angeles started at its local missions
The Native Californian Indians had never tasted alcohol until the Spaniards arrived with their Franciscan priests who built 21 missions laced between San Diego and Sonoma.
The first wine was produced in California from Spanish grapes at the San Juan Capistrano Mission in 1778 for religious ceremonies. Spain didn't want the inhabitants of Baja and Alta California to outdo them in winemaking and only sent over its worst grapes, banning the rest from import. They hybridized the grapes at the San Gabriel and San Fernando Missions and they became known as "Mission Grapes." Even though the missionaries produced wine expressly for religious purposes, they sold a good deal of it.
Seen on a placard at the San Fernando Mission:
Grape Vines originally from Spain via Baja, California were planted at this mission in the year 1797. By 1832, 32,000 vines were bearing a large bluish-black grape. The red wine was similar to Claret.
Grapes were brought in by ox-cart and dumped into a large vat. There they were pressed on foot. Juice from the pipe at the base of the vat was stored in ox-hides in the cellar.
The wine was used:
with meals
as medicine
for Mass
in exchange for provisions.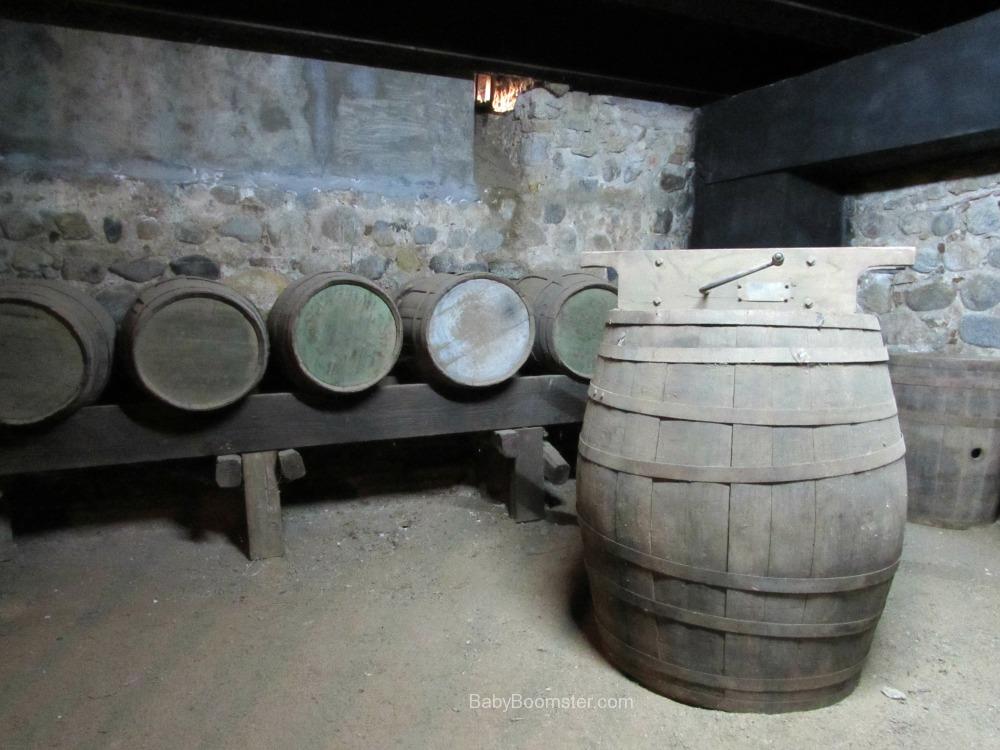 The grapevines were interspersed with olive trees that acted as natural trellises.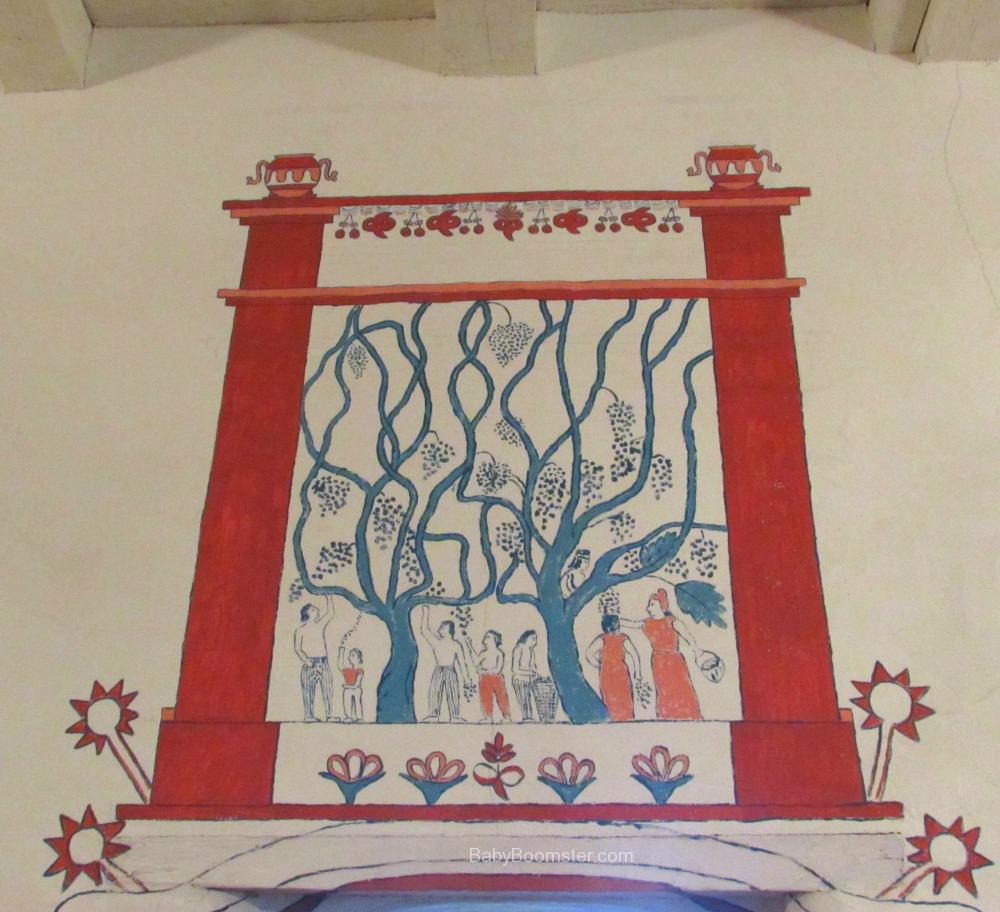 The first wine style in Los Angeles was called "Angelica." (Named after Los Angeles) The priests took Mission grapes and added sugar to make the wine taste more like sherry. It was used as altar wine or as an apéritif. Angelica is not readily available anymore but can be purchased as Ancient Angelica from the Galleano Winery in Cucamonga Valley.
Sangria, popular in Spain, wasn't served in California except for foreign visitors to make them feel more at home. Spain eventually lost California to Mexico. The Mexican residents didn't want immigrants to come in from the U.S. Instead, they invited Catholics from Europe who were loyal to Mexico, particularly, the French.
The first wineries in Los Angeles
Jean-Louis Vignes, a Frenchman who had been living in the Sandwich Islands, arrived at Pueblo de Los Angeles in 1827. He started a winery in 1831 near where Union Station is now and named it "El Aliso" because a huge sycamore tree grew on the property. Aliso is French for Sycamore.
Angelinos called Vignes "Don Luis Del Aliso" even though he was French. He imported the first Bordeaux grapes from France. They flourished in temperate Los Angeles. The winery, which was surrounded by a wall for protection, became the site of treaties and feasts with Native Indians and entertained luminaries like William Tecumseh Sherman. Samples of El Aliso wine were sent to President Tyler. It was California's first non-religious winery.
Vignes St in downtown Los Angeles near Union Station was named after Jean-Louis Vignes.
Vignes exported wine to Santa Barbara, Monterey, and San Francisco in 1842, as there were no vineyards up there at the time. He sold El Aliso in 1855 to his nephews Pierre and Jean-Louis Sanisevain. They produced Madeira, brandy, and wine bitters. However, their attempt to produce champagne proved to be a disaster. Los Angeles summers were too hot and there were no caves to store the bottles. The bottles blew up, the brothers lost money and the winery was sold in 1874. They left Los Angeles and moved to Cucamonga where they continued to produce wine.
After the civil war, most wine production in California shifted to Northern California.
The San Antonio Winery was founded in 1917 on Lamar Street by Santo Cambianica, who had immigrated from Berzo San Fermo, Italy. It survived Prohibition having been granted permission to make wines for sacramental and ceremonial purposes. It's the oldest producing winery in Los Angeles and has been in business for over 100 years.
The first Downtown Los Angeles breweries
There were approximately 35 breweries in the early days of Los Angeles owned mostly by German and Bavarian immigrants.
The first brewery was located at 20 3rd at Main called The New York Brewery. (1854-1887) Christopher and/or Henry Kuhn (not sure) are listed as an owner. Philip Lauth took it over later.
John Murat established the Gambrinus at 1st and Los Angeles St in 1856. The beer they produced was described as swill. In 1874, a new owner took over, it moved to 2nd and Spring, (near the LA Times Building) and was renamed City Brewery and Saloon. It closed in 1875.
The Philadelphia Brew House was built at the El Aliso winery site (440 Aliso St – now Alameda St) in 1873.
Joseph Maier (from Germany) and George Zobelein (from Bavaria) bought The Philadelphia Brewery in 1882 and renamed it Maier & Zobelein. They eventually extended it along Commercial St to Vignes.
When Joseph Maier died in 1904 he left his share to his sons. A legal dispute began between the sons and Zobelein causing them to part company.
Zobelein bought off the Maier & Zobelein Brewery in 1907.
The Los Angeles Brewing Company opened in 1897 at 1920 North Main St. in Lincoln Heights. It had been owned by P. Max Kuehnrich and Edward Mathie. Zobelein purchased it in 1907. He developed a Pilsner called Eastside, Old Mission Malt, and Old Tap Lager. Since the brewery was on the East side of LA, he called his beer "Eastside."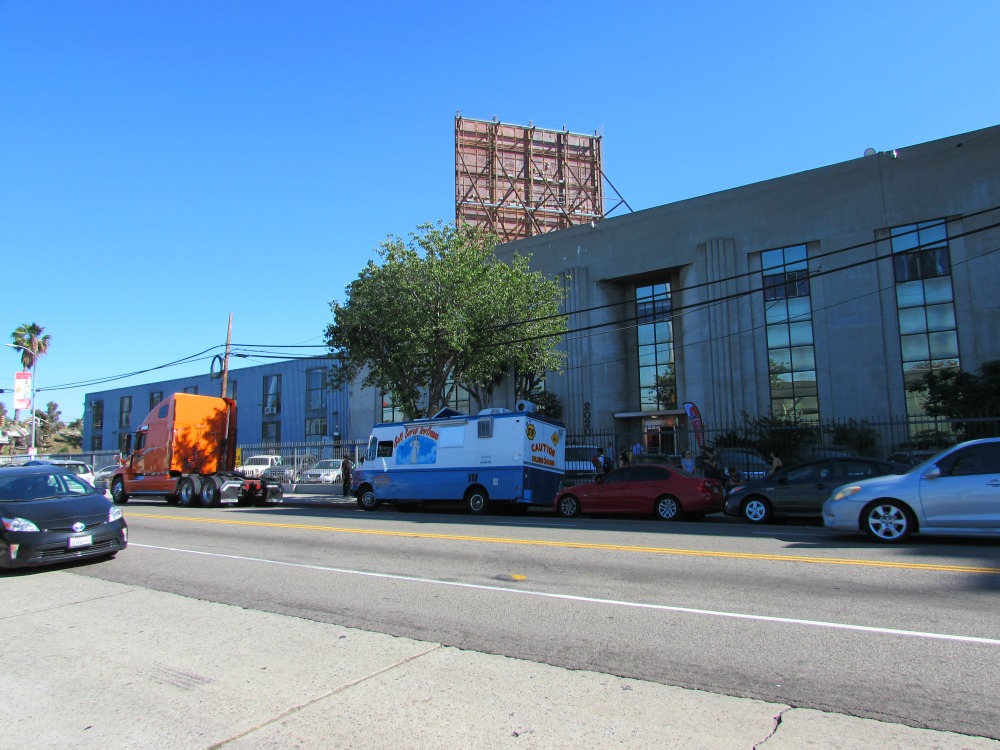 During Prohibition, when drinking in Los Angeles came to a standstill, the Eastside Brewery made cider, near beer, pineapple juice, and root beer. From 1920 – 1926 it was known as Zesto Beverage Company.
Zobelein wanted to restart his brewery in 1933. Walter Huston and Jean Harlow christened the brewery's rebirth by breaking their first bottle over a truck. Zobelein died in 1936. The brewery was acquired by Pabst in 1953 and closed in 1979. It's the oldest Los Angeles brewery with some of its buildings still standing and is now the Brewery Arts Colony and Artist's lofts.
Most of the beer made in Los Angeles during the late 19th and early 20th centuries was subpar because the weather isn't as conducive to brewing beer as it is for wine.
It's said, "it was so weak you couldn't get drunk."
If you're in Los Angeles, you may want to stop at Angel City Brewery located at the century-old John A. Roebling Building in the LA Arts District. The building has an interesting history in itself. Enjoy craft beers and food trucks in this insanely colorful building near Little Tokyo.
216 Alameda St., Los Angeles, CA 90012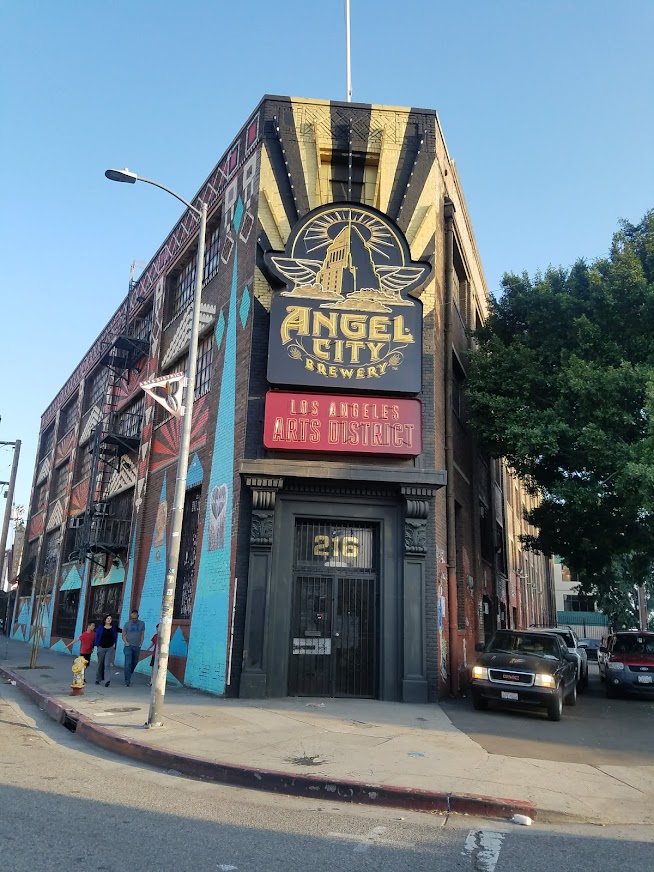 Bars, Speakeasies, and Prohibition
One of the first bars in downtown Los Angeles was called The Union Bar. It was located at 3rd and Central.
Prohibition clobbered the Los Angeles economy because much of it depended on alcohol consumption. The N. Cucamonga Winery poured gallons of wine down the sewers in Downtown Los Angeles. However, the city developed a thriving underground economy. Actors in the entertainment industry wanted to keep on partying so the bars went underground. Los Angeles still has miles of tunnels where hooch was stored and transported.
Wineries and breweries covered their bases. They made "marinades" "tonics" "near beer" and other products that were overtly alcoholic. Some even sold grape and yeast kits. (For winemaking ) The sales of these products keep businesses going until Prohibition ended.
The King Edward Hotel at 131 E. 5th St., Los Angeles, 90013 was the home of the King Eddy Saloon constructed in 1906. During Prohibition, a piano store was built in front of it but it didn't sell pianos. The saloon lived underground during that time and resurfaced after Prohibition ended. It still exists to this day back above ground. If you can get into the basement, you may be able to see old artwork from Prohibition days. (the saloon is planning to renovate it)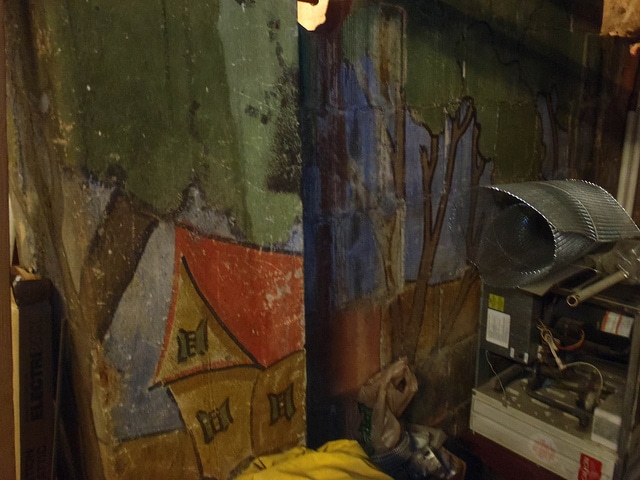 The oldest bar in Downtown Los Angeles that still exists today is The Golden Gopher. It was originally the Golden Sun Saloon and was purchased in 1905 by President Teddy Roosevelt. It's located at 417 West 8th St., Los Angeles, 90014. The bar was renovated in 2004 but still keeps the spirit and atmosphere of the era it was built.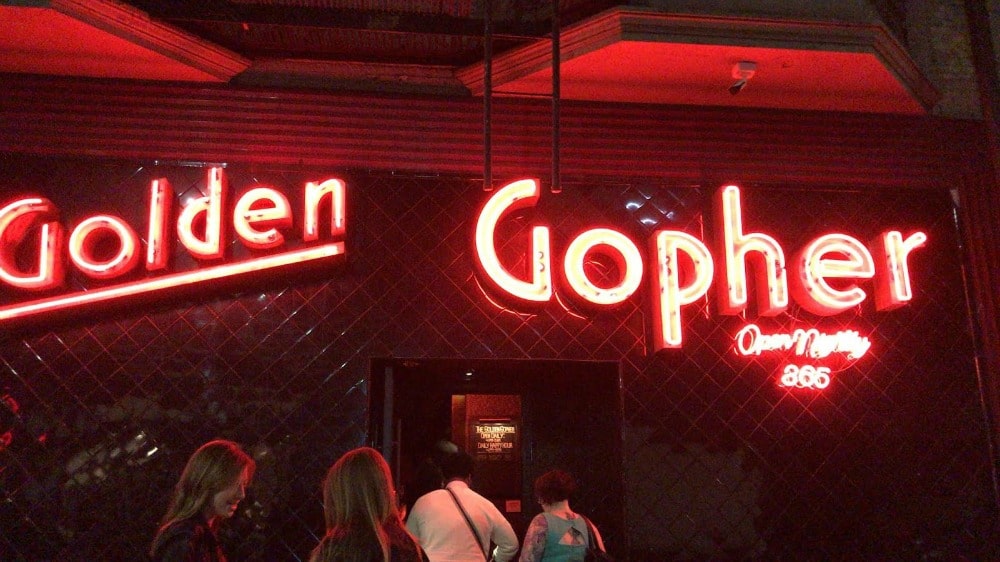 After Prohibition – Depression Era and Tiki Bars
The first period of creative cocktails was also a reaction to the Hollywood acting community.
Ernest Raymond Beaumont Gantt capitalized on this. At one point, he worked as a motion picture set designer and would steal set pieces that depicted the South Pacific. He opened Don the Beachcomber (a bar and restaurant) in 1933 on McCadden Place in Hollywood. It was a Tiki Bar and he kept it stocked with inexpensive West Indian rums.
His motto was:
"If you can't go to Paradise, I will bring it to you."
This gave people who were struggling some hope.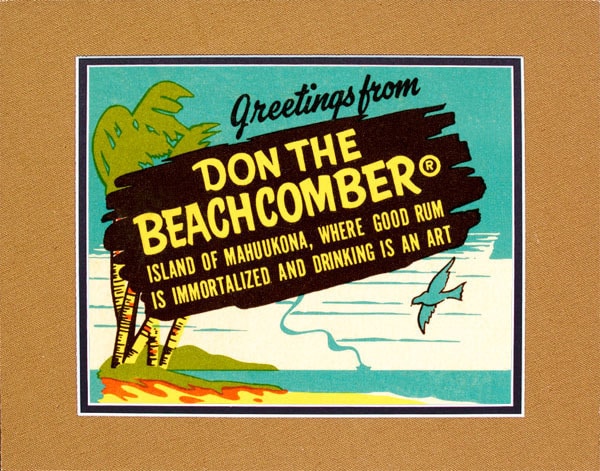 Gantt eventually changed his name to Donn Beach. He only hired Filipino bartenders and paid them as much as their white counterparts. They understood how to mix fruits to create exotic cocktails with names like Mai Tai, Sumatra Kula, and Zombie. Cornelius Vanderbilt IV, who was a journalist at the time, brought Charlie Chaplin to Don the Beachcomber. Their patronage helped the restaurant launch and become successful. Don the Beachcomber later inspired Trader Vics and other Polynesian-themed restaurants and bars.
Ray Buhen was one of Don the Beachcomber's Filipino bartenders and created many of the restaurant's blended cocktails that became famous. He opened his own restaurant Tiki-Ti in 1961. It still operates at 4427 Sunset Blvd. 90027 in Los Feliz. If you stop in, order a drink called "Ray's Mistake."
Clifton's Cafeteria also operated the Pacific Seas for many years, another iconic Tiki bar, until it closed.
If you're looking for vintage places to go drinking in Los Angeles try these historic locations.
Enjoy a dry martini at the famous Musso & Frank Grill (opened in 1919) 6667 Hollywood Blvd, Los Angeles, CA 90028
Have an Irish coffee at Tom Bergin's (opened in 1936) 840 S Fairfax Ave, Los Angeles, CA 90036
Order an old-fashioned at the Hollywood Frolic Room next to the Pantages Theater, a favorite of Frank Sinatra and Judy Garland. It started as a speakeasy in 1930 and was said to be the last place "The Black Dahlia" was seen in LA. Charles Bukowski hung out there.
Try a Moscow Mule or an amazing ale at the Tam O' Shanter Inn (opened in 1922 ) 2980 Los Feliz Blvd, Los Angeles, CA 90039
Some of the other oldest bars in Los Angeles include Big Dean's Oceanfront Cafe in Downtown Santa Monica (1902), Alhambra Cocktail Lounge in San Pedro (1904), Joe Jost's in Long Beach (1924), El Paseo Inn at Olvera Street in Downtown LA (1930), The Mint in Central LA (1937), Formosa Cafe in West Hollywood (1934), Harvelle's Blues Club in Santa Monica (1931), and Ercoles Bar in Manhattan Beach (1927).
Authentic and semi-authentic Los Angeles Speakeasies
There are several vintage-style places to go drinking in Los Angeles that are designed to be modern-day speakeasies. However, a few authentic speakeasies remain.
Townhouse – (opened 1915) 52 Windward Ave, Venice, CA 90091 – Visit underground catacombs and caves that were used to transport illegal liquor. The Del Monte Speakeasy is located below the Townhouse. In 1915, it was hidden underneath a grocery store. Booze was wheeled in from the shore through the network of tunnels.
The Rosslyn Hotel (opened 1914) was the site of a speakeasy in a marble-lined tunnel beneath 5th Street in Downtown LA. The bar featured windows on two sides with a flamenco dancer painted on glass. It was called "The Monterey Room." The hotel was built in 1914 at the corner of 5th and Main and is said to be haunted. It's currently being renovated into a home for homeless veterans.
The Varnish – Although it isn't an authentic speakeasy, it's set in the back of the vintage Cole's Restaurant built-in 1908 – 118 6th St., Los Angeles, 90014. Walk to the back of the restaurant and look for the signature door and logo.
The Edison – The Edison building, built-in 1910 is a combination of Art Nouveau and Industrial Gothic. A speakeasy is now located in the sub-basement of the Higgins Building. You can enjoy artisanal cocktails, food, and other libations as well as music in this delightful hideaway.
Clifton's Republic – Formerly Clifton's Cafeteria. It was a famous LA cafeteria now turned nightclub and has a fascinating interesting history! – Read more about it here. They have several bars inside including a recreated Pacific Seas Tiki Bar.
I used to live in Beachwood Canyon near the Hollywood sign. There was a house on my street that used to be a speakeasy. Several homes up there and in other canyons were used to store hooch because the areas were relatively remote. Around 1938-39 Bugsy Siegel opened a Speakeasy at the Castillo del Lago mansion on Hollywoodland's Durand Drive. Madonna bought it in 1993 and lived there while filming Evita.
Historic Los Angeles Hotel Bars
Los Angeles has several early 20th-century era hotels if you're looking to go drinking in Los Angeles.
The National Food and Beverage Foundation along with the Museum of the American Cocktail hosts events throughout the year. Visit their website at https://natfab.org/
Read:
This post may contain affiliate links. I will receive a tiny amount of compensation at no extra cost to you if you make a purchase.