March is Women's History Month and there are always so many women to celebrate. Since I live in Los Angeles, I wanted to feature a small fraction of the prominent women who made an impact on Los Angeles history and made it what it is today.
To learn more, I took two virtual tours. One was hosted by the Los Angeles Conservancy and the other by LA Walking Tours. Both were excellent and informative. If you are interested in taking either their walking tours or virtual tours, I highly recommend them.
Los Angeles has always been a city for women, and they've made a huge impact on its history, culture, business, and architecture. Its been a center for the women's movement, for diversity, progressive ideas, and innovation.
Let's start with the Rancho period
During the Spanish occupation of California, women were allowed to own land, and when it became a state it was written into the California Constitution of 1849. The fear was when women married English-speaking settlers they could lose their land to their husbands which often happened in other states.
During the Rancho Period, a woman named Eulalia Pérez de Guillén Mariné, who was born in Laredo, Mexico in 1766 married a soldier at 15 and started having children. She had 12 in total, with 7 surviving. Her husband died and because she was beloved was gifted a rancho near Mission San Gabriel that was 14,000 acres. Later she remarried and her husband gambled away her land.
Eulalia was one of the creators of lemonade. The missions had fruit orchards and she took the lemons and turned them into lemonade. It was one of the first product exports to Spain. She died in 1878 claiming she was 139 years old. She was probably more like 112, which was miraculous for that time period.
The women of the railroad
The Harvey Girls – We've all seen the movie "The Harvey Girls" with Judy Garland and Angela Lansbury, right? Well, they had a Harvey Restaurant at Union Station in Downtown LA. Harvey Restaurants were built at train stops starting in the late 1870s because there were no dining cars on trains at that time. The meal accommodations at most stops were dirty and disgusting.
The Union Station Harvey restaurant was established after the station was built in 1939 toward the end of the Harvey Restaurant Era and closed in 1967.
Each Harvey Girl was well educated, well-groomed, unmarried, between the ages 18-30, and had high moral values. They worked as servers and signed 6-month contracts. The former Harvey Restaurant at Union Station is currently the Imperial Western Beer Company.
What was significant about the Harvey Girls, was that many women in the Old West were either prostitutes or of low repute. The Harvey Girls essentially civilized the West.
The Union Station Harvey Restaurant was designed by Mary Colter (1869 – 1958). She went to art school and became an architect. She got involved as the chief architect for Harvey Restaurants. In addition to the restaurant, which features her signature style of Native American, Hispanic, and rustic design. she completed 21 hotels and lodges including a series of building at National Parks.
Arcola Philpot (1913-1991) was a streetcar operator and became LA's first African American motorman in 1944. Because she was black, it was a struggle for her to get hired. She drove the F line from 116th street to Union Station.
Leilia M Bailey was hired in the 1970s as a bus operator and became the Director of Transportation for the LA Metro and helped organize the 1984 Olympics.
Chinese women in Los Angeles history
Anna May Wong – (1905 – 1961) was a Chinese American actress who grew up in the original Chinatown (where Union Station is today) before it was moved to its current location. Movie companies often filmed there and she became infatuated with the film industry as a child, begging the companies to include her in their films.
She dropped out of high school and played her first leading role at the age of 17. But, because of her race, she was typecast as either an innocent flower or a dragon lady. Movies such as "The Good Earth" hired whites to play leading Asian roles.
Anna May started her own company, but her business partner was shady, and she sued him. She was also known as a fashion icon because of her exotic appearance. In the late 20s, she left for Europe and worked in the film industry where she received much acclaim. Scouts from Hollywood found her in Europe and coerced her to come back promising her a thriving career.
Her career back in Hollywood didn't live up to what she dreamed, but she later became an activist for Chinese causes and was present at the opening of the New Chinatown. Her activism had a significant impact on the history of women in Los Angeles.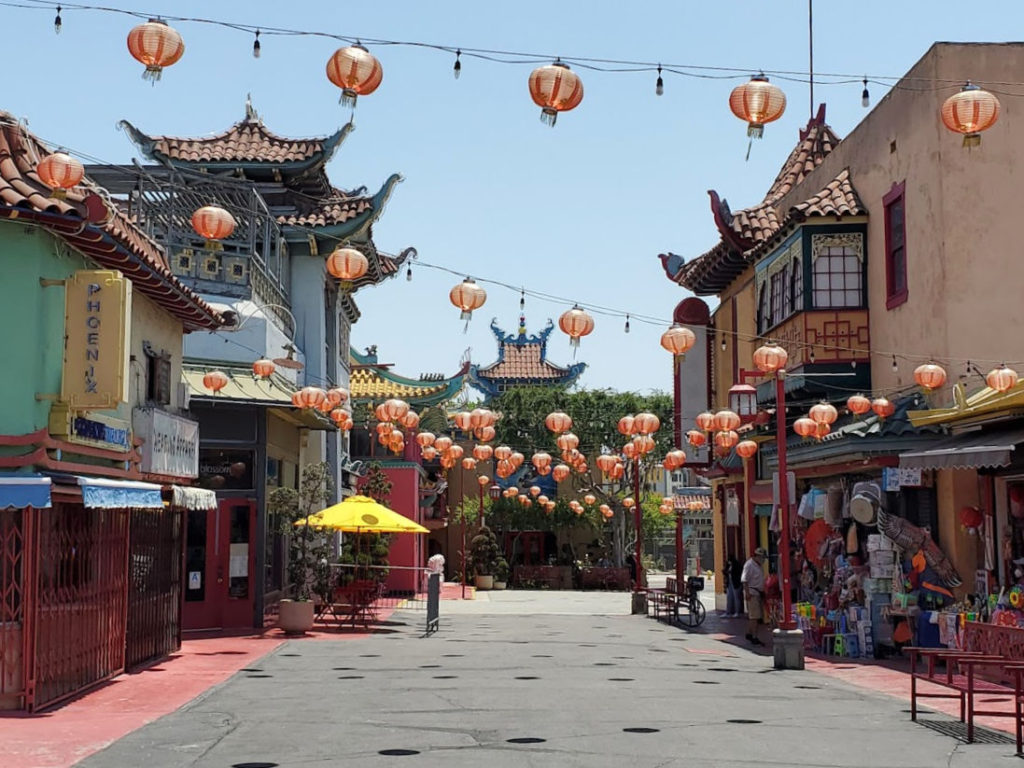 Yiu Hai Seto Quon, known as "Mama Quon" – (1899 – 1999) owned the Grand Star Restaurant in LA's Chinatown. She was one of the founders of the New Chinatown and her family founded the original Chinatown. Mama Quon was a businesswoman, chef, and community leader who lived to the ripe old age of 100.
Esther Wong – (1917 – 2005) was born in China and was the owner of Madame Wong's Chinese Restaurant in Chinatown and Madame Wong's West in West LA. She was known as the Godmother of punk music and hosted punk bands in the 1980s. She insisted the bands leave the restaurant exactly as they found it. Bands that played at her establishment included Los Lobos, The Motels, The Police, The Go Gos, Oingo Boingo, Guns N Roses, and many more. I went there in the 80s and saw some of them.
Mei Ling Way in Chinatown was named after Madame Chiang Kai-shek. Her advocacy led to the repeal of the Chinese Exclusion Act and both she and her husband were named the man and woman of the year in 1938.
Black history women's icons
Miriam Matthews – (1905 – 2003) was the first black librarian in Los Angeles. She discovered a small collection of books on Black History at the library she worked at and built it into a significant collection. A major accomplishment was that she pioneered efforts to establish "Negro History Week" which is now Black History Month.
Bridget Biddy Mason – (1818 – 1891) was a former slave who won her freedom and settled in Los Angeles. She worked as a midwife, operated an orphanage, and founded the cities first A.M.E church.  She saved her money and bought the land. She used her wealth, estimated at about $3 million dollars, and became a philanthropist donating to numerous charities, founding a traveler's aid center, and establishing an elementary school for black children.  A park in Downtown Los Angeles is named after her.
Women on the beat
Alice Stebbin Wells – (1873 – 1957) was the first American-born female police officer in Los Angeles hired in 1910. She didn't have a gun and worked mostly with women and had to make her own uniform. A movie was made about her life called "The Policewoman." She was the first woman in the LA Police Association and achieved the rank of Sergeant in 1934.
Margaret Queen Adams – (1874 – 1974) was the first female deputy sheriff in the US for the Los Angeles County Sheriff's office. She was buried with her sheriff's badge just 6 months short of her 100th birthday.
Georgia Ann Robinson – (1879 – 1961) was the first African American woman police officer to work for the Los Angeles Police Department. In 1916 there was a shortage of police officers because of the war. At first, she volunteered to work for the police department without pay and after several months received a small salary. She would refer women to agencies rather than have them go to prison so they could be rehabilitated.
Robinson founded the Sojourner Truth Home as a shelter for women and girls. In 1921, she was blinded during a women's prison fight but continued to work until she passed away in 1961.
Builders and engineers
Florence Casler – (1869 – 1954) took over her husband's plumbing business after he abandoned her to search for gold leaving her with 2 children to take care of. He passed away in 1912 and she became involved with building development in the fashion district of downtown LA.
She created workspaces for women that included adequate bathrooms, heating and lighting. Casler also built the Textile Center in 1926 which now houses condos and the Bendix Building, which is still used by fashion companies. In total, she oversaw the construction of 7 million dollars worth of buildings and was elected director of People's Bank of Los Angeles in 1925.
Marilyn Jorgenson Reece – (1926 – 2004) was the first woman licensed as a civil engineer in California. She helped build the freeways and the interchange of the 10 and 405 is named after her. Her husband and daughter were also civil engineers.
Julia Morgan – (1872 – 1957) graduated with a degree in civil engineering in 1894. She studied architecture in Paris and became the first female architect in Los Angeles. After the San Francisco earthquake, she oversaw much of the rebuilding. She worked with William Randolph Heart to build the Examiner Building in Los Angeles and worked with him on Hearst Castle. Other buildings she designed included YWCA in Pasadena and The Hollywood Studio Club, which housed aspiring actresses like Marilyn Monroe and the Greek Theatre.
The Hotel Figueroa was built by the YWCA as a safe haven for solo women travelers and was financed and managed by them. Maude N Bouldin was the first female manager during the 20s and 30s. She also flew planes and raced cars and motorcycles. The hotel was the center for social clubs, political organizations, and for women working in the creative arts. Its history is deeply rooted in the women's movement.
The Women's Athletic Club, which is no longer standing was designed by Florence Yoch – (1890 – 1972) and Lucile Council – (1898 – 1964). They were a Lesbian couple who worked on all sorts of design projects including art direction in films like Gone with the Wind.
A woman's struggle to attain celebrity
Actress and singer Lena Horne (1917 – 2010) debuted on the Sunset Strip and was signed by MGM. She lobbied for the role of Julie in Showboat but due to production codes that banned interracial relationships was denied the part. Ava Gardner, who was a close friend of hers, got the role instead and practiced by singing along with recordings by Horne. Gardner's singing ended up being dubbed.
Horne then embarked on a successful nightclub career and in 1958 was the first Black woman nominated for a Tony Award. She appeared in TV specials and television. On stage, she refused to perform for segregated audiences and in the 1940s sued restaurants for race discrimination.
Newspaper woman
Charlotta Spears Bass – (1880 – 1969) grew up in the Jim Crow South but moved to Rhode Island and learned the newspaper business. She moved to LA and met a man who ran a newspaper called The Owl. She worked for him and inherited his business when he died. The newspaper was renamed The California Eagle.
Bass organized women to vote after they earned the right in 1911. Her On the Sidewalk column brought attention to black issues of the day and by the mid-1930s she was well-regarded and her circulation was 30,000. After her 2nd husband died, she moved into activism and became the first African American woman to run for Vice President in 1952. The FBI monitored her activity thinking she was a security threat until she was in her 90s.
Caregiving women
Dr. Sarah Vasen – (1870 – 1944) was the 1st Jewish female physician in Los Angeles and its first managing physician. She was a gynecologist and worked at the Kaspar Cohn hospital in Angelino Heights that was housed in the Luckenbach House. In 1910, she retired from the hospital to help the Jewish community. Kaspar Cohn became Cedars of Lebanon Hospital and later Cedars Sinai Hospital.
Dr. Margaret Chung – (1889 – 1959) believed that women needed to know how to take care of themselves and their children. She enrolled in medical school in 1911 but couldn't get a job. At first, she worked as a nurse but later became a surgeon and established the first Western medicine clinic in San Francisco's Chinatown during the 1920s.
In Los Angeles, she became known as a physician to the stars.
Dr. Chung volunteered to serve as a frontline surgeon during the Sino-Japanese war but instead, was asked to recruit pilots for what would become the Flying Tigers. These squadrons were American pilots from all branches of the military who flew under Chinese colors. They became known as Mom Chung's adopted sons.
During WWII she helped establish the WAVES (U.S. Naval Women's Reserve) but was not permitted to join because the government believed she was a lesbian and she was not properly credited.
Other Los Angeles women in history
Clara Shortridge Foltz – (1849 – 1934) became the first female lawyer in Los Angeles after she and her children were abandoned by her husband. She had to lobby the California Legislature to take the bar exam. She practiced law all over California, dabbled in mining and stock exchanges, started her own magazine called "The New American Woman," and ran for Governor. The Clara Shortridge Foltz Criminal Justice Building in downtown Los Angeles is named for her.
Christine Sterling – (1881 – 1963) was a wealthy and well-connected socialite in Los Angeles who wanted to preserve the old buildings near Union Station that were in disrepair and its Mexican Heritage. Her vision was to create a Mexican Marketplace and in 1930 created Olvera Street filled with restaurants, street vendors, and mariachi music. It is the site of Mexican celebrations, festivals, and is a tourist attraction to this day.
Another project of hers was to create China City which was a mock Chinese Village with restaurants to replace Old Chinatown which was leveled to make way for Union Station. It opened in 1938 but was destroyed by a fire in 1948. It was more of a tourist attraction and was also used by film companies.
Although China City is no longer there, the Los Angeles Chinatown we still have today between Broadway and Hill Street off the 110 Freeway continues to thrive and is a tourist attraction with its authentic restaurants and festivals, and center for the Chinese community.
Gloria Crane Gartz – (1907 – 1994) founded the Pasadena Women's City Club in 1945. She promoted progressive causes and supported the Girl Scouts. The Women's City Club was created as a private club environment for business, civic affairs, education, and philanthropy as well as non-profit causes. Her mother Kate Crane Gartz – (1865 – 1949) was the heiress to the Crane Plumbing fortune and hosted there with guests such as Albert Einstein, Upton Sinclair, Charlie Chaplin, and Henry Ford, and the occasional seance. She was labeled a Bolshevik and was one of the founders of the Pasadena Playhouse.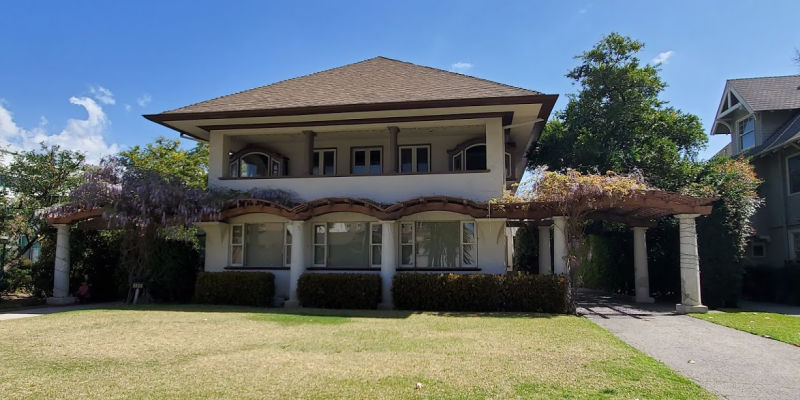 Greta Magnusson-Grossman (1906-1999) was an award-winning Swedish furniture designer who immigrated to the U.S. in 1940 and settled in California. She helped shape the architecture scene in Los Angeles and was one of the first people to introduce Swedish modernism to America. In 1951 she was quoted as saying that California design "is not a superimposed style, but an answer to present conditions. It has developed out of our own preference for living in a modern way." The homes she designed were crafted with classic modern materials like steel and stone, and incorporated rich woods and warm natural light.
In summary
If I were to list all the women in history who built and influenced Los Angeles, it would be an epic undertaking. So many have contributed from the famous to the obscure. But, it's cool to remember them for their struggles, influence, talent, and generosity.
Who are women you want to remember for women's history month? Please leave a comment below.
This post may contain affiliate links. I will receive a tiny amount of compensation at no extra cost to you if you make a purchase.