Have you ever taken a walking tour in an area of town not often visited by tourists? It can be illuminating. Such was the case when I signed up for the Boyle Heights Heritage Tour given by a Latino Jewish man who calls himself the Barrio Boychik.
Boyle Heights is located in East Los Angeles and is a working-class Hispanic neighborhood. It's not a place where "gringos" usually think to hang out.
But, for various reasons, I've found myself there on several occasions to go to the theatre and do a Mexican coffee tasting. The more I saw of Boyle Heights, the more I wanted to know about it. Although the news often paints it as a center for gang violence, it's really a close-knit and friendly ethnic community with a fascinating history.
The oldest Jewish neighborhood in LA
In the 1920s, it was home to the largest Jewish population in Los Angeles with pockets of Asians, Armenians, and blacks. After WWII most of the Jews moved to the Westside to the Fairfax district and beyond and immigrants from Mexico and other countries moved in. If ever there was a melting pot community in LA, it's Boyle Heights.
Glimpses of its pioneer past
The neighborhood has a number of impressive and somewhat deteriorating vintage craftsman homes. They were once the residences of some of LA's city pioneers, including the Hollenbeck's and makeup giant Max Factor.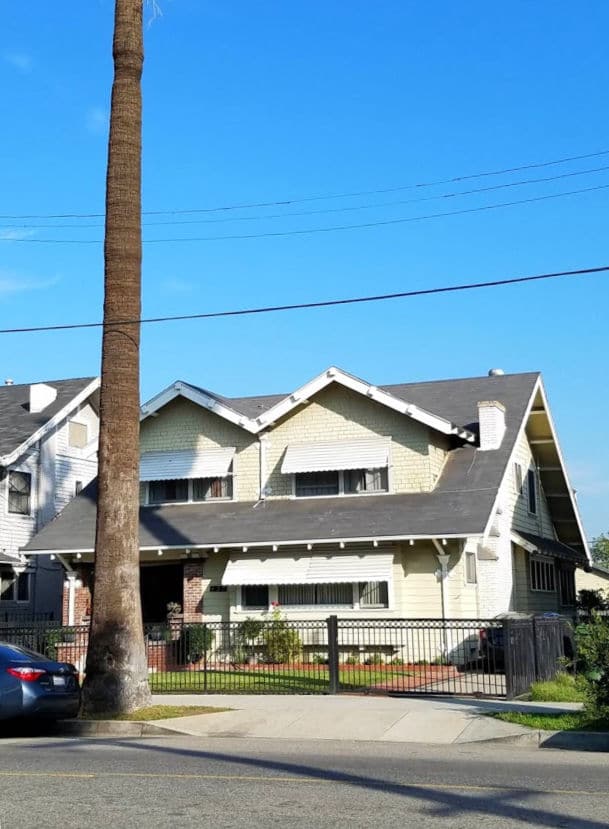 There are also duplexes and small "bachelor-style" bungalows that were built in the 20s and 30s for city and railroad workers.
An exquisite inner-city park
Hollenbeck Park opened in 1892 and is a picturesque urban green space with a pond that's nestled next to the 5 freeway offramp. I had no idea it was there until we strolled through it on our walking tour.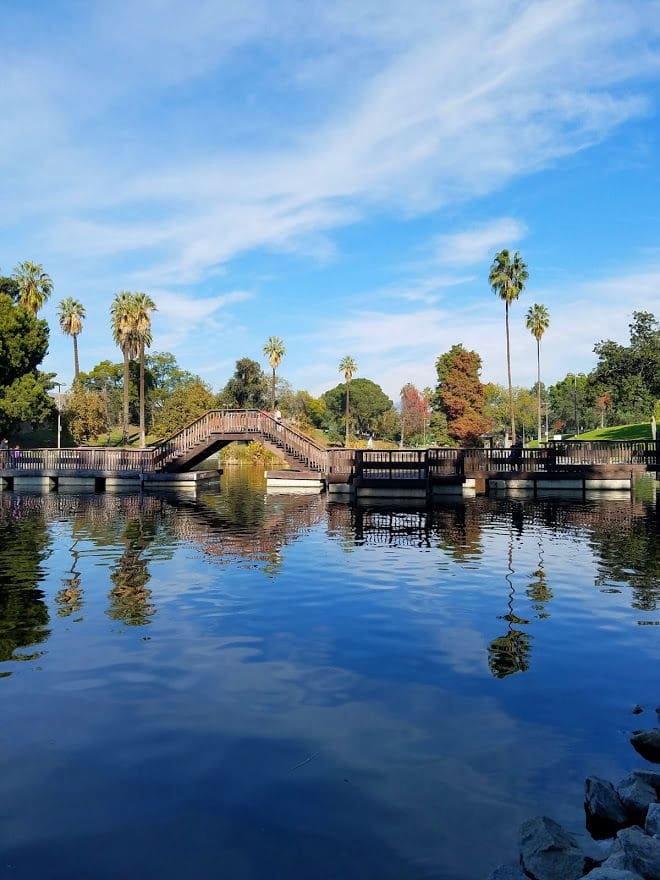 Ducks and geese are plentiful and add a sense of peace and serenity to the city sprawl around it. It's a popular location to photograph weddings and Quinceañeras.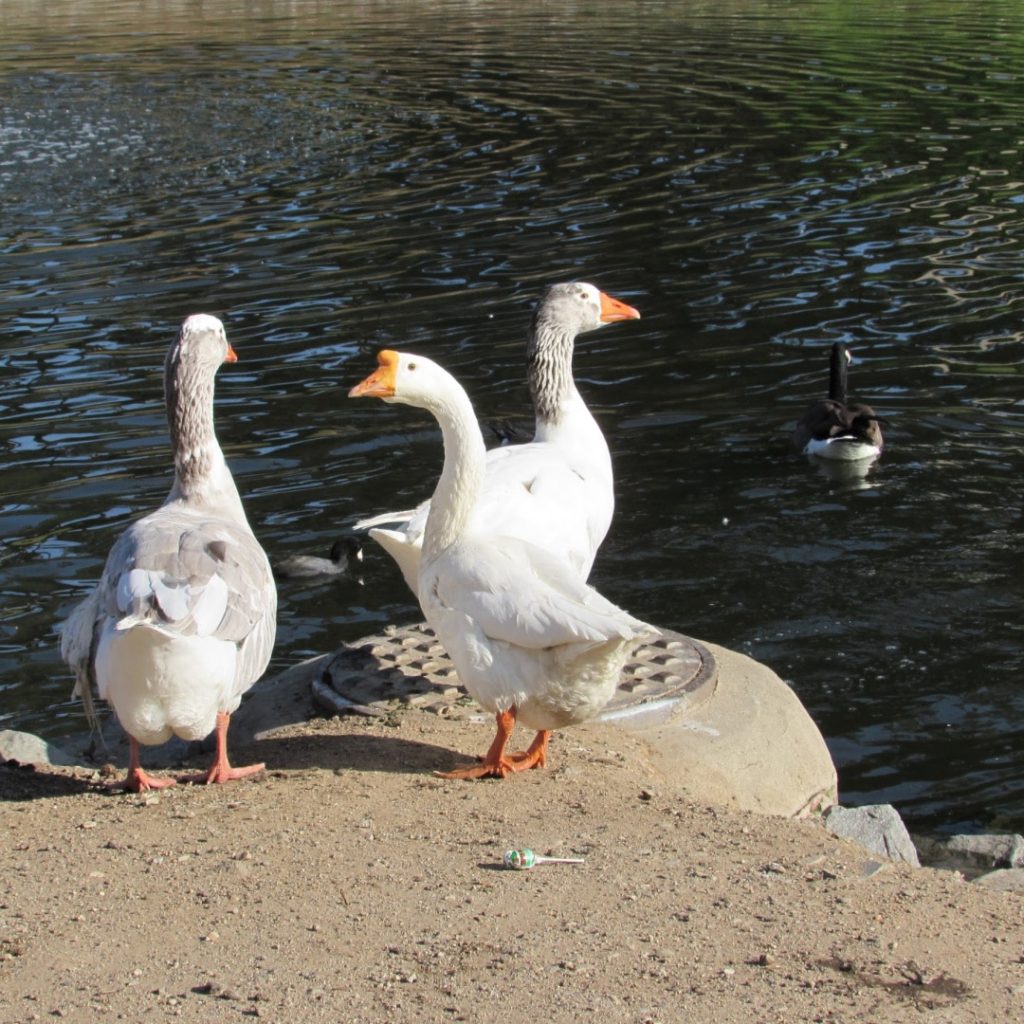 Don't believe everything you hear in the news
Gang members certainly exist in Boyle Heights but most community members go to church, hang out with friends, and take care of each other. That's not to say you shouldn't be careful because you can get mugged or assaulted anywhere in Los Angeles, including Beverly Hills. Keep your eyes open and don't walk into dark alleys, especially at night.
Art is everywhere
Colorful murals painted by local artists are plentiful and decorate buildings, walls, and freeway overpasses.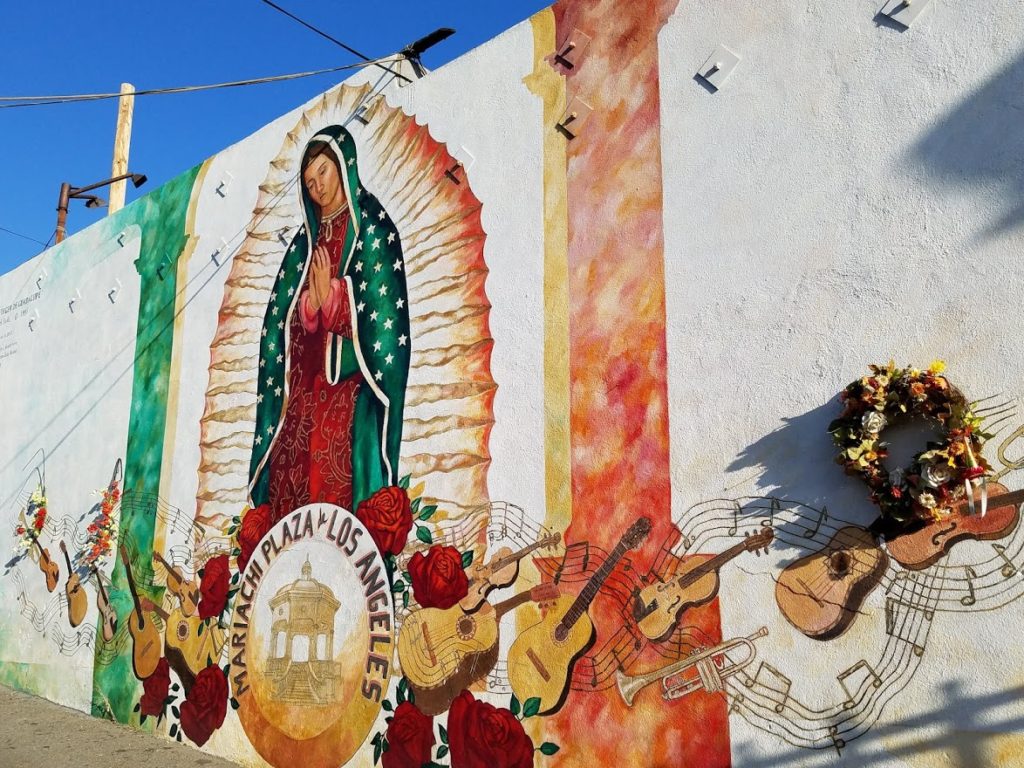 Boyle Heights also has its share of graffiti.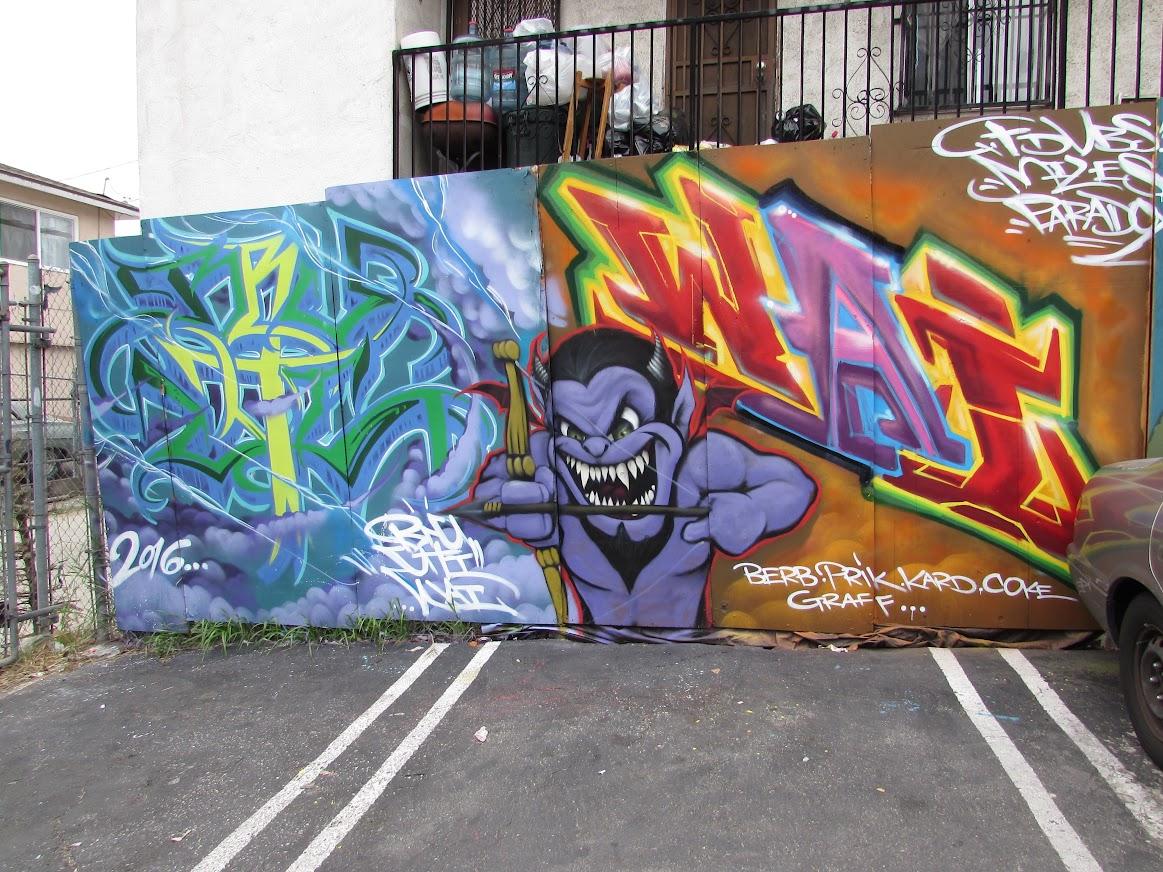 The best Chicano bands have come out of Boyle Heights and other parts of East LA like Los Lobos, Freddy Fender, and The Midniters, just to name a few.
A legacy of helping others
There's a history of non-profit organizations in Boyle Heights, starting in the 1880s, that served community members and immigrants. They took care of those who were homeless, aging, or suffering from conditions like alcoholism.
The buildings that were once the Hollenbeck Home for the Aging, Hebrew Sheltering and Home for the Aged, The Jewish Orphans Home, and The Jewish Home for Wayfarers (homeless immigrants) still stand and are now the homes or offices of local residents.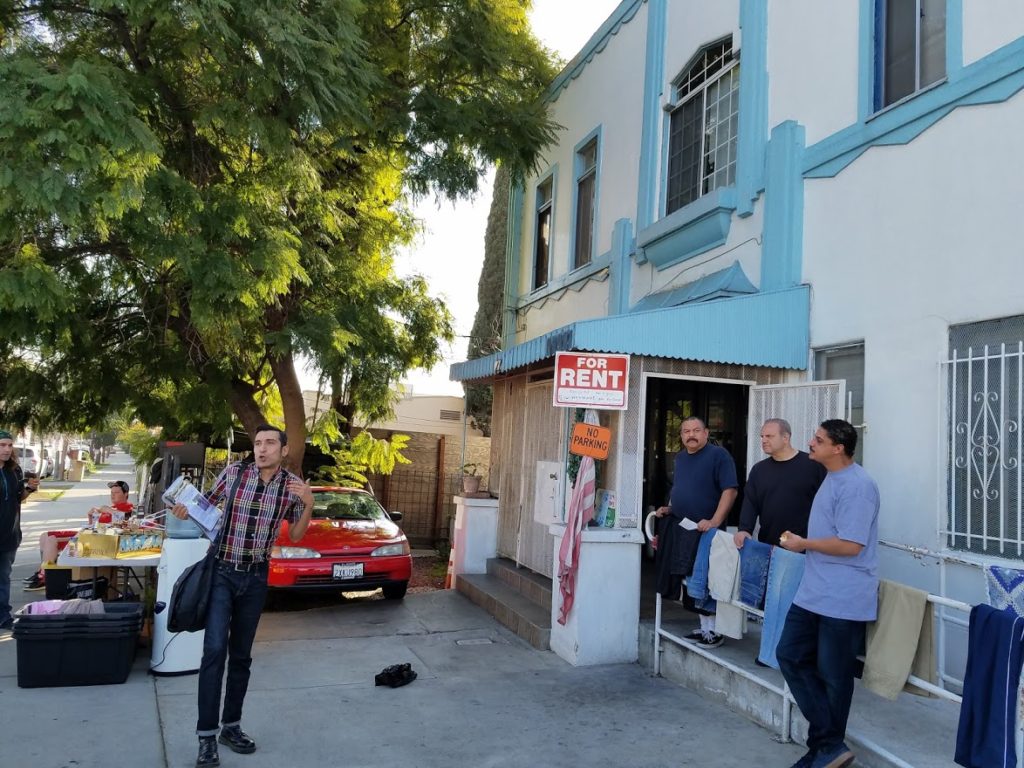 The International Institute of Los Angeles constructed in 1914, is still in operation today and helps new immigrants assimilate. It has recently been assisting migrants who have crossed the border to seek asylum from Central America.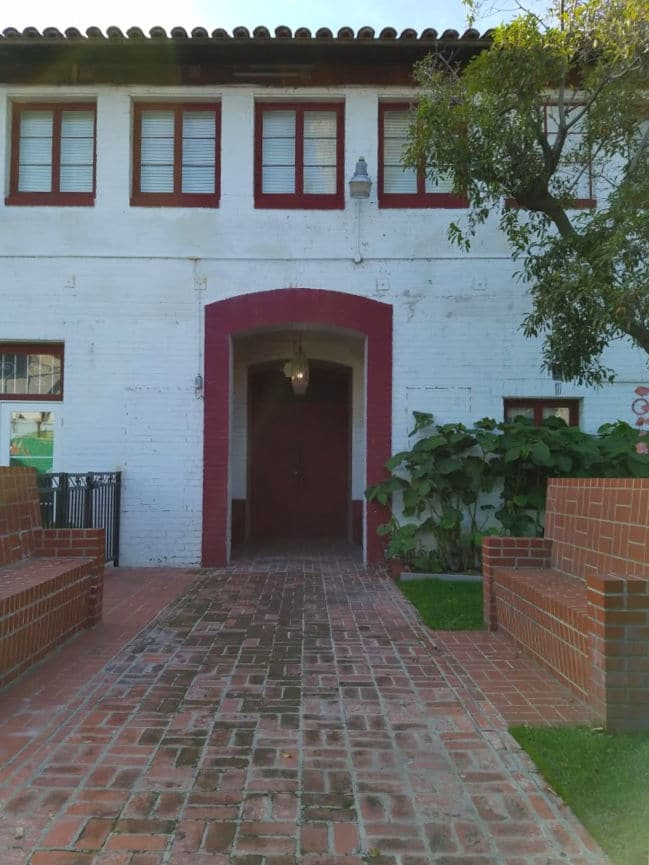 Music and mariachis
Mariachi Plaza has been a gathering place for Mariachi musicians looking for work to play at weddings and other events since the 1930s.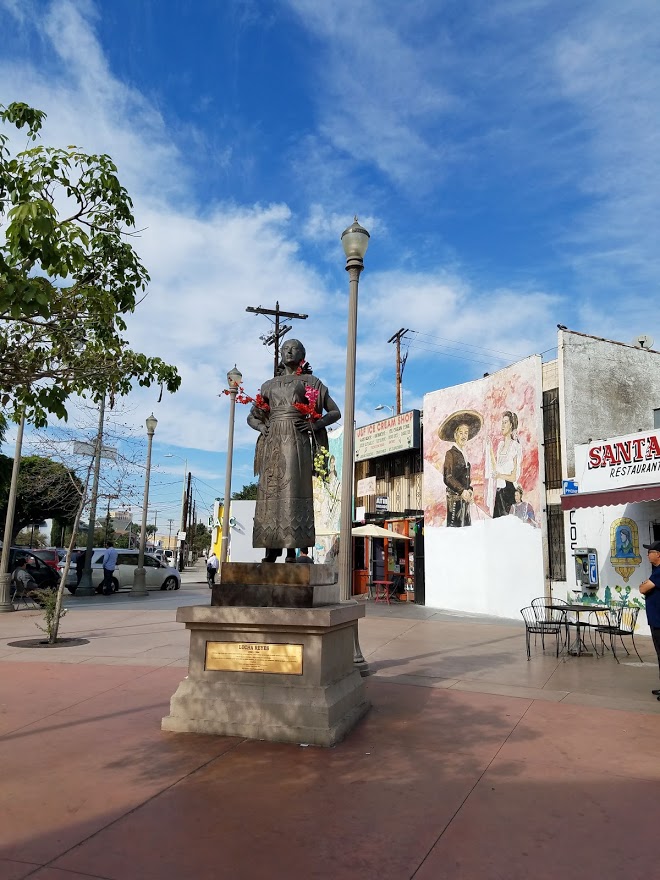 It's a tiny charming square with a large kiosk often used for cultural events. The Los Angeles Metro Gold Line stop is next to it making it easy to get there from other parts of Los Angeles.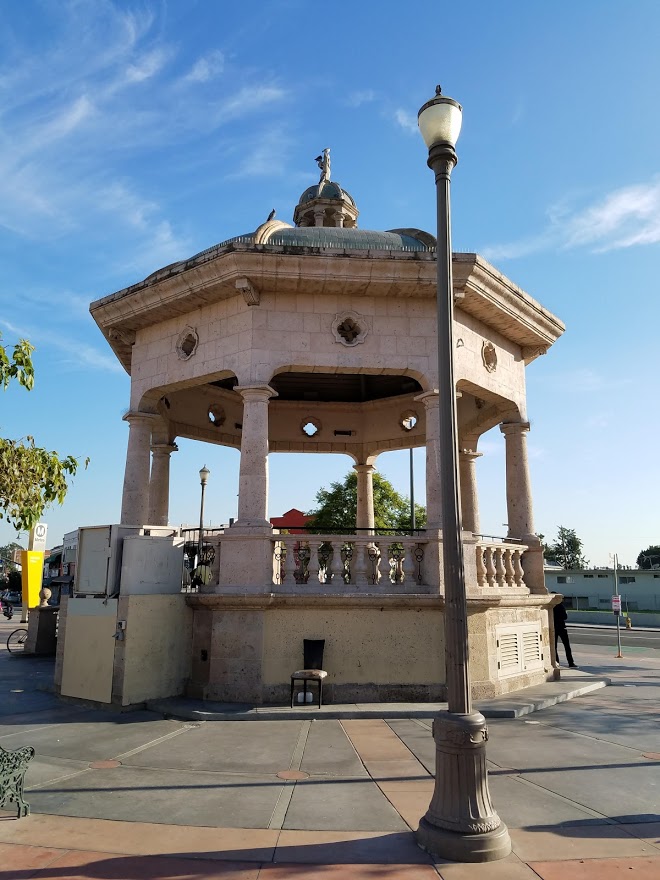 Our walking tour guide the Barrio Boychik
Shmuel Gonzales, the "Barrio Boychik," conducted our 2 1/2 hour walking tour. He is Jewish, Latino, and Gay, which is a unique combination even in Los Angeles. When he was a teenager he overcame serious medical issues. Shmuel is a well-known fixture in the neighborhood and as we walked, several friends honked at him to say hello.
He works as a historian, serves on the Board of Directors of the Boyle Heights Historical Society. and is a Jewish lay leader at the Congregation Beth Shalom of Whittier.
Some of his other walking tours include:
Jewish LA: From Brooklyn Ave. to Fairfax Ave
Lost Cemeteries of Los Angeles
Jewish Boyle Heights: Remembering Brooklyn Ave
They cover more of the Jewish landmarks like the old Breed Street Shul and hidden cemeteries. Evergreen Cemetery, established in 1877 is LA's oldest cemetery. City pioneers with names like Hollenbeck, Lankershim, and Van Nuys as well as, civil war veterans, former mayors, politicians, and some celebrities are interned there.
You can see engravings on the headstones of Japanese Americans, Armenians, and Mexicans. About 400 indigent carnival workers and circus performers are buried near a lion memorial. Chinese residents, who were discriminated against for decades, lie under a potter's field on the site where a shrine has been erected.
The gentrification crisis and how it has affected the community
The community of Boyle Heights has been targeted by developers who want to destroy cultural landmarks to build hi-rises and raise rents. Almost all the residents who live there are working-class citizens. Many are being forced to move because their rents have gone up as much as 85%.
This includes the Mariachis who solicit work at Mariachi Plaza. Whereas they used to live nearby, they are now forced to drive 2 hours in traffic to get there. The MTA has plans to completely redesign Mariachi Plaza into a modern edifice that will destroy the neighborhood's charm and may force families and senior citizens to become homeless.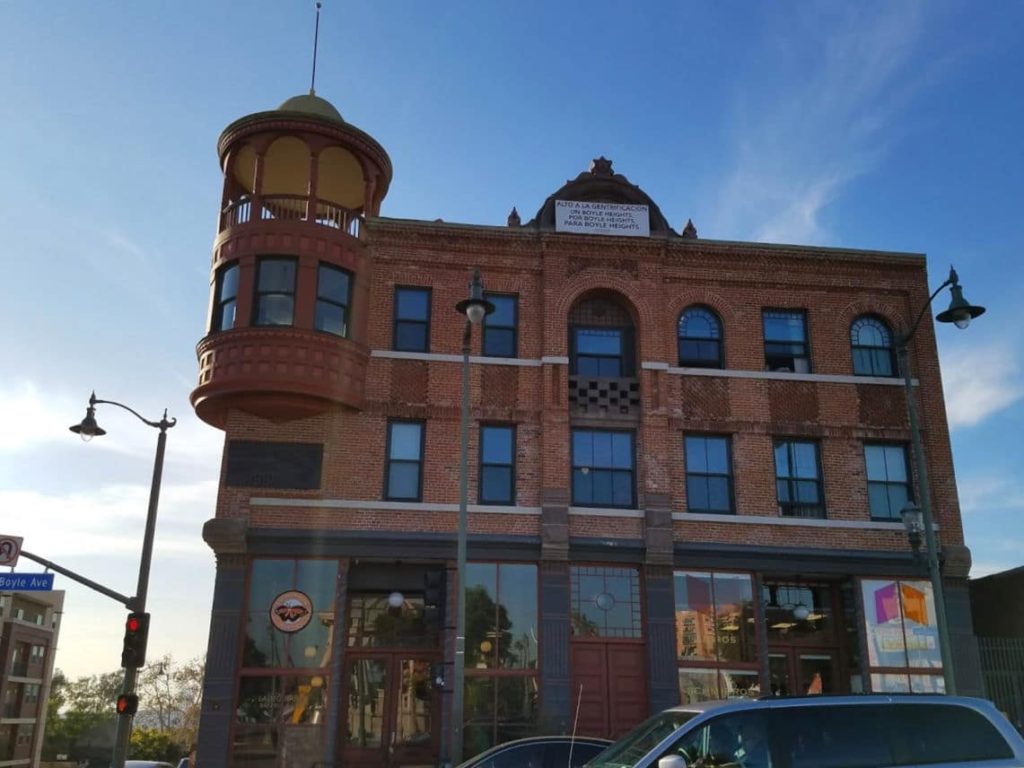 If you're in Los Angeles and want to take a walking tour of this fascinating center of mixed culture in Los Angeles, I recommend that you contact the Barrio Boychik. Sometimes tours off the beaten track are the most interesting and intriguing.
See what tours he has available by clicking here.
Find other walking tours in Los Angeles here.
Have you found an unusual walking tour that you've taken and enjoyed? Leave a comment below.
This post may contain affiliate links. I will receive a tiny amount of compensation at no extra cost to you if you make a purchase.