In the huge city of Los Angeles, there are a surprising number of urban lakes that make you feel like you aren't in the city at all. They are perfect places to have a picnic, attend a festival, or sit and watch ducks and geese.
Echo Park Lake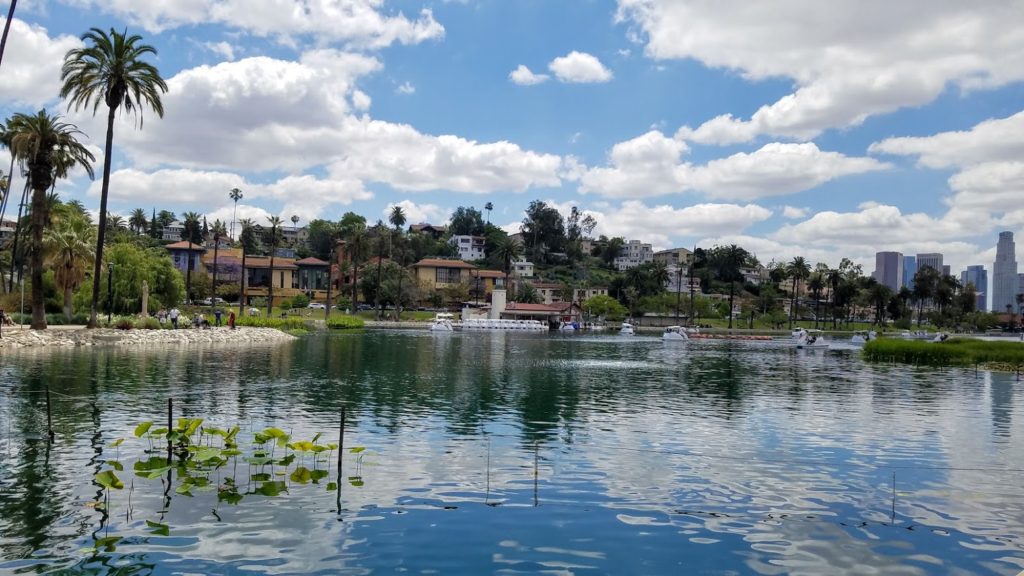 One of the most popular lakes in photographs of Los Angeles is Echo Park Lake, set with the backdrop of downtown skyscrapers and located in an artistic and culturally diverse neighborhood. A lotus festival and dragon boat race is held there each year during normal times that celebrate Asian culture.
Nearby is Angelino Heights, home of some of L.A.'s oldest Victorian Homes.
Visitors can ride swan boats, walk their dogs, or listen to music from local musicians.
Lake Hollywood Reservoir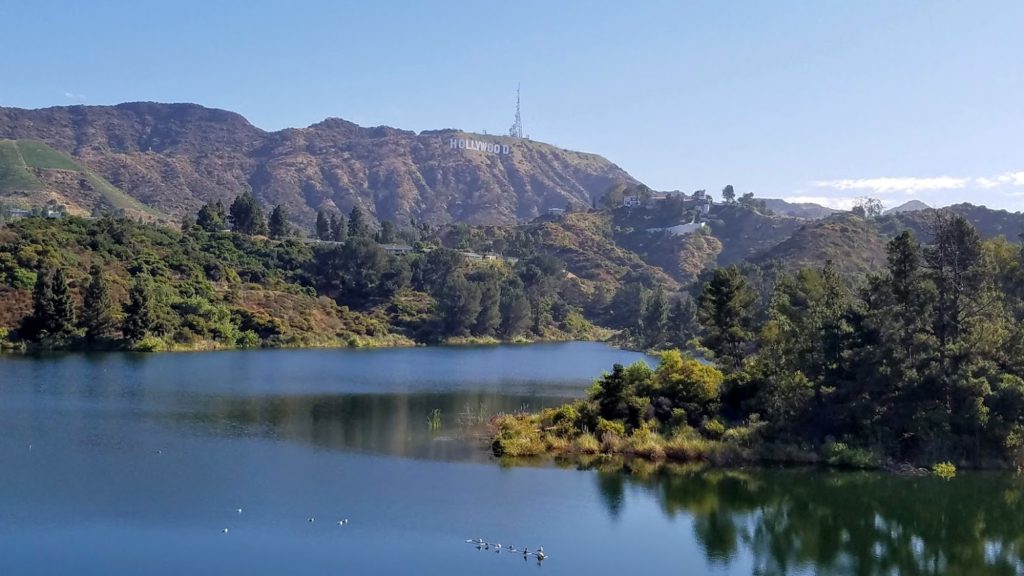 Located west of Griffith Park with a close-up view of the Hollywood Sign is Lake Hollywood. The lake, itself is fenced off but you can walk around it and see the Mulholland Dam constructed in 1924. You may even catch a deer peering through the fence.
There are multiple entrances to the walking path depending on where you are coming from. You may recognize Lake Hollywood from films like Chinatown or Earthquake.
If you are looking for lunch or a snack afterward, I recommend The Beachwood Café underneath the Hollywood sign.
Hollenbeck Lake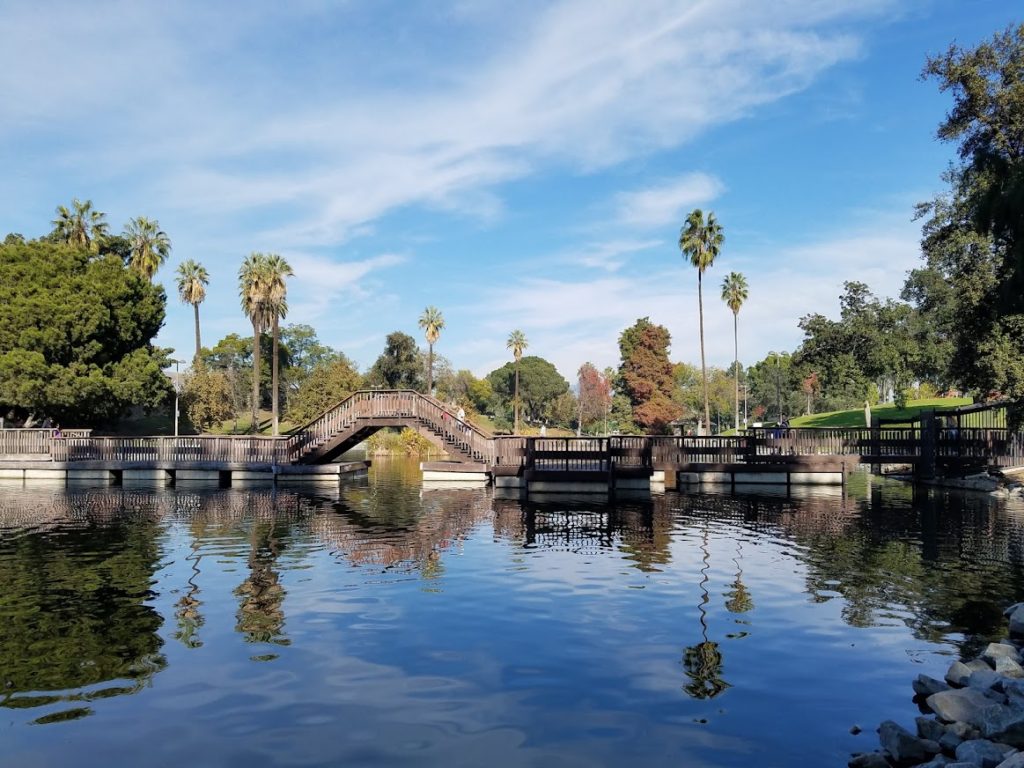 Another gorgeous but little-known urban lake in Los Angeles is Hollenbeck Lake. It is located in the center of Boyle Heights in East L.A. This picture-perfect oasis in the midst of the inner city is a popular venue for wedding photos. Take a stroll around the lake, enjoy the fountains, and watch ducks and geese play in the water.
Just FYI, the lake butts up to the freeway offramp.
Mariachi Place is within walking distance on 1st street where you will find for-hire musicians and great Mexican food.
Lake Balboa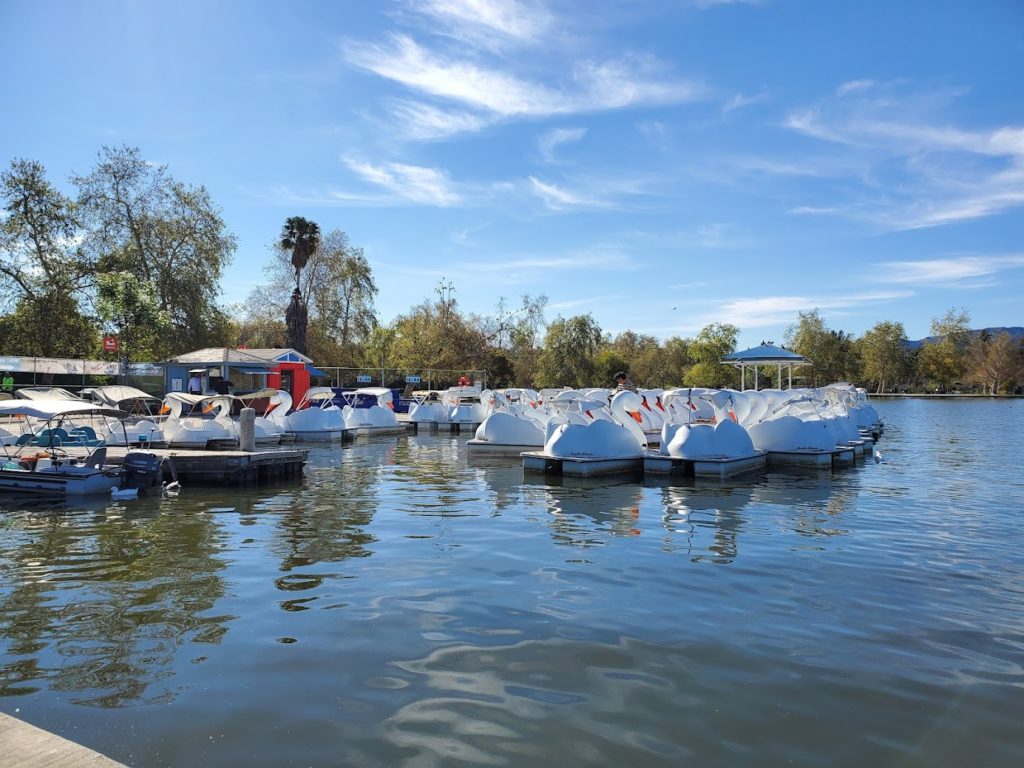 In the heart of the San Fernando Valley off Balboa Blvd in Encino is a long stretch of parkland with a golf course, soccer/baseball fields, and dog parks. But hidden off the road is beautiful Balboa Lake. Rent a swan boat or take a stroll around its mile-long circumference to see street vendors, a small waterfall, picnic areas, playgrounds and plenty of waterfowl.
Nearby is The Japanese Garden that was created from a water reclamation plant. It has a dry Zen meditation garden, a "wet strolling" garden, and a tea garden that is often used for filming. The garden was designed by Dr. Kawana who also designed gardens at San Diego's Balboa Park and the Los Angeles County Museum of Art.
MacArthur Park Lake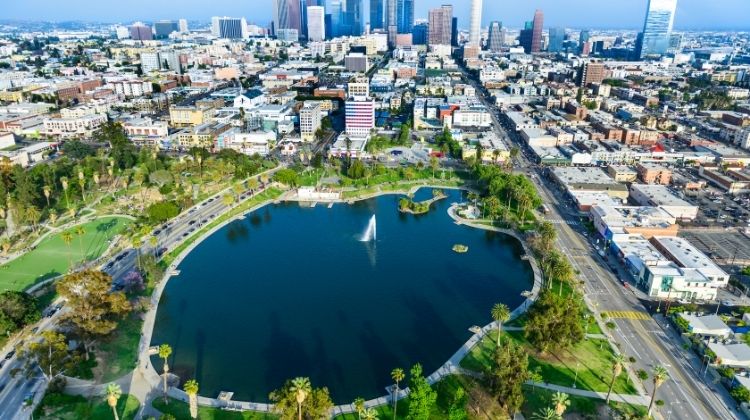 Someone left the cake out in the rain at MacArthur Park. I used to go there as a kid and my dad would rent a boat after we enjoyed lunch at Langer's Deli. It is the BEST deli in L.A., in my opinion. Make sure to order their #19 pastrami sandwich.
The lake is currently closed for beautification but will reopen later in 2022.
Although the neighborhood has changed through the years and is on the rough side, MacArthur Park lake is still well worth visiting.
Silverlake Reservoir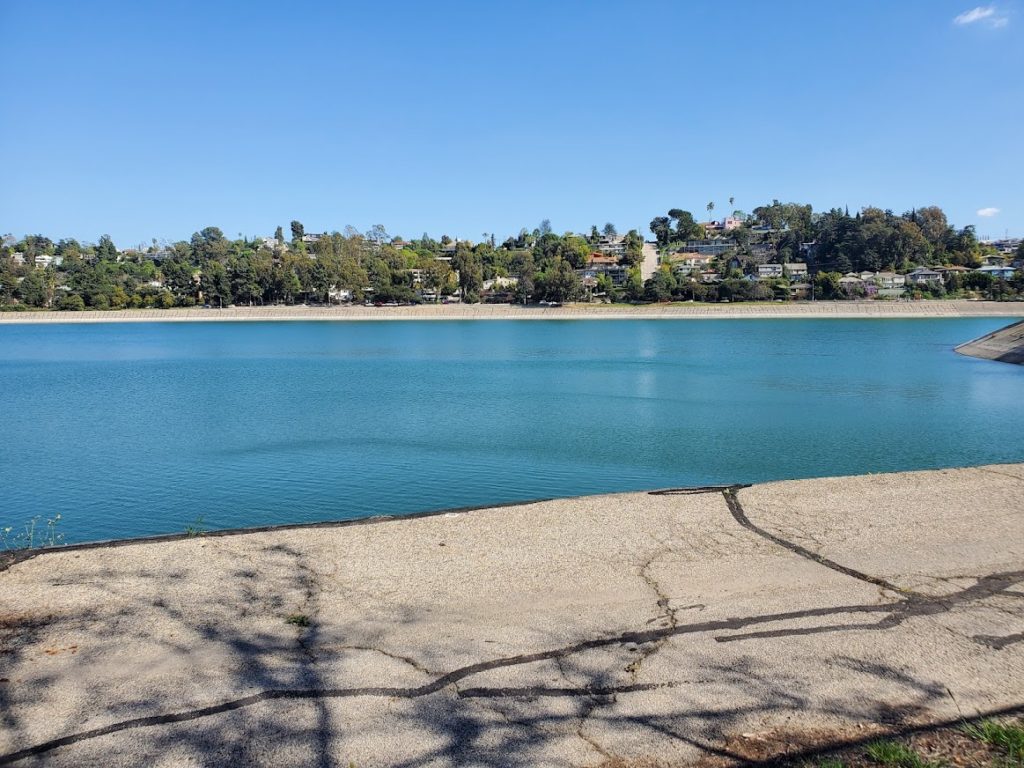 Ivanhoe Reservoir and Silver Lake are 2 manmade lake basins that form Silver Lake Reservoir. Like Echo Park, the neighborhood is artsy and bohemian. The lake does not have fountains or boats like Echo Park Lake, and you cannot go to the water's edge because it is fenced off.
Outside the fence, there is a walking trail around the lake, some picnic areas, and a dog park.
While you are there, you may want to visit the neighborhood's boutiques and cafes or hike up the Silver Lake stairs.
For dinner, don't miss the Flamenco show at El Cid, which has been a neighborhood institution since 1962. I even got up on stage there once and danced as an audience volunteer.
Lake Shrine
The Lake Shrine is part of the Self Realization Fellowship located off Sunset Blvd in Pacific Palisades. It was built for meditation and is a serene environment to walk around or to sit and contemplate the Universe. It was founded by Paramahansa Yogananda and dedicated in 1950.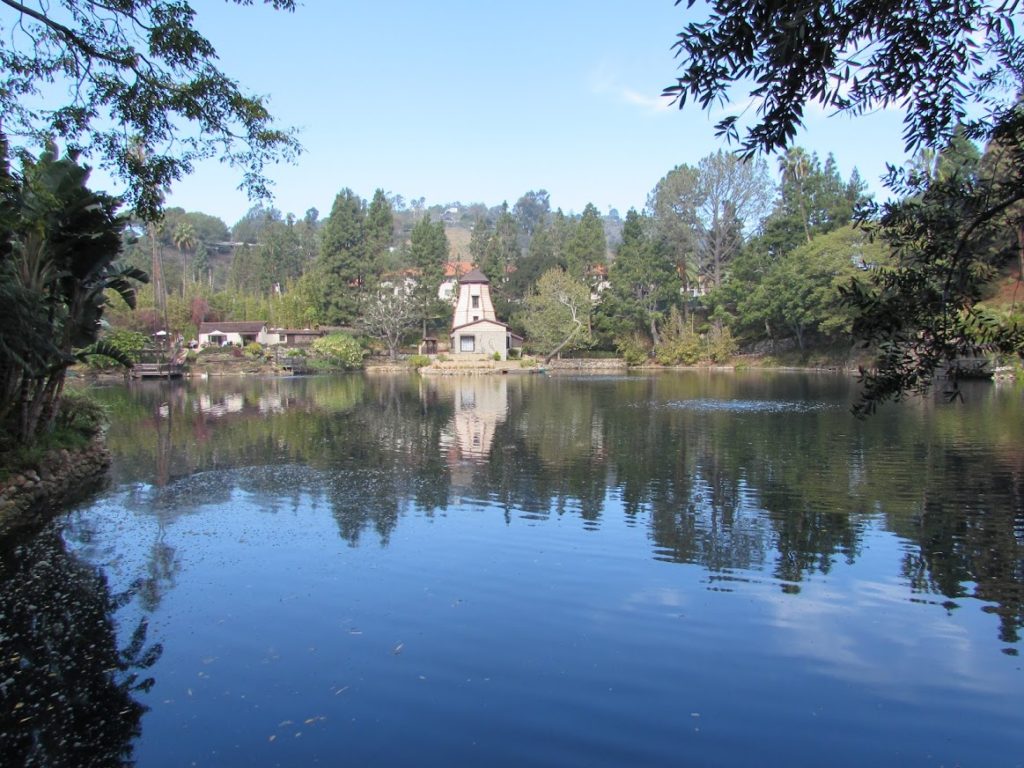 Malibou Lake
Malibou Lake is a spot of heaven in the Santa Monica Mountains near Agoura west of the San Fernando Valley. The Lodge at Malibou Lake is often used for weddings and has an expansive lawn with a view of the lake. It is surrounded by serene sycamore and oak trees.
This post may contain affiliate links. I will receive a tiny amount of compensation at no extra cost to you if you make a purchase.