I've lived in various Los Angeles areas for most of my life but am now residing in Altadena just North of Pasadena. It's an old and diverse neighborhood made up of working-class bungalows as well as glamourous Craftsman-style homes and mansions.
Altadena is an unincorporated area of Los Angeles that sits at the foothills of the beautiful San Gabriel Mountains between the Arroyo Seco, the Angeles National Forest, and Eaton Canyon.
How it came to be
The history of Altadena started with the Native Americans of the Hahamog'na, a band of the native Tongva tribe, who were enslaved to build the San Gabriel Mission southeast of Altadena. They settled along the Arroyo Seco from the Los Angeles River through Elysian Valley, Highland Park, South Pasadena, Glendale to Pasadena and Altadena.
Spain claimed California in 1769 and the Spanish Colonial period lasted until 1821 when Mexico gained its independence.
Rancho el Rincon de San Pascual was a 14,403-acre area that encompassed what is now Pasadena, South Pasadena, El Marino, and Altadena. The ranch was set aside for Eulalia Perez de Guillen by Father Jose Sanchez in 1826. She was a teacher, chef, and storekeeper there. The Mexican governor granted it to her second husband, Juan Marine in 1834.
The ranch changed hands several times until the last owner Manuel Garfias was awarded the title by the Mexican governor in 1843. In the early days, grapes, oranges, olives, walnuts, and later dates and avocados were grown on the ranch.
When the Mexican-American war ended in 1848 and Alta California became a state in 1850.
Altadena founding fathers
Benjamin Wilson, known as Don Benito, and his wife Margaret arrived in 1852. They got into politics, and he became a justice of the peace. Wilson was a benevolent man who worked with the Native Americans in the area and established a ranch and vineyard in San Gabriel. He also led expeditions up the San Gabriel mountains, which are adjacent to Altadena. Mt Wilson and the Mt Wilson Observatory were both named after him.
Judge Benjamin Eaton and Dr. John S. Griffen were business associates. Both arrived in Rancho San Pascual in the early 1850s and acquired Rancho San Pascual from Garfias who had defaulted on a loan they gave him. Griffin later became known as one of the fathers of East Los Angeles. Eaton Canyon, a favorite LA hiking spot with a waterfall was named after Judge Eaton.
Griffen and Wilson also acquired a small amount of land that was part of Rancho Santa Anita that was sold later on as part of Rancho San Pascual. That part of the land is now Altadena Drive.
Griffen, who had been an army surgeon ended up making an enormous amount of money in real estate. He was also the mayor of Los Angeles in 1851 and served two terms in the State Senate.
Eaton, Griffin, and Wilson needed water to irrigate their land. At the time, the Arroyo Seco, where the Rose Bowl is now located, was filled with water. In 1867, the three worked together to build Wilson's Ditch. It was an irrigation site that brought water from the Arroyo to Altadena, making it a more attractive place to live.
Captain Frederick Woodbury and his brother John moved to California from Iowa and bought a large portion of land in what is now Altadena. The area became a subdivision in 1887 and was named after the Altadena Nursery which had been started by Byron O. Clark years before. The word "Alta" means above and "dena" comes from Pasadena.
The Woodbury's developed the Altadena Improvement Plan and built an upper-crust millionaire's row on Mariposa Street near Santa Rosa Avenue.
Frederick's house was built in 1882 and still stands on Madison Avenue. It is known as the Woodbury-Story house and has been used as a filming location for movies like Amityville Horror, American Horror Story, True Blood, and many others.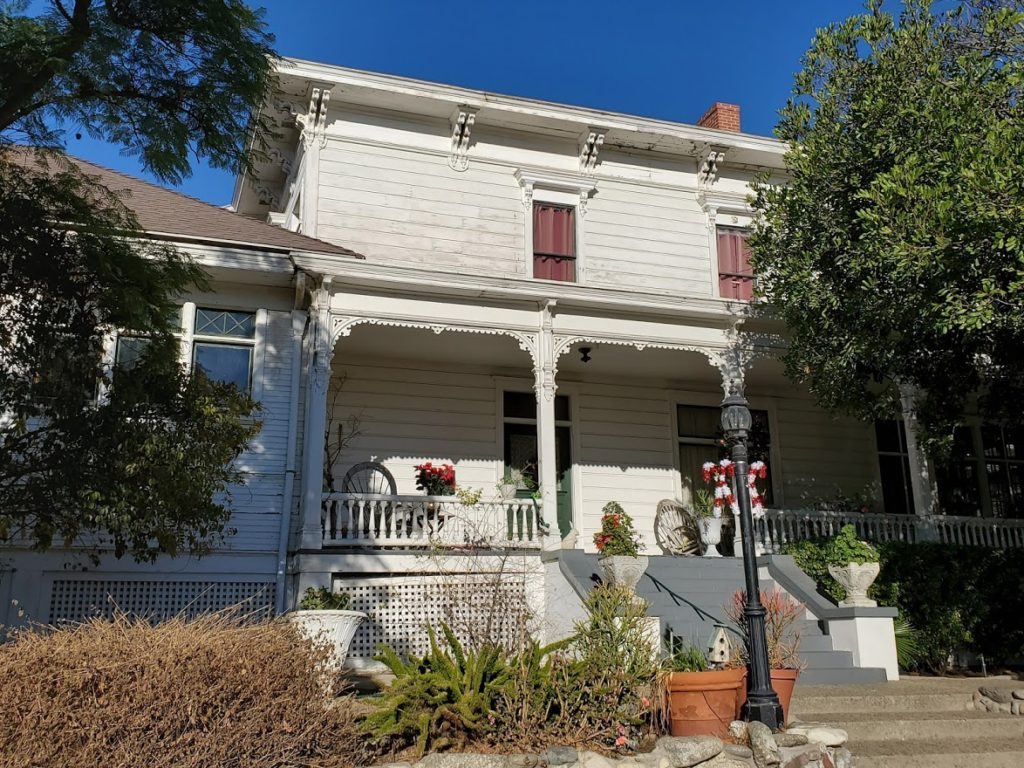 The community evolves and becomes more diverse
During the 1940s artists, writers and bohemian types moved into Altadena and added to the area's character.
The 60s and 70s brought in a more diverse population as whites began to move out who were opposed to school integration. Modern-day Altadena is now a laid-back community with a mix of cultures, ethnic restaurants, hiking trails, and turn of the 20th-century architecture giving it character as well as beauty.
Christmas Tree Lane
Frederick Woodbury had visited Italy and fell in love with the Deodar Cedar trees he saw there. He imported 150 Deodors from Italy in 1885 and had them planted with Chinese labor on Santa Rosa Avenue in Altadena.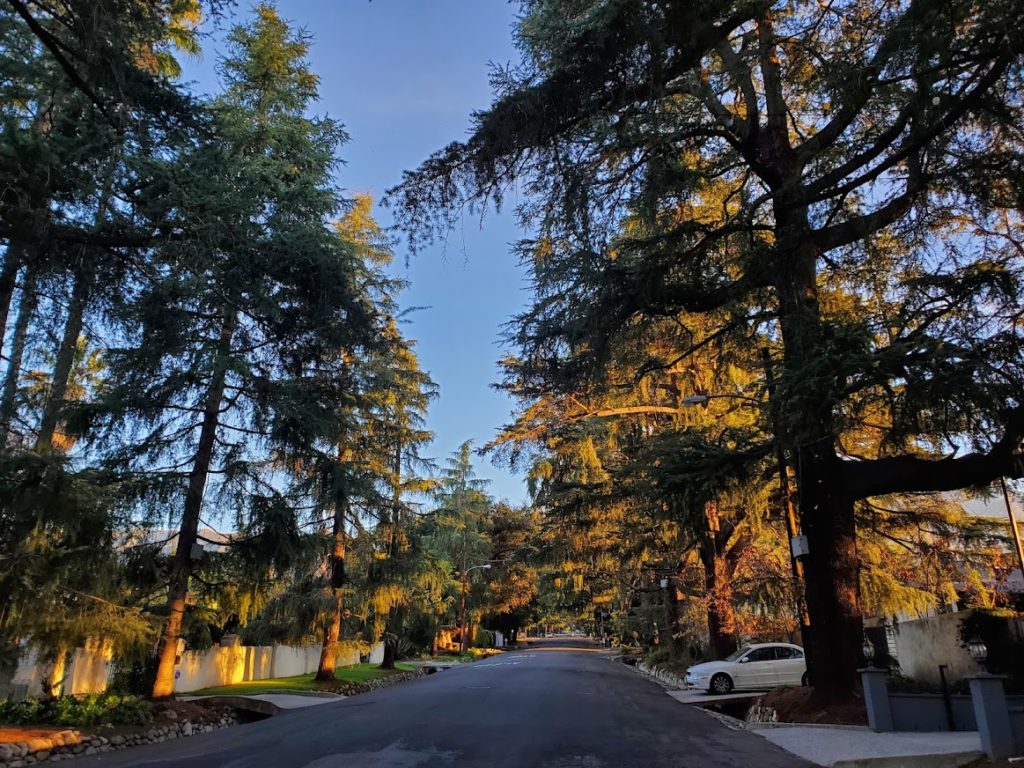 A quarter of a mile tree-lighting spectacle was organized around the Deodors in 1920 with the tall and majestic trees decorated with strings of lights. It is now called Christmas Tree Lane and has been lit almost every year for the last 100 years. The holiday attraction is the oldest large-scale Christmas display in the world. It became a California Historical Landmark in 1990 and is on the National Register of Historic Places.
Mt Lowe Railway
A civil engineer named David McPherson was commissioned by Thaddeus Sobieski Lowe, who was an Altadena businessman, to build the Mt. Lowe Railway. The railway took tourists from the Green Hotel in Pasadena (now Castle Green) up to the foot of the mountain where a funicular brought them 2,000 feet to the top. For a while, it was known as the "eighth wonder of the world."
A resort was constructed there called Echo Mountain House. It had 70 rooms, a casino, and a dancehall. Along with a zoo, tennis courts, observatory circular fountain, menagerie, and its own power plant, it was referred to as White City. The trail up to it is 10 miles long and rather steep but has a gorgeous view if you can handle it. Even though the resort went bankrupt and was destroyed, you can still see the ruins.
Other points of interest in Altadena
The McNally Mansion is a Queen Anne Victorian home built in 1887 for mapmaker and publisher Andrew McNally on Mariposa Street. It has a 3-story rotunda and a Turkish room. The home is hard to see from the street but is impressive. At one time, McNally had a private railroad that ran from Altadena Junction to his home.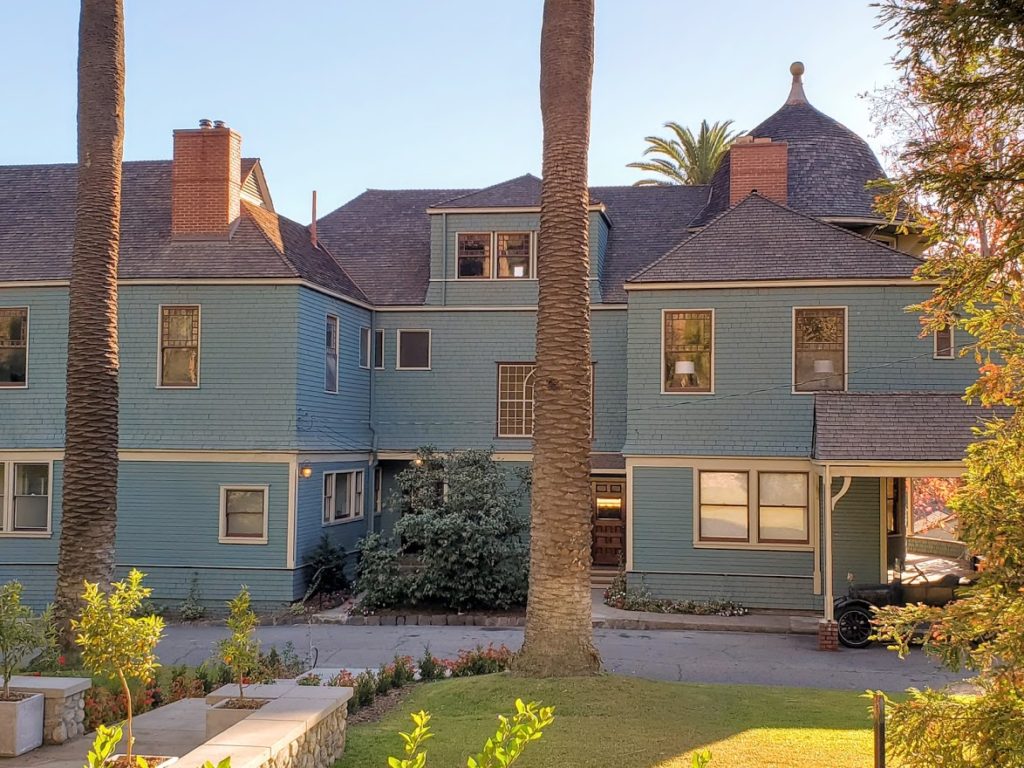 Altadena was also the home of novelist Zane Grey. The Mediterranean Revival-style home that he bought in 1920, was built in 1907 and is located on Mariposa Street west of Lake Ave. It became the first fireproof home in Altadena made of reinforced concrete.
The Altadena Golf and Country Club, which opened in 1911, was a favorite hangout of Clark Gable and Humphrey Bogart. There was also an airstrip there that Cecil B. DeMille used from 1919 – 1921.
Mountain View Cemetery, established in 1882, in the heart of old Altadena is where many of the Altadena and Pasadena founders are buried including the Woodbury's, Thaddeus Lowe, and others. Both the magnificent mausoleum and the cemetery are often used for filming movies and TV shows. Notables like Eldridge Cleaver and George Reeves are also buried there.
Memorial Day at Mountain View Cemetery
The Bunny Museum is where you can view over 34,000 bunny artifacts, objects, etc. It's an unusual museum but fun if you are a bunny lover. Kids will enjoy it as well.
The Cobb Estate is at the top of Los Flores Canyon (off Lake) and across from Echo Mountain. It is known as "the haunted forest." It was the first stop of the Mt. Lowe Incline Scenic Railway. Visitors can enjoy a free botanical garden and hiking trails set against the San Gabriel Mountains.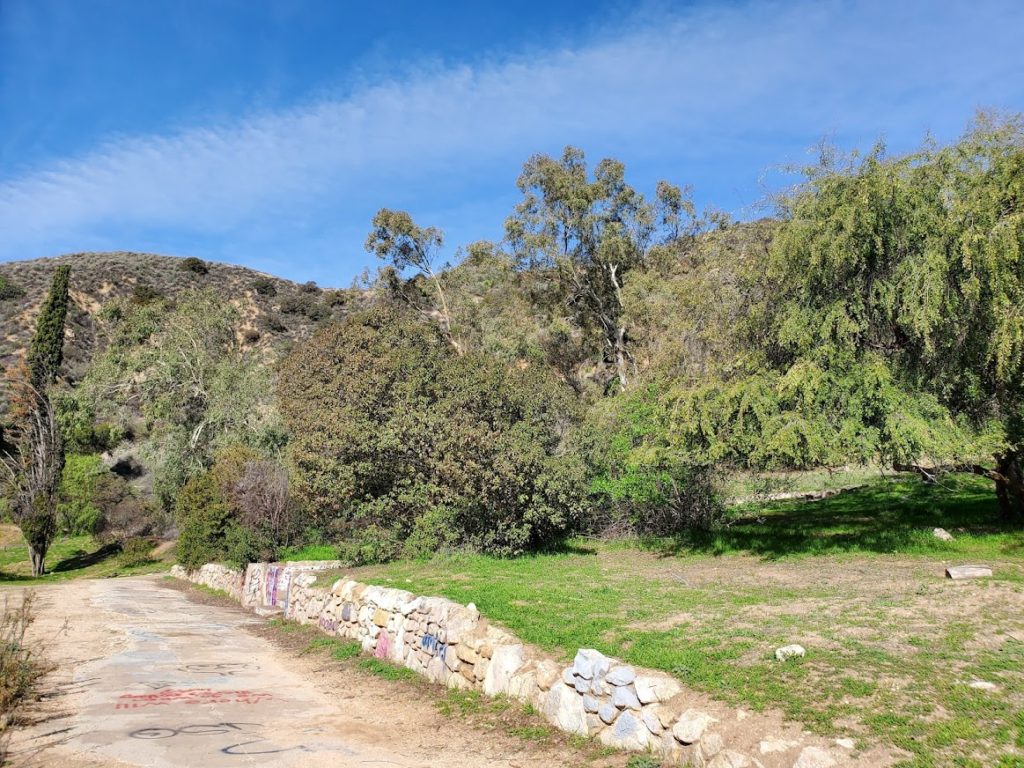 The former estate was the home of lumber magnate Charles Cobb who purchased it as a summer retreat and owned it from 1915 – 1939. He sold it to the Masons who converted it to a retreat for the Sisters of St. Joseph. In 1956, it was purchased by the Marx Brothers who tore down the dilapidated home and in 1971 became public land.
The Full Circle Thrift Store at 2245 Lake Avenue was once the Mt. Lowe Railway and Pacific Electric Railway Substation Number 8. It is an impressive brick 2-story building.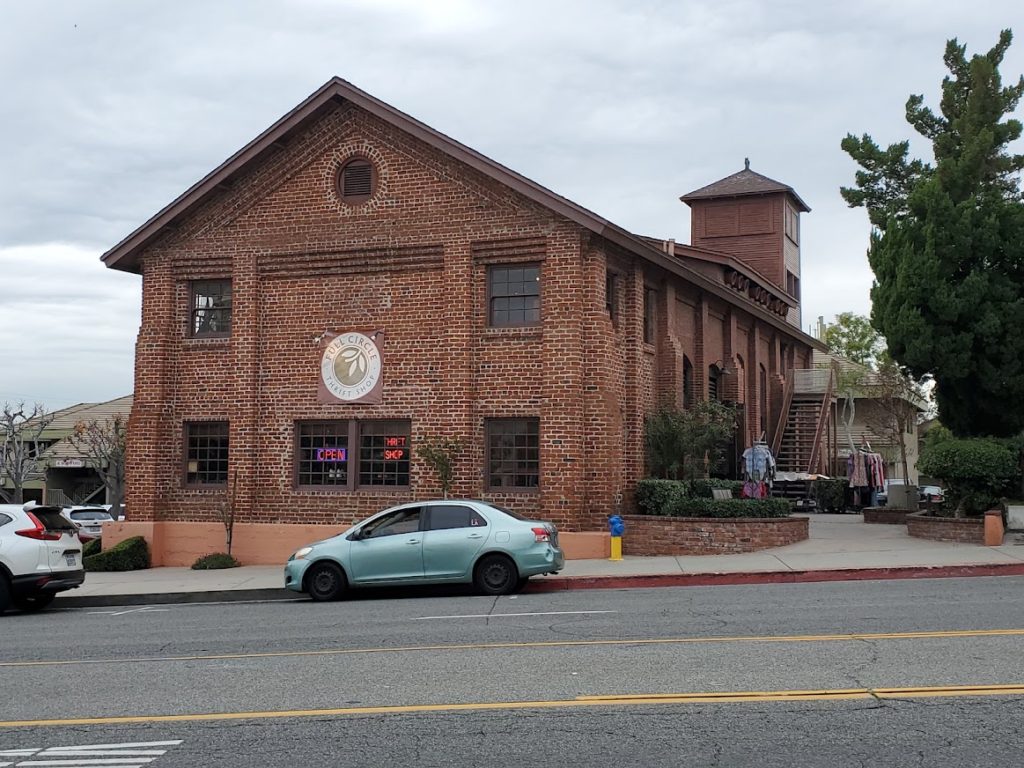 The Waldorf School is located in the former Scripps Hall on Mariposa Street, built by William Armiger Scripps in 1904. It is a 3 story Arts and Crafts Craftsman bungalow designed by Charles W. Buchanan.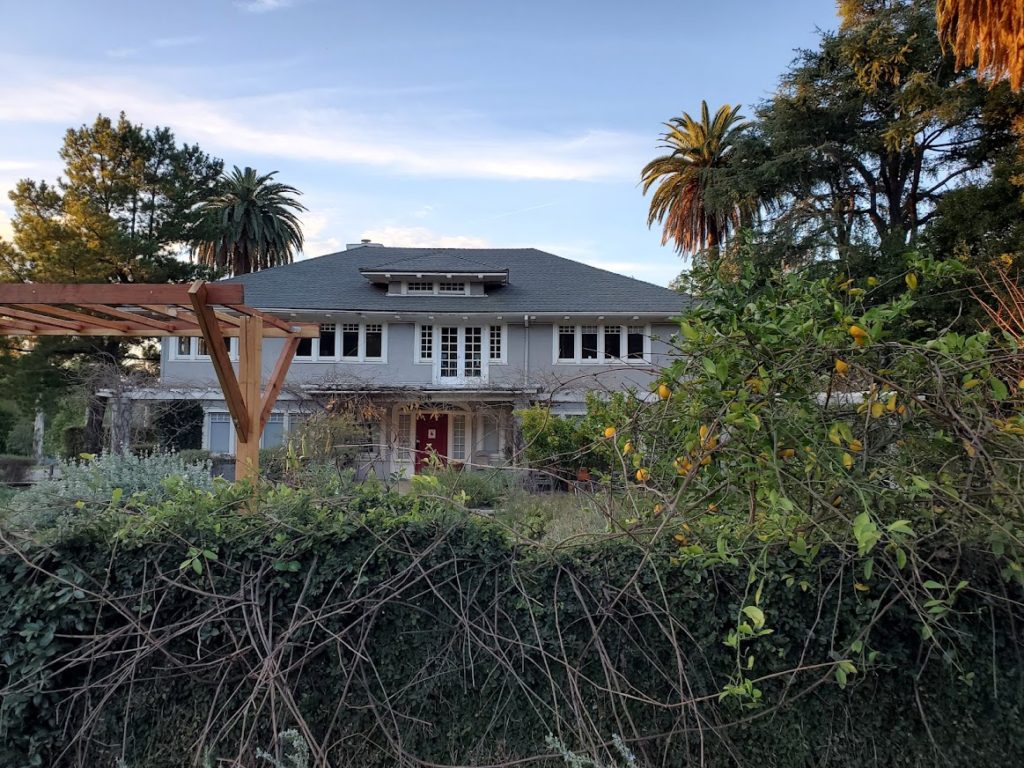 Favorite Restaurants in and near Altadena include Pinocchio, Bulgarini Gelato Vino Cucina, Pizza of Venice, Altadena Ale and Wine House, El Patron, and Nancy's Greek Café.
Click here for more things to do near Altadena.
This post may contain affiliate links. I will receive a tiny amount of compensation at no extra cost to you if you make a purchase.