Old Pasadena, known for its annual Rose Parade, is one of my favorite areas in Los Angeles not only because it is lovely, but also because of its history and architecture. It is strewn with historic brick buildings, craftsman homes, parks, museums, and glorious gardens.
I had visited it often in the past when I was living elsewhere, but now that I moved to Altadena it's right next door. There is a multitude of things to do in Old Pasadena that can keep you busy for days depending on your interests. And, if you are visiting from out of town there is an abundance of fine hotels, gourmet restaurants, and shopping in the historic district.
Here are area highlights you don't want to miss
Botanical gardens and green spaces
The temperate weather in Los Angeles makes it possible to enjoy outdoor activities all year round. Old Pasadena offers a variety of options for nature lovers.
Let's start with its gardens and green spaces, which, for those of us who are older, are the safest places to be right now.
Be sure not to miss the Huntington Library, Art Museum, and Botanical Gardens if you are spending time in Pasadena. It is located in San Marino, which is one of the most affluent areas of Los Angeles. It almost puts Beverly Hills to shame.
You can spend hours walking through the Huntington's many themed gardens including its extraordinary Chinese and Japanese gardens, rose garden, and desert plants.
The Huntington is the home of Gainsborough's Blue Boy and its art museum hosts some of the finest European and American Art as you will ever see.
It also has a historic tearoom which is currently being renovated but is set to reopen again soon.
Other gardens near Old Pasadena that are well worth a visit include Descanso Gardens in La Canada Flintridge, The L.A. Arboretum, Storrier Stearns Japanese Garden and Teahouse, and Arlington Garden, which is a free community garden adorned with native California plants.
Parks and green spaces are also in abundance. Memorial Park at 85 Holly St has an outdoor Amphitheatre and is next to the Metro Line Station. It's the perfect place to get off to walk through the historic district.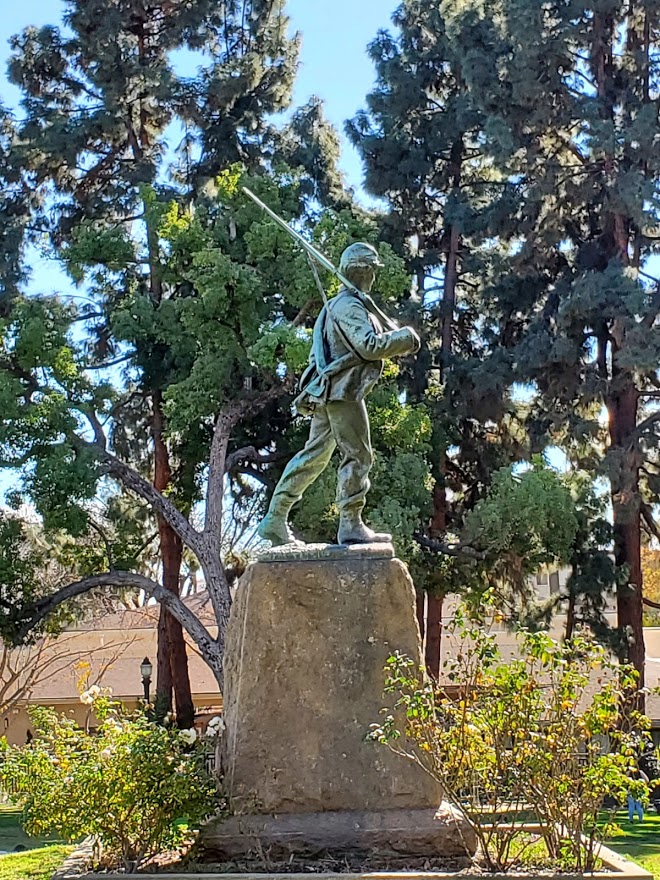 Central Park near Castle Green, once a luxurious Victorian Era hotel, is located directly across from the Del Mar Metro Station and is often the location of art fairs and other events.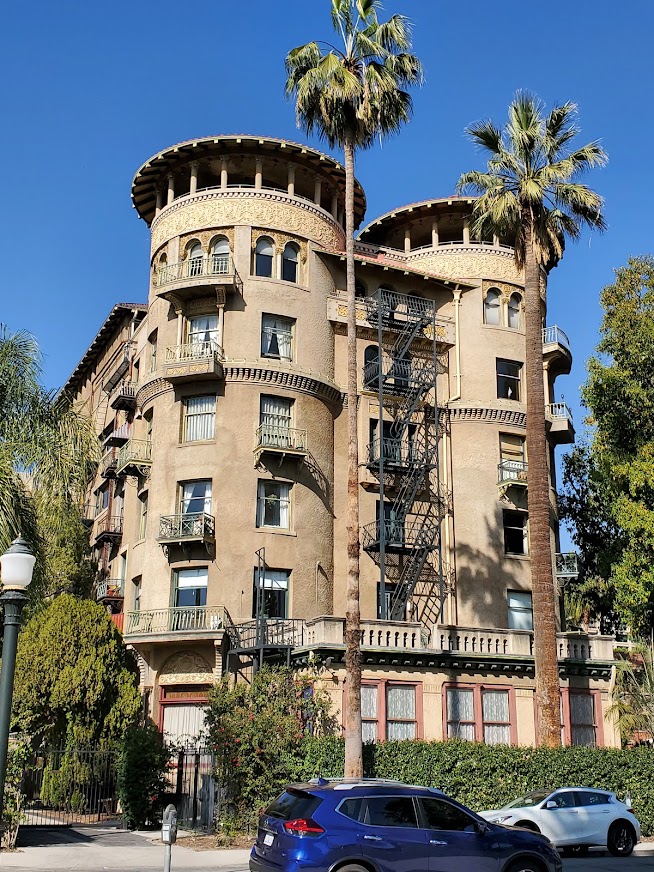 Del Mar Station used to be the old railroad depot for the Atchison, Topeka, and Santa Fe Railways. It was constructed in 1935 in Spanish-Mediterranean style.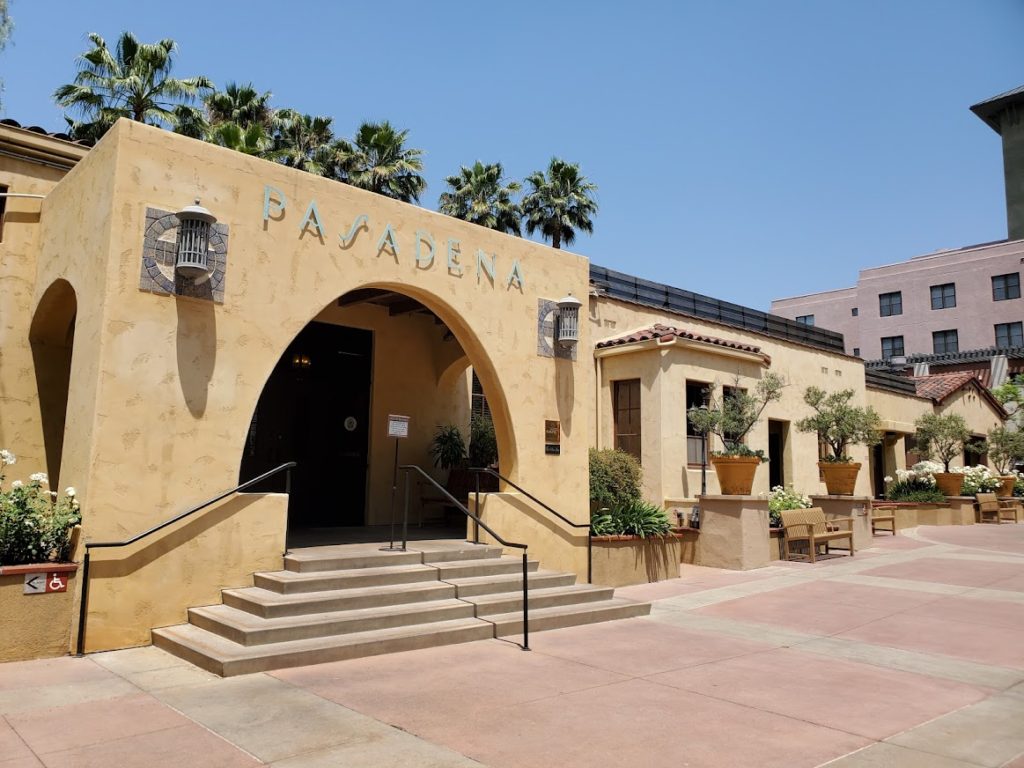 The station is also home to The Luggage Room Restaurant, a beer garden, and Le Grande Orange Café.
Get your steps in hiking and walking
The Rose Bowl Loop in the center of the Arroyo Seco is a 3.1 trail that surrounds the Rose Bowl. It's heavily trafficked but is a great way to get exercise, socialize and enjoy the scenic Arroyo. If you are there on a Sunday, you might want to browse the Rose Bowl Flea Market, which has hundreds of vendors.
There are at least 14 scenic trails in the Pasadena area that you will enjoy if you love hiking. One of the most popular trails is in Eaton Canyon. It is an easy 3.5-mile round trip hike that will take you to a 40-foot waterfall with gorgeous views of the San Gabriel and Santa Monica mountains.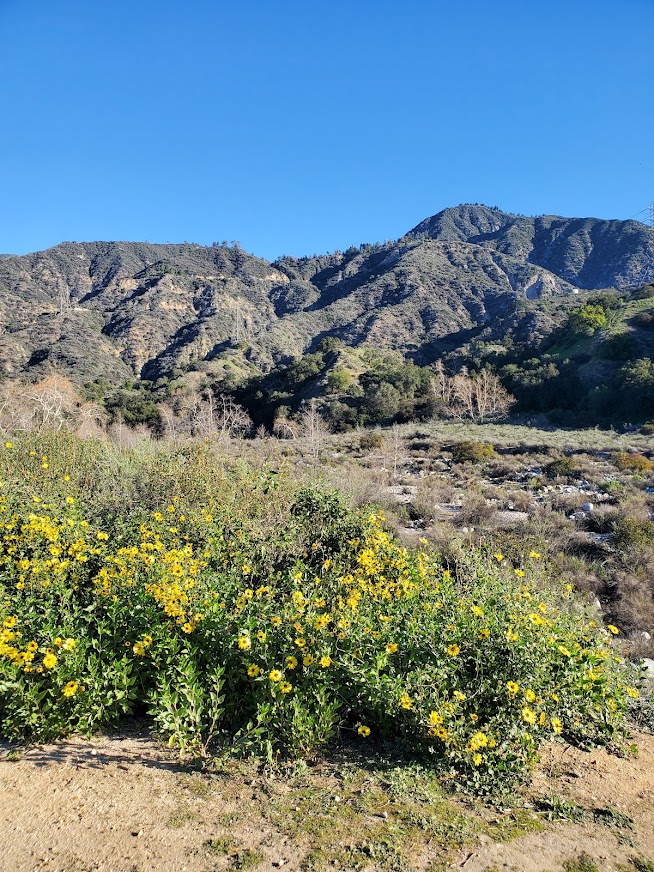 I walked the trail and it is beautiful. You have to cross several streams to get to the waterfall. I got over several with help from other hikers but then gave up right before the waterfall. I was out there by myself and didn't want to risk a fall. However, the entire trail is beautiful and there is always another day!
My trick: I walked in the water and got my feet and jeans wet. LOL
Explore the historic alleys of Old Pasadena
One of my favorite things to do in Old Pasadena is to walk around the historic buildings into the alleys off Colorado Blvd near Fair Oaks and surrounding streets. Look up the Passport app on your smartphone to pay for parking on the street or use designated public parking spaces.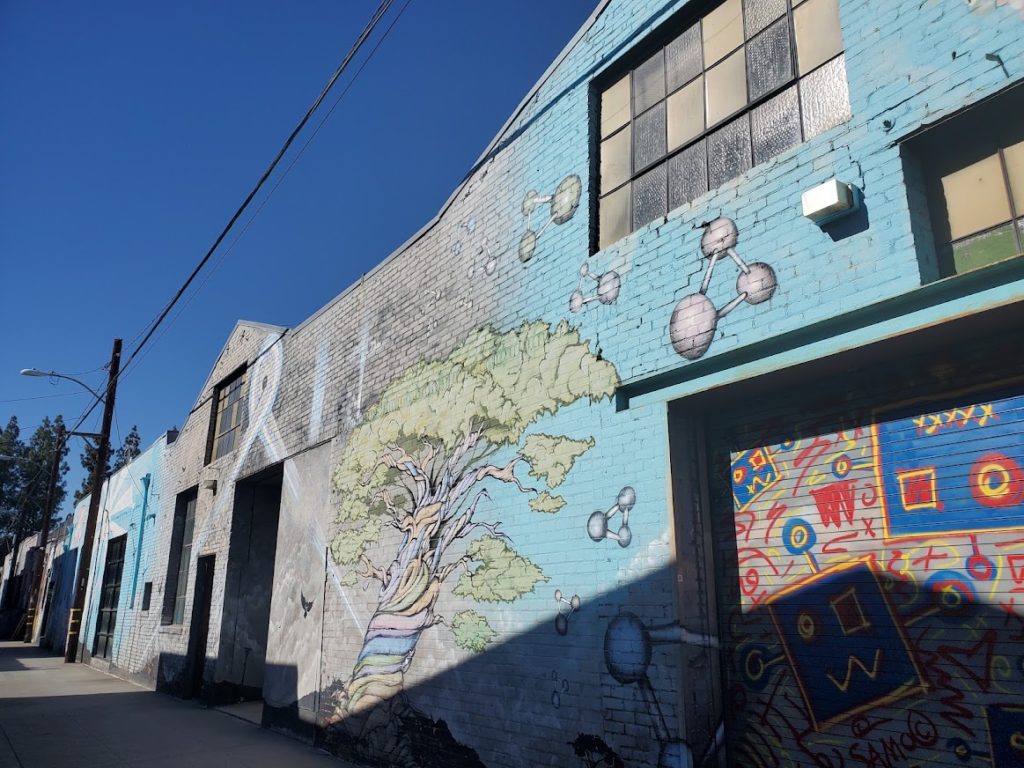 The old alleys are marked with historical markers that give you information about its history and walking through them will take you back in time.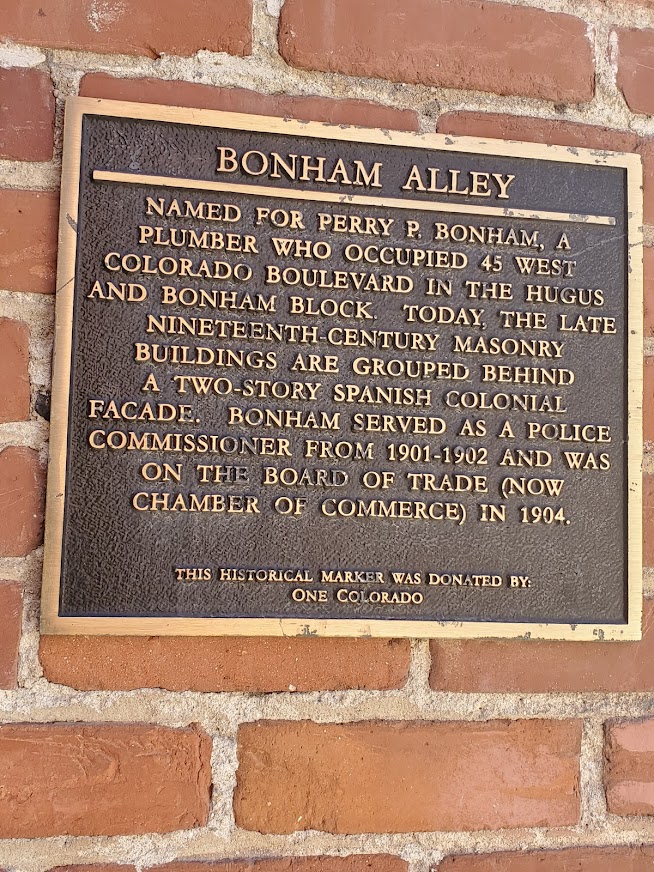 At the height of the pandemic, I signed up for a Zoom walking tour with Pasadena Walking Tours called Haunted Pasadena and learned about some of the intrigues that took place in the old days. I also took an in-person walking tour of Old Pasadena that started at City Hall and through the alleys.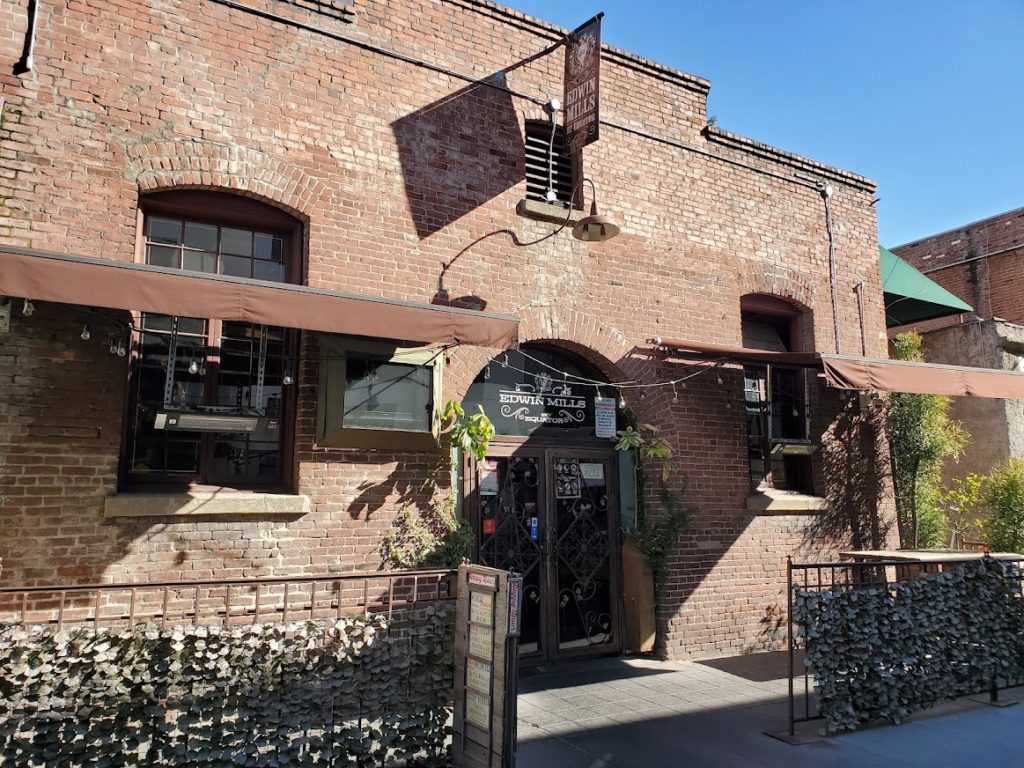 Local walking tours are a fabulous way to learn the history and trivia of any city.
Old Pasadena is also an outstanding area of Los Angeles to eat and shop. Street dining was forced by the pandemic but makes people watching even more fun. I hope it stays that way.
Notable landmarks in historic Pasadena
The Pasadena Playhouse was founded in 1917 by Gilmor Brown and became internationally known as a star factory for many actors, directors, and playwrights who later became famous. It was voted the official state theatre of California in 1937.
I've seen excellent performances there with top actors and performers like Ed Asner and Hershey Felder.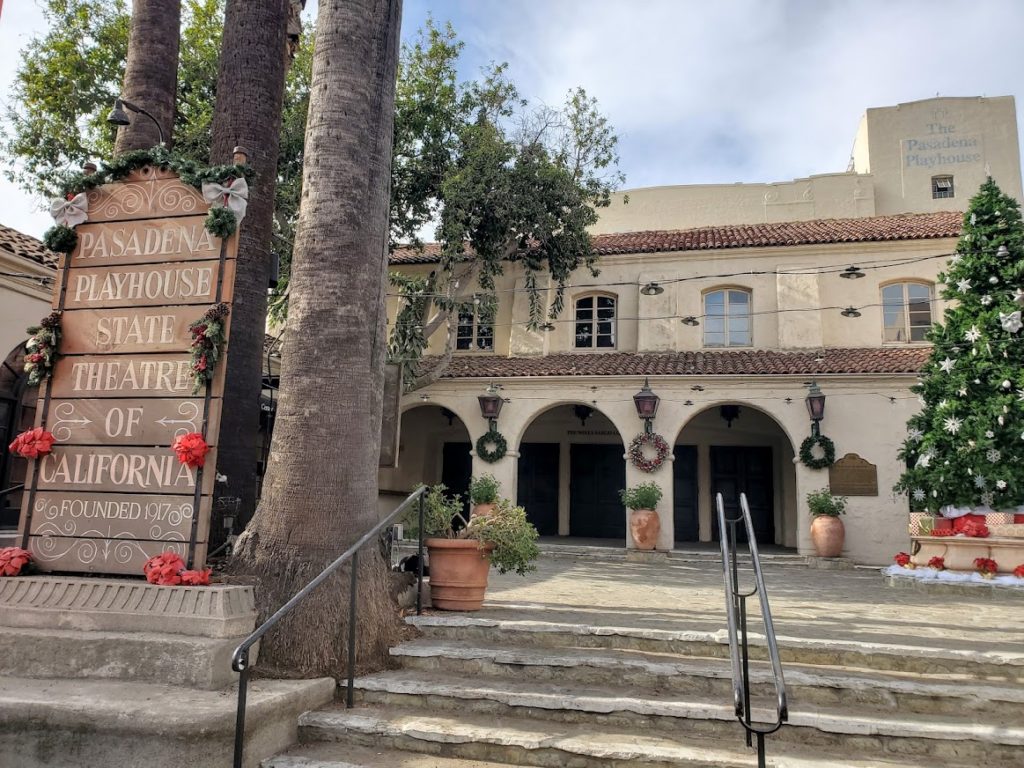 One of the most photographed buildings in Los Angeles is Pasadena City Hall. It was designed in 1927 to recreate the early Renaissance style of the 16th century and is a popular filming location.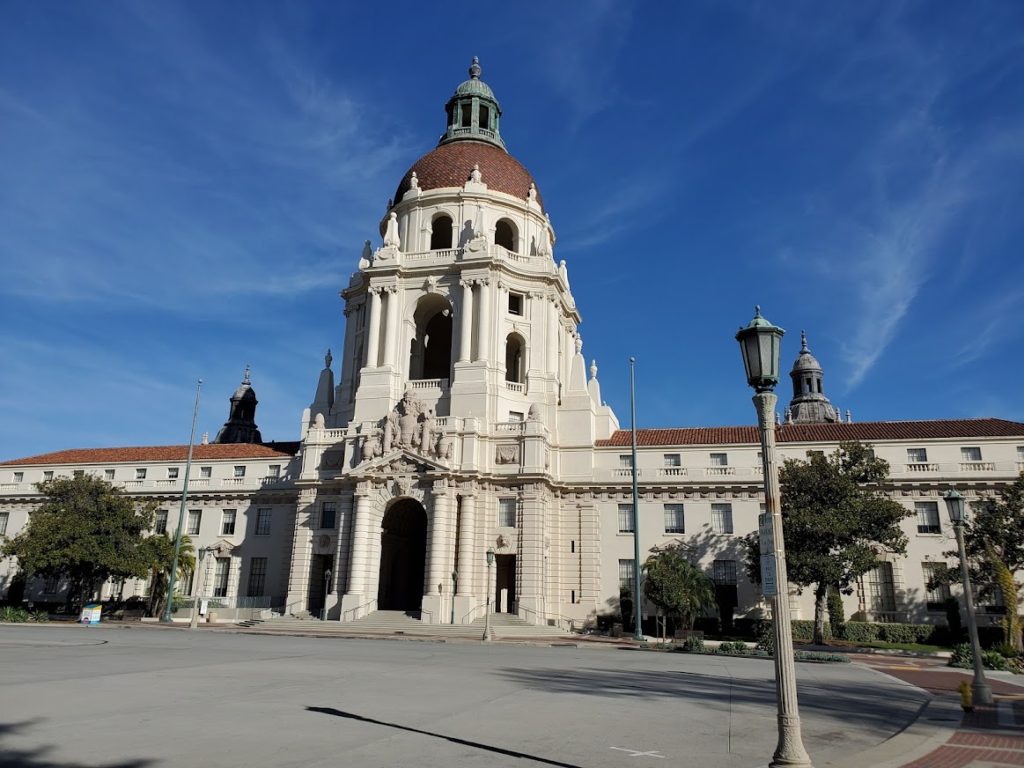 Across the street from City Hall is the Robinson Memorial which commemorates baseball legend and Pasadena residents Jackie Robinson and his brother Mack.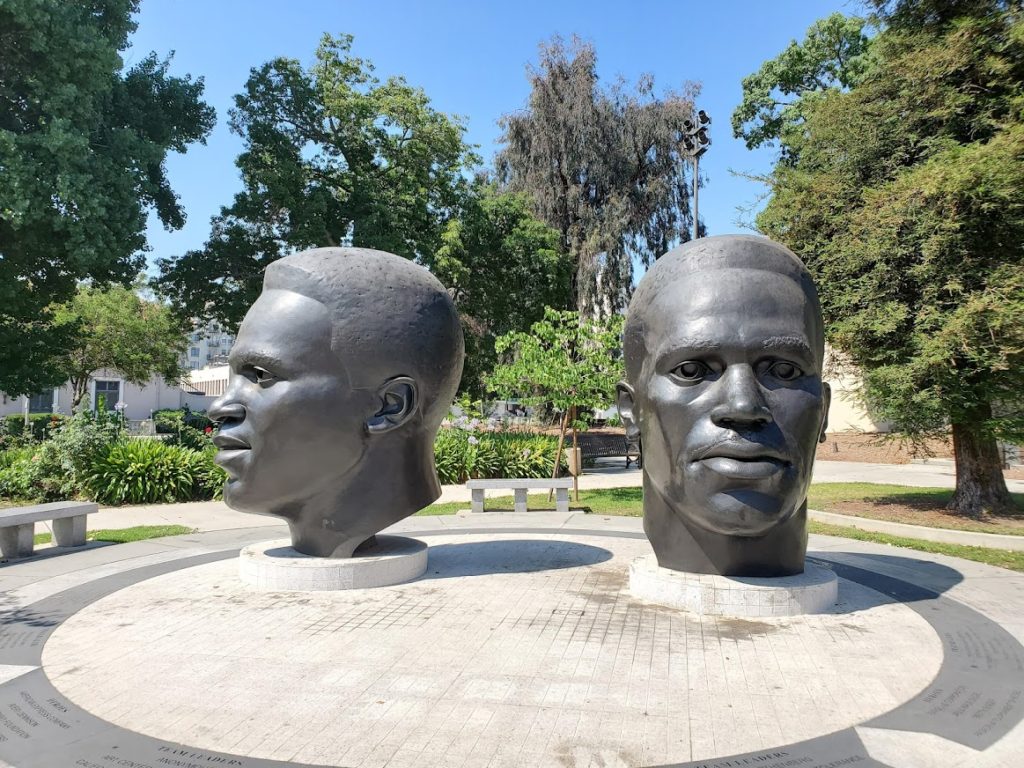 Nearby, on Madison Street, is the location of the Pasadena Scottish Rite Cathedral which was completed in 1925. Its pre-PWA Classical Moderne style is complete with sphinxes.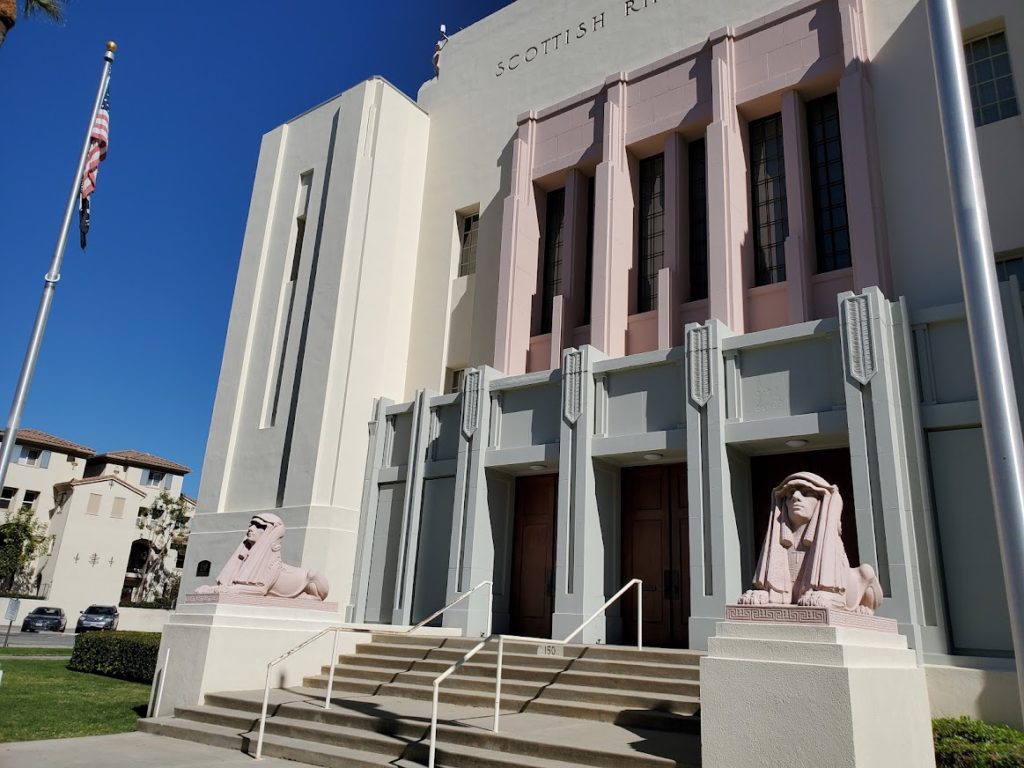 The Gamble House, constructed in 1908, is one of the most stunning examples of Craftsman architecture in Los Angeles. It was designed as a winter residence for the Gamble family by architects Greene & Greene. You can take a tour of both the exterior and interior. However, tours of the interior have been temporarily suspended because of COVID.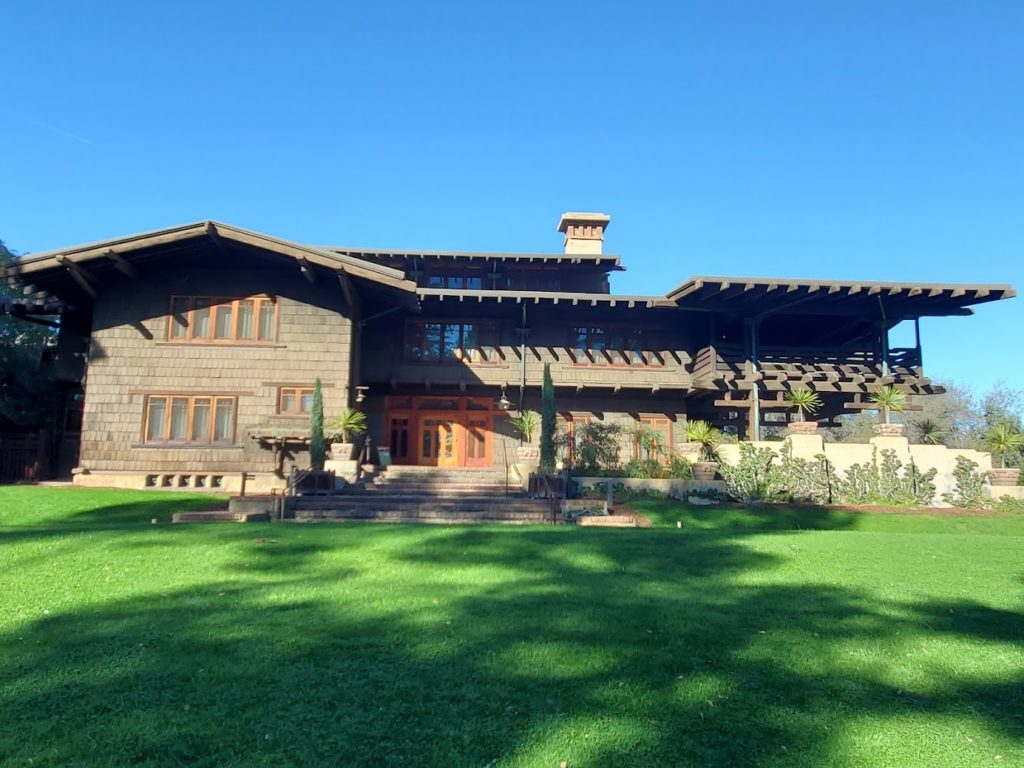 The Old Colorado Bridge
This Beaux-Arts style bridge, completed in 1912 spans the Arroyo Seco. It is known as the "Suicide Bridge" because dozens of people have jumped off. A chain-link fence was installed to prevent jumpers. It has been a popular filming location for decades. Desiderio Neighborhood Park sits underneath the bridge and is a picturesque location to have a picnic and traverse the underside of the bridge.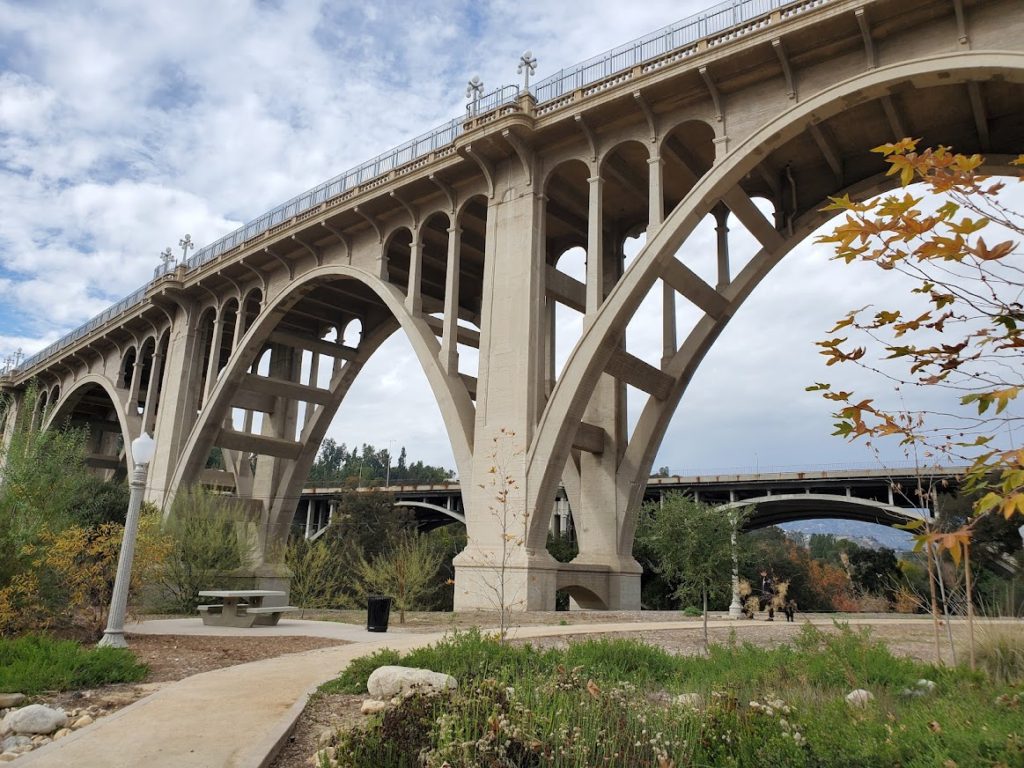 Take in world-class art and culture
In addition to the Huntington Library and its art galleries, Old Pasadena is a cultural mecca.
The Norton Simon Museum showcases the private fine art and sculpture collection of the late industrialist Norton Simon. With over 12,000 pieces in the collection, you can view European works from the Renaissance to the 20th century. There is also an extensive collection of Asian art, modern works, and sculpture downstairs.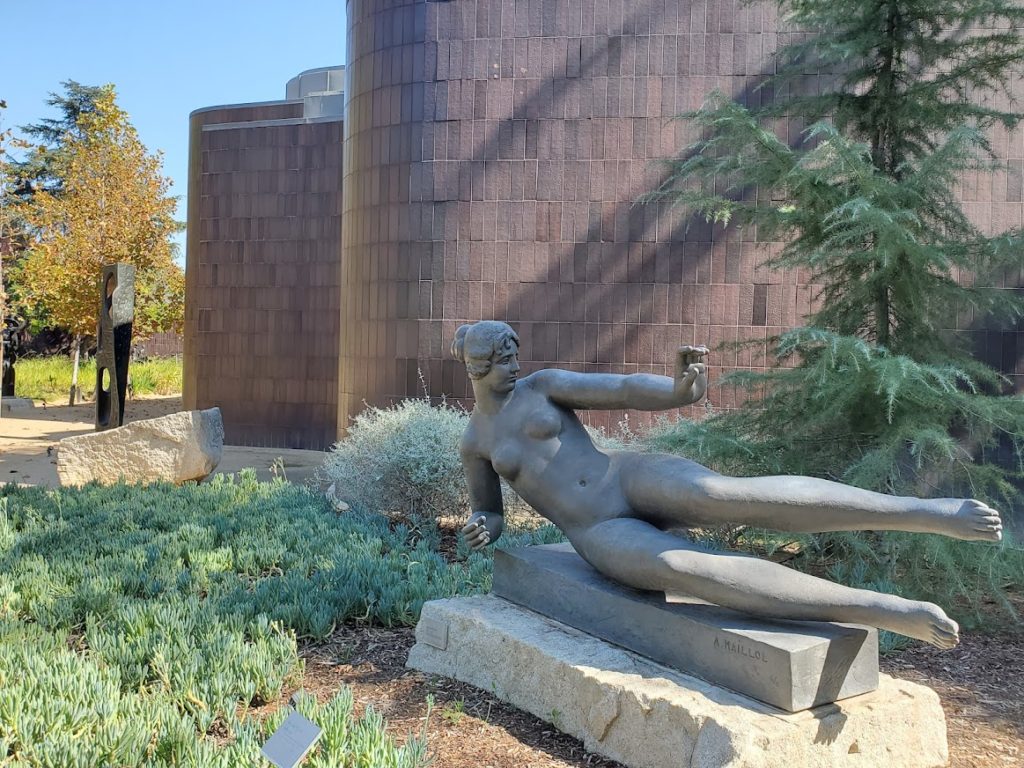 The USC Pacific Asia Museum, founded in 1971, is located in the heart of Old Pasadena on Los Robles Blvd. The building, itself, was constructed in 1926 to resemble a Chinese Imperial Palace with gardens. It holds a permanent collection as well as special exhibits.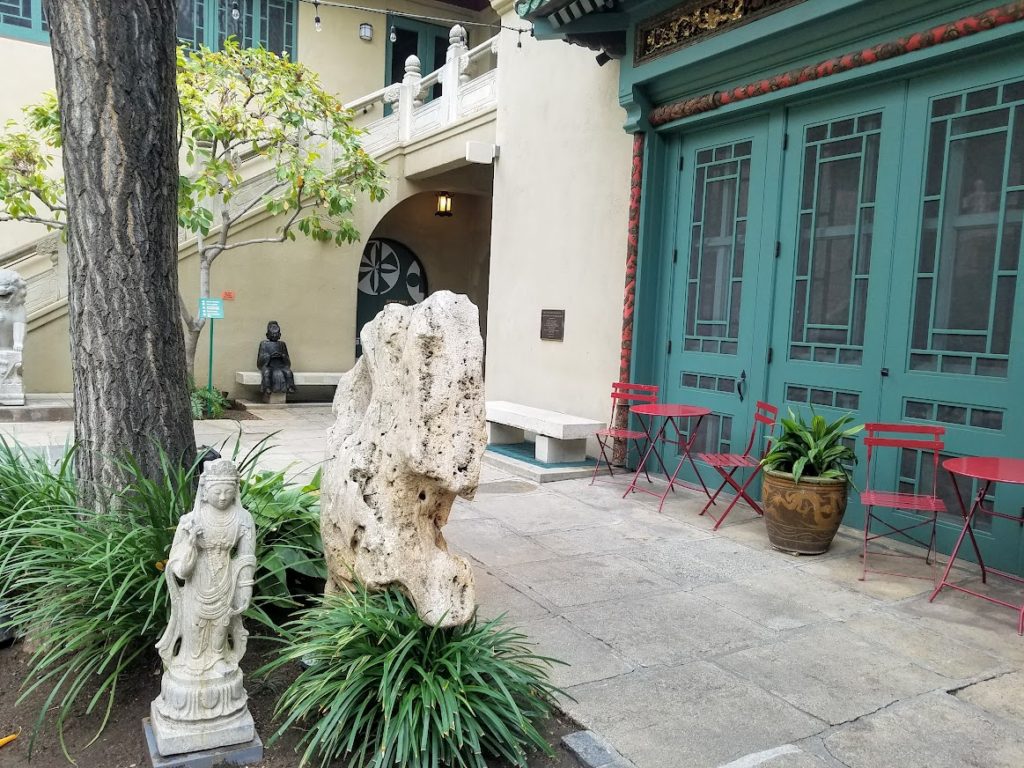 Other notable art spaces include The Armory Center for the Arts, the Kidspace Children's Museum, and the Tournament House and Wrigley Gardens.
Restaurants and shopping
If you are a foodie, look no further than Old Pasadena where top-notch restaurants, cafes, and coffee houses abound. You'll enjoy culinary bliss at old standards as well as new and trendy eateries.
Historic eateries in Old Pasadena include:
I adore old restaurants because if they are there for a long time, they are bound to be good. Below are a few you should try.
The Raymond 1886 – The date refers to the Old Raymond Hotel which burned down in 1895. A new and even larger hotel replaced it but closed during the Great Depression. That hotel was torn down to make way for residential housing, but the caretaker's Craftsman-style cottage remained and now houses the restaurant.
Russell's Restaurant has been in Pasadena since 1930 and specializes in breakfast. Specialties include Monsieur and Madame Croques, Belgium waffles, French toast, and gourmet waffles. It is located at 30 N Fair Oaks Blvd.
Il Fornao at One Colorado has been serving fine Italian food for 40 years.
Some of my favorite restaurants include Agnes Cheesery, The Union, El Patron Mexican Food, and Lucky Baldwin's Pub. But I still have a lot more to try! LOL.
Shop 'til you drop
To thoroughly enjoy a shopping excursion in Old Pasadena, start off at One Colorado where you can find luxury boutiques and stores like J.Crew, Anthropology, Patagonia, and Sephora.
If books are your passion, Vroman's Bookstore is California's oldest and largest independent bookstore. It was founded in 1894 by Adam Clark Vroman, in the Playhouse District, and is an excellent location to find gifts as well.
Stay for a night or two, or three
If you are looking for the ultimate in a luxury hotel, you will love the Langham Huntington Hotel. It is a 5-star historic hotel located near the Huntington Library in San Marino. The hotel has been serving Pasadena for over 100 years, is a popular wedding venue, and serves a luxurious afternoon high tea. Tea service has been temporarily cut off because of COVID but will commence again when it is safe.
Other fine hotels in and near Old Pasadena include The Westin, Hilton, Sheraton, and Hotel Constance.
For more things to do in Old Pasadena, click here.
This post may contain affiliate links. I will receive a tiny amount of compensation at no extra cost to you if you make a purchase.