If culture and natural beauty are what you're craving while you're visiting the Los Angeles area, don't miss the Huntington Library, Art Museum, and Botanical Gardens. Located in San Marino, California, near Pasadena, this enchanting complex sits at the end of a residential neighborhood distinguished by its early 20th century mansions.
I knew I'd be in for some walking, so I slipped on my comfy shoes, slathered on sunscreen, and jumped in my car to explore the grounds.
When I ordered my tickets online to visit the Huntington Library, I was excited to learn that they offered a senior discount and took advantage of it. You can also buy tickets on-site and parking is free. I arrived just after it opened at 10 am so I could walk through the gardens before the summer heat set in.
Arriving at The Huntington
The grounds are spread out, so I put on a hat and made my way to the botanical gardens not knowing exactly where I was going. At check-in, I was given a map but that meant I had to juggle my sunglasses with my reading glasses, so I decided to wing it.
I planned to see the Japanese Garden first but realized it was on the opposite side of the property. To get there, I had to walk up several steep grades and it was already starting to get hot but I kept plugging along stopping occasionally in the shade to keep from overheating. I didn't mind, because I knew it would be a great workout and my step counter was deliriously happy.
If walking is a challenge for you, a special assistance vehicle and a limited number of wheelchairs are available to take you where you want to go. Call ahead to reserve one. The Huntington does its best to make its collections and outdoor areas accessible for seniors and those who are disabled.
As I walked across the gardens, I spied an ethereal bronze sculpture of a water nymph standing in a pond that was created by Georg Kolbe, who was the leading German sculptor of his day.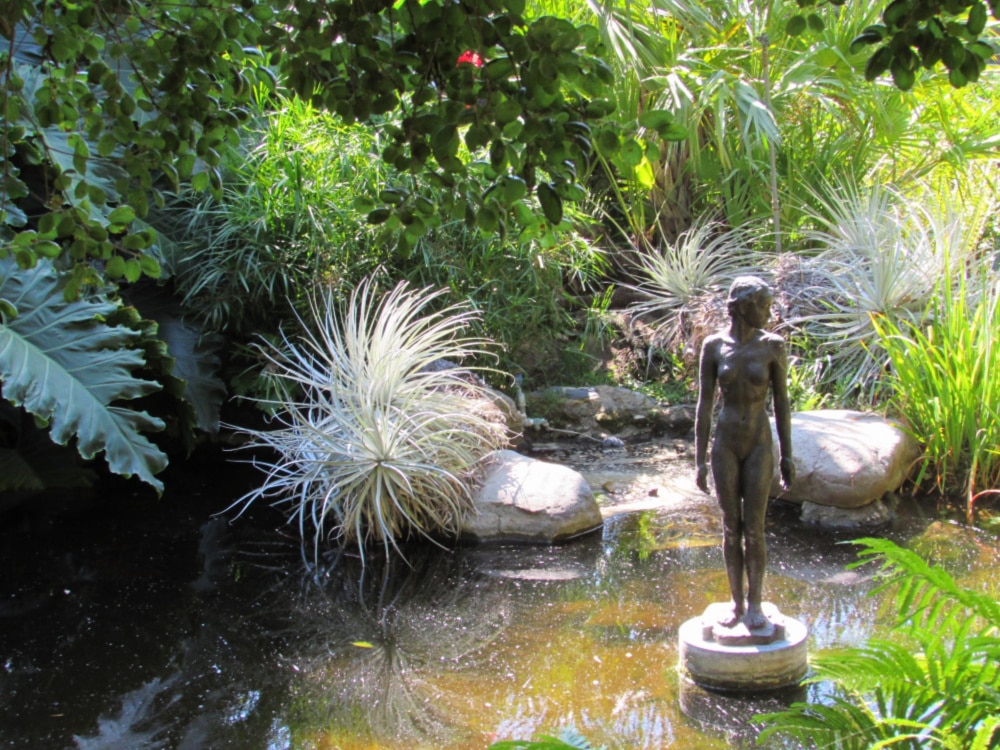 The Rose Garden
The gorgeous Rose Garden was created by Henry and Arabella Huntington in 1908. Roses were Arabella's favorite flower and there are now more than 3,000 individual rose bushes on the property in 1200 varieties. They bloom from March through Thanksgiving.
In the center of the rose garden is a French stone tempietto with a statue of Cupid and a young maiden who captured him called Love, the Captive of Youth.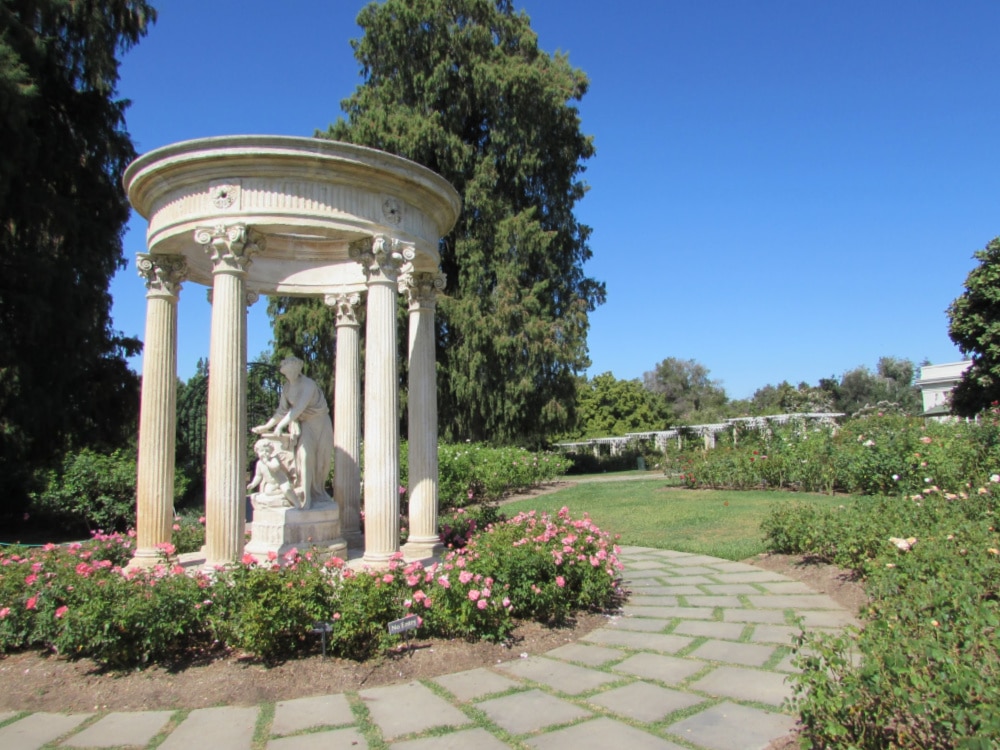 The Huntington Rose Garden Tea Room in the Rose Garden offers a classy English tea service with finger sandwiches and pastries. It's a perfect place to enjoy the afternoon with girlfriends or other tea lovers.
One of my favorite tea companies, "Art of Tea," based in Los Angeles, has created two blends for the Huntington Library called "Huntington Blend" and "Huntington Rose." They provide many of the teas served in the gardens. Of course, I had to buy some at the gift store before I left.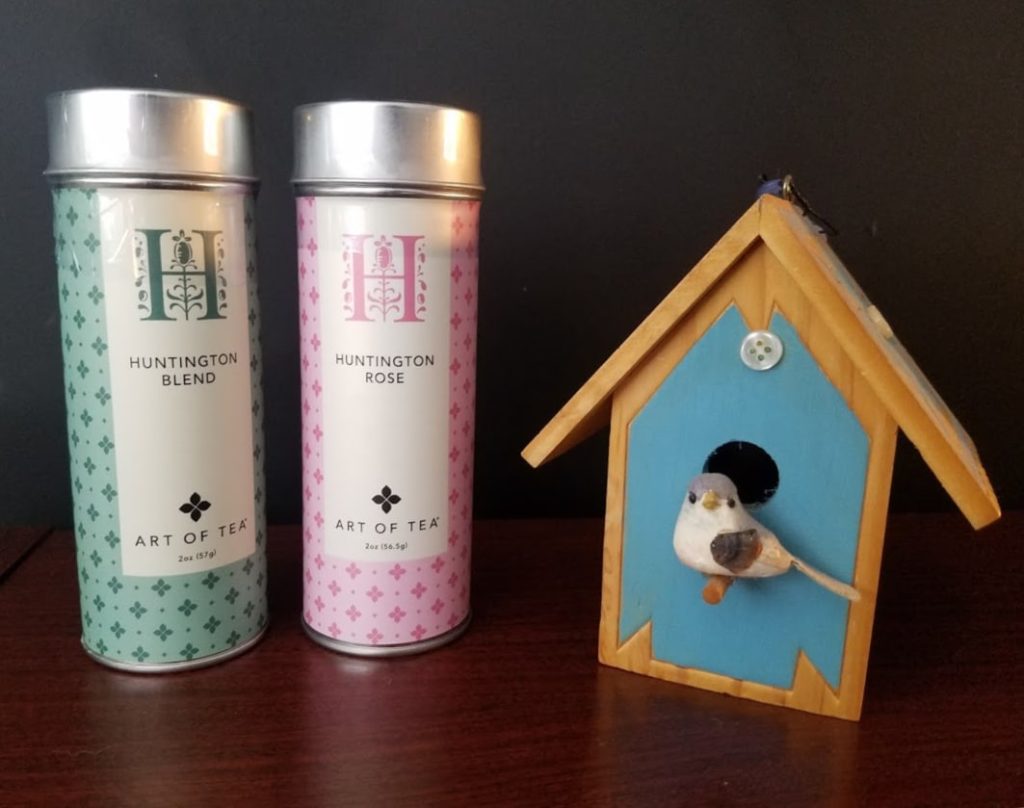 The Japanese Garden
When I finally walked through the entrance gate of the Japanese garden, I could see the curved bridge that sits over the pond at the bottom of the hill.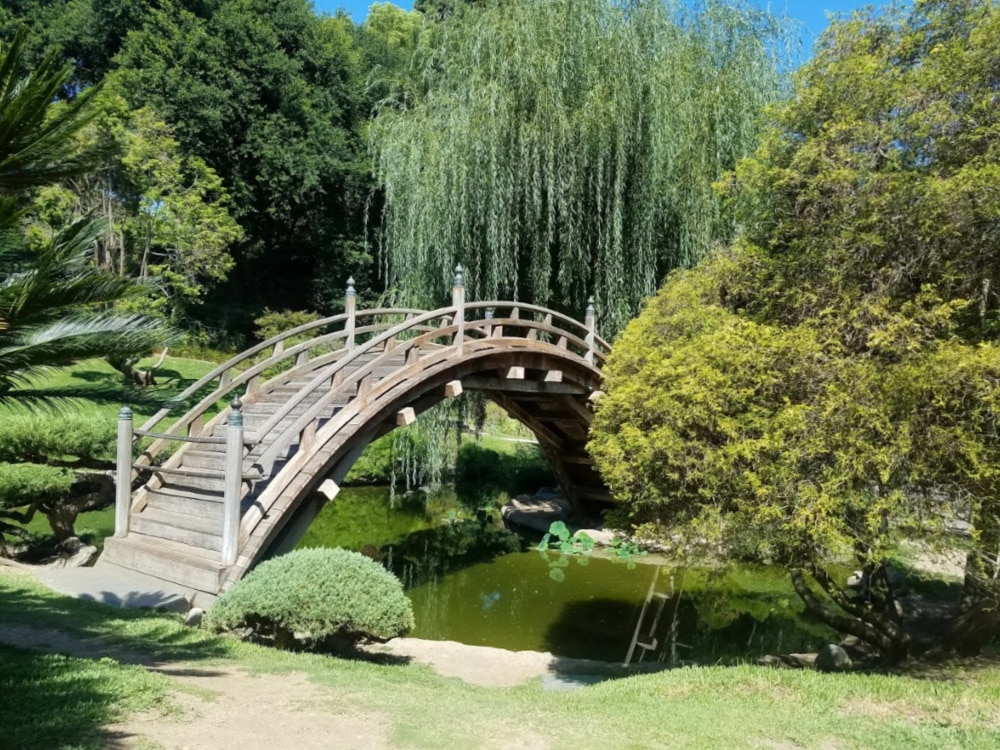 Up above are several Japanese-style buildings. One of them is an authentic five-room house that was shipped to Pasadena from Japan in 1904 and was purchased by Henry Huntington in 1911. The ceremonial teahouse was also transported from Japan in the 1960s. It's for display only and doesn't host tea ceremonies.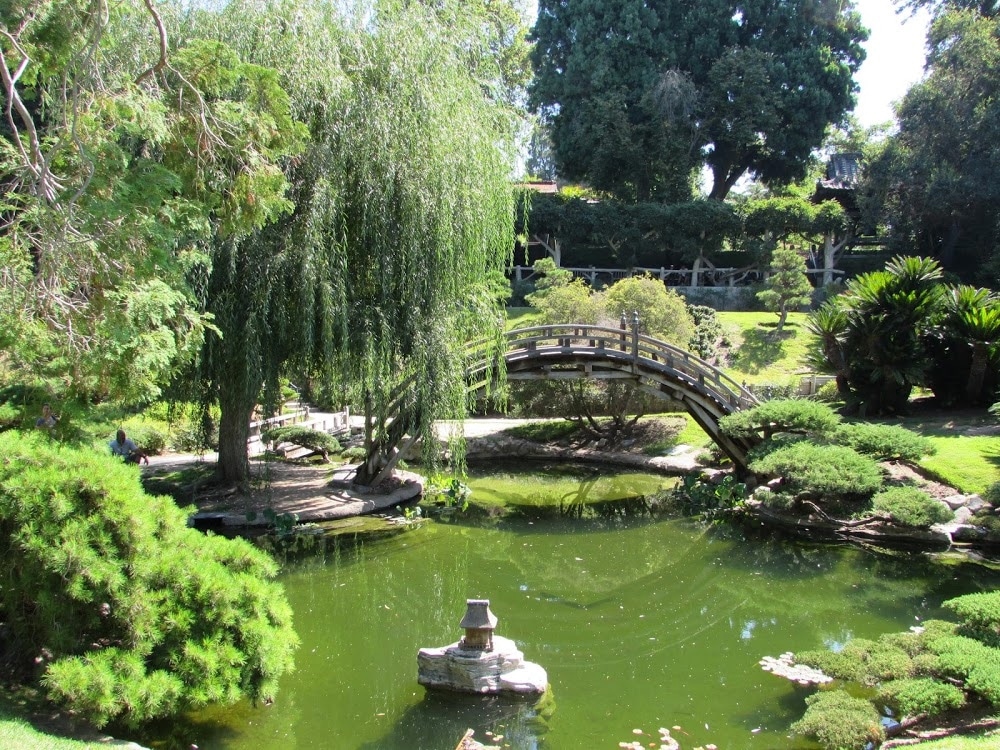 The serene environment of the Japanese Garden imbues a sense of tranquility and peace for visitors. If it had been a cooler day, I might have sat there in contemplation for hours. The Japanese Garden opened to the public in 1928 and is one of the most popular sections to visit at the complex.
The Chinese Garden
Not far from there is one of the largest Chinese-style gardens outside of China. It's called The Garden of Flowing Fragrance and is also an exquisite place to while away the hours. It's currently being expanded with new buildings under construction.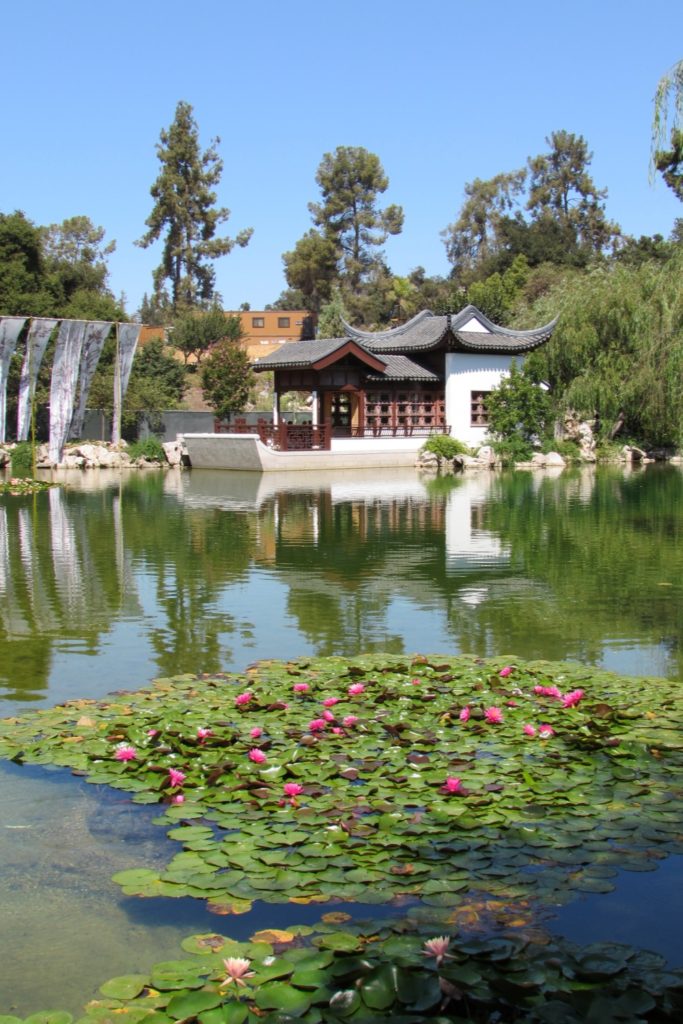 I ordered an appetizer of shrimp and pork wontons at the Freshwater Pavilion Noodle House that overlooks the pond. It was spicy but delightful.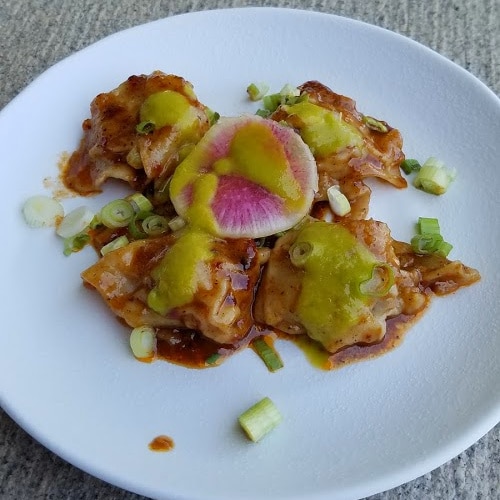 Chinese-style pavilions are scattered along the paths surrounding the garden to offer shade and respite for visitors while they enjoy works of art, a waterfall, sculptures, and carvings.
The Desert Garden
When I first entered the botanical gardens I passed by the Desert Garden and wanted to go back and see it before I left so I trekked back across the gardens again. Before I got there, I stopped at the Lily ponds where I caught a glimpse of this whimsical statue of a boy looking for frogs in the pond.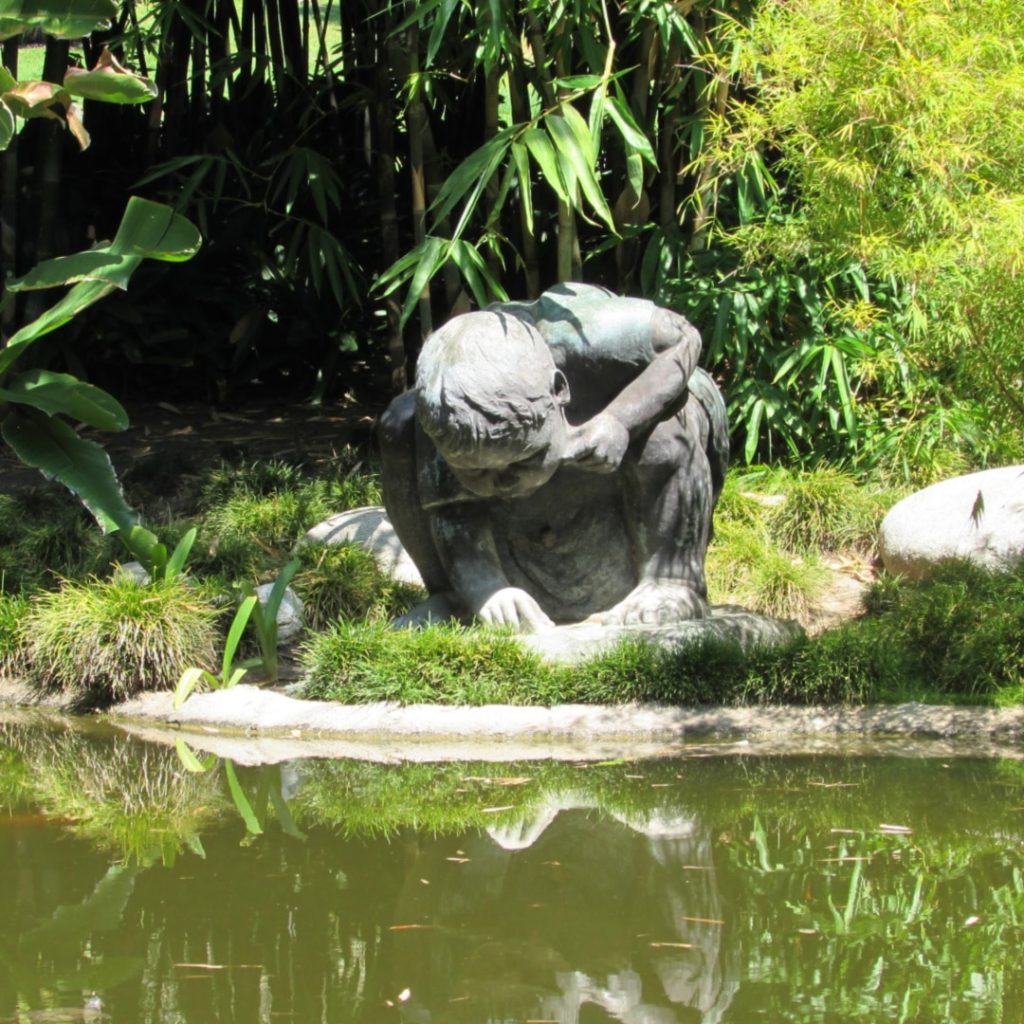 A stunning collection of cacti and succulents are arranged in the desert garden first planted almost 100 years ago. As I walked back to take a photo, I came close to being pricked by a particularly thorny cactus. Thank goodness I realized the danger before it was too late! It's a gorgeous section of the botanical gardens and I'm sure all the succulents enjoy the heat from the summer sun. There are over 2,000 species of desert plants in 60 meticulously landscaped beds.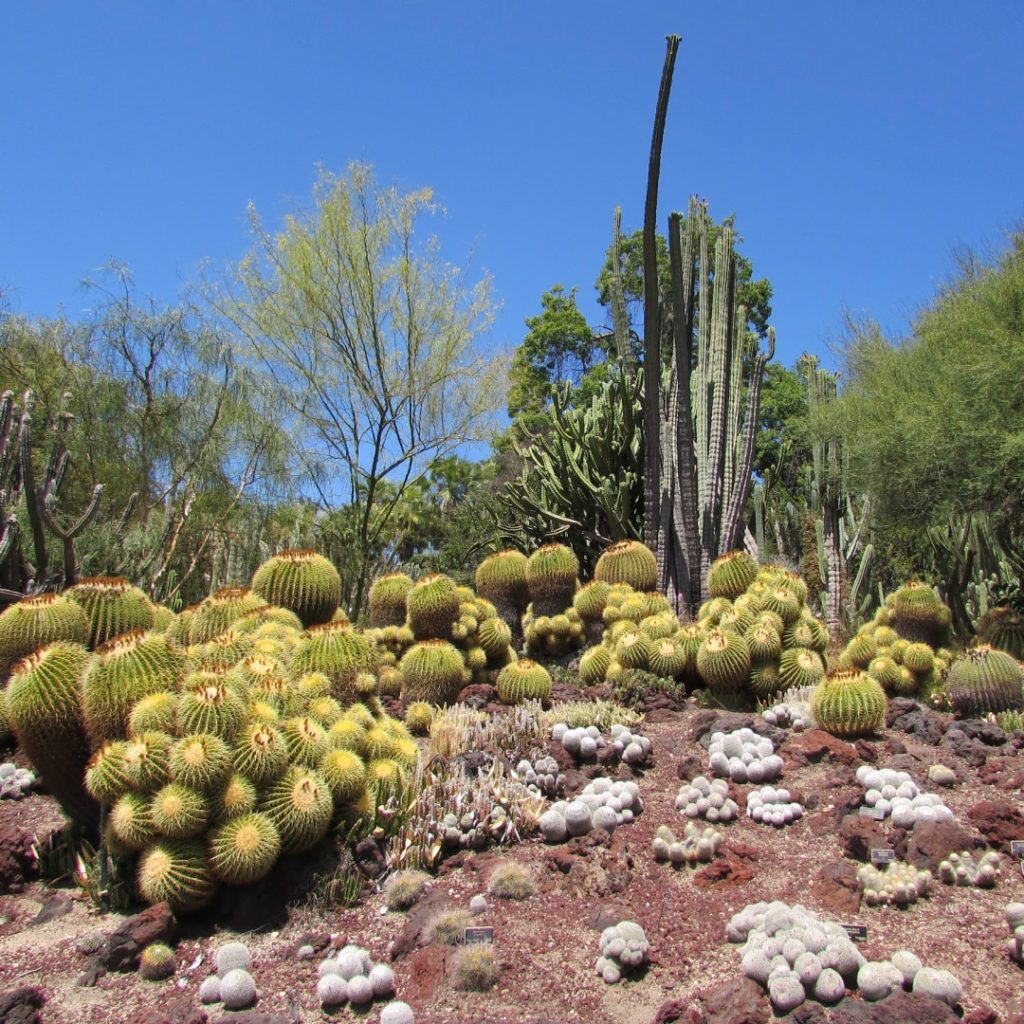 About Henry Huntington
Henry Edwards Huntington (1850 – 1927) was a successful railroad magnate and collector who built a huge financial empire in Southern California. His name is memorialized at schools, hospitals, and the popular Huntington Beach. Huntington amassed an enormous collection of art and rare books that are housed in the Library and galleries. His entire collection has over 36,000 individual works of art that also include American art, maps, furniture, musical instruments, and other objects of interest.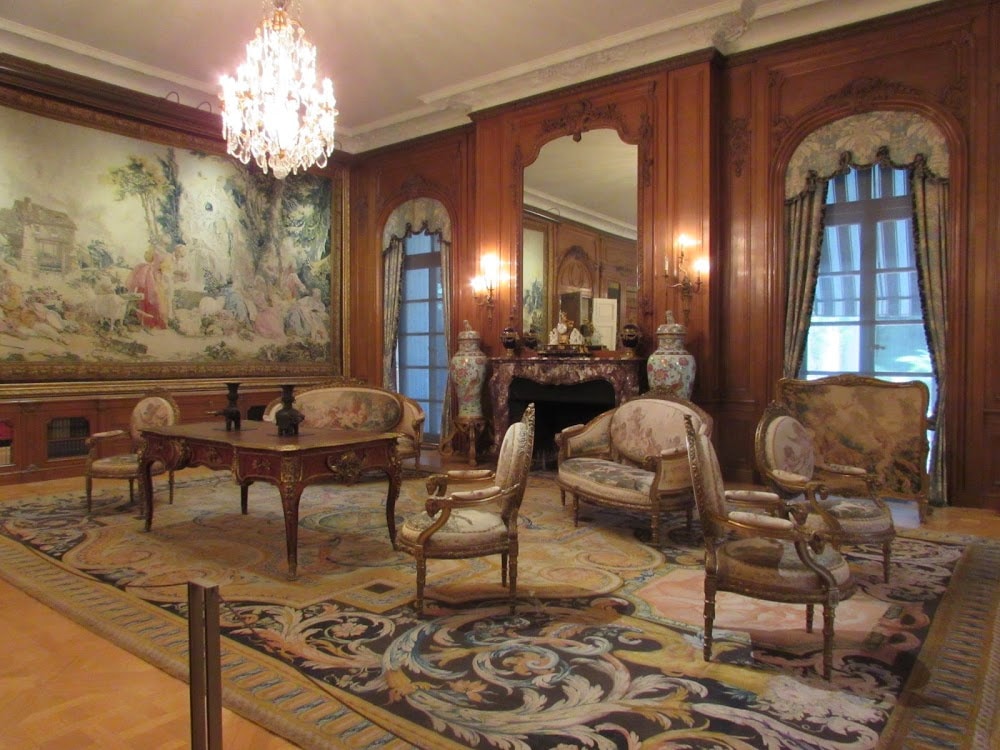 Dibner Hall of the History of Science
The Huntington is so vast it takes several visits to experience it all but I managed to take in two collections while I was there. Walking through the gardens left me feeling sweaty and slightly faint so it was so refreshing to walk into the air-conditioned Dibner Hall of the History and Science.
While I was inside, I browsed through the exhibition Beautiful Science: Ideas that Changed the World. It features the evolution of astronomy, natural history, medicine, and light. You can even gaze through a replica of Galileo's telescope to give you an idea of how people viewed the sky back then.
I was fascinated with a display that describes the process of childbirth during the 1800s and felt fortunate things were more evolved when I had my two children.
European Art
Huntington Library's European Art Gallery is the home of the original Blue Boy by Thomas Gainsborough. When I visited, the famous painting was being restored and was temporarily installed as the Blue Boy Project in the west end of the Thornton Portrait Gallery. It was fascinating to see the progress of the restoration.
The European Art Gallery also displays masterpieces by 15th – 20th-century artists as well as decorative art, furniture, and sculptures. Notable paintings are Mary Cassatt's Breakfast in Bed, Edward Hopper's The Long Leg, The Gutenberg Bible, and Chaucer's Canterbury Tales.
I made the mistake of bringing my small backpack and had to put it in a locker while I walked through the galleries. Note to self: Next time, leave the backpack at home.
A treasure trove of art, history, and the beauty of nature
As I mentioned before, you can't see everything at the Huntington in one day and I can only give you some of the highlights in this post. As the seasons change so does do the gardens so it's interesting to walk through them at different times during the year.
Because The Huntington is in California, you can visit and enjoy the gardens year-round and it's a welcome escape from busy city life. If you are a Los Angeles resident or are visiting the area, make sure to put this amazing jewel on your things-to-do list. It will be the highlight of your trip.
For more information, visit their website
The Huntington Library and Botanical Gardens
1151 Oxford Rd, San Marino, CA 91108
(626) 405-2100
Check out the best museums in Los Angeles here
This post may contain affiliate links. I will receive a tiny amount of compensation at no extra cost to you if you make a purchase.