When you want a pick-me-up or are in the mood for serenity, go visit a garden. In my case, I went to Descanso Gardens in La Canada Flintridge. Now that I'm living near Pasadena, I'm close to three municipal gardens including the Huntington Library and Botanical Gardens, and the Los Angeles Arboretum.
Spring was in the air
The coming of spring at Descanso Gardens means tulip time, and they were blooming in all their glory. Their vivid hues of red, yellow, pink, and white popped against the lush green landscape.
They're mixed with friendly helper plants like tiny daisies to help ward off the bugs.
Other spring blossoms included deep orange clivias, magnolias, crab apples, flannelbush, and cherry trees which look ethereal in the Japanese Garden.
The California poppies were just starting to bloom. I loved how they looked while gently blowing in the wind.
A safe and refreshing get-away from being locked in
At the time I visited Descanso Gardens they were still requiring reservations for non-members to walk inside and my timed appointment was for 5 pm in the afternoon. I was so excited to get out of the house that waiting for my time slot seemed endlessly long but late afternoon is more appealing light-wise and it's cooler.
I got my steps in
The bowl-shaped garden grounds at Descanso encompass 150 acres with some of it up into the hills. I had a rough week after losing my last pup so I came by myself to have some time alone. After "tip-toeing through the tulips" (not literally or I would have been thrown out) I wandered up a hill into the ancient forest. At one point I got lost and thought I would have to spend the night there until a lone hiker walked by and directed me back toward the entrance.
In the 2 hours, I was there, I logged 7500 steps on my smartphone going up and down hills and garden paths. But, instead of being exhausted, I felt revitalized by the glory of spring and the nature surrounding me.
You don't have to be an athlete to enjoy it
My girlfriend used to take her elderly mom there all the time. She would whiz around in her motorized scooter and always enjoyed it while my friend tried to keep up with her.
Descanso Gardens is biodiverse
The grounds are divvied up into a variety of natural and cultivated environments. The tulips and rose garden are close to the entrance area with plenty of benches to enjoy the display. If you're looking for more exercise, you can hike through the Oak Woodland, California Garden, Oak Grove, Camellia Forest, Lilac Garden, Ancient Forest, and Hilltop Garden that are spread up and throughout the property.
There's also a small Japanese garden where you can meditate and be awed by the wispy pink cherry trees when they are in bloom.
Take a self-guided tour through majestic heritage oak trees that are between 300 to 500 years old. Or, hike up to the hilltop garden for a spectacular view of the San Gabriel Mountains. Kids love Descanso Gardens because they can see native birds, ducks, geese, wildlife, and colorful carp.
There are secret hideaways and tree-covered benches throughout the grounds so you can contemplate the beauty around you, get away from the world, savor solitary time for yourself, or spend time with family and friends.
Getting back to normal
When I was there the restaurant was closed because of the pandemic, but a few people were enjoying refreshments at tables on the lawn. Masks and social distancing were required. Aside from a few excited kids running around, the gardens were peaceful and not crowded.
Click on images below to view them full-size in a gallery.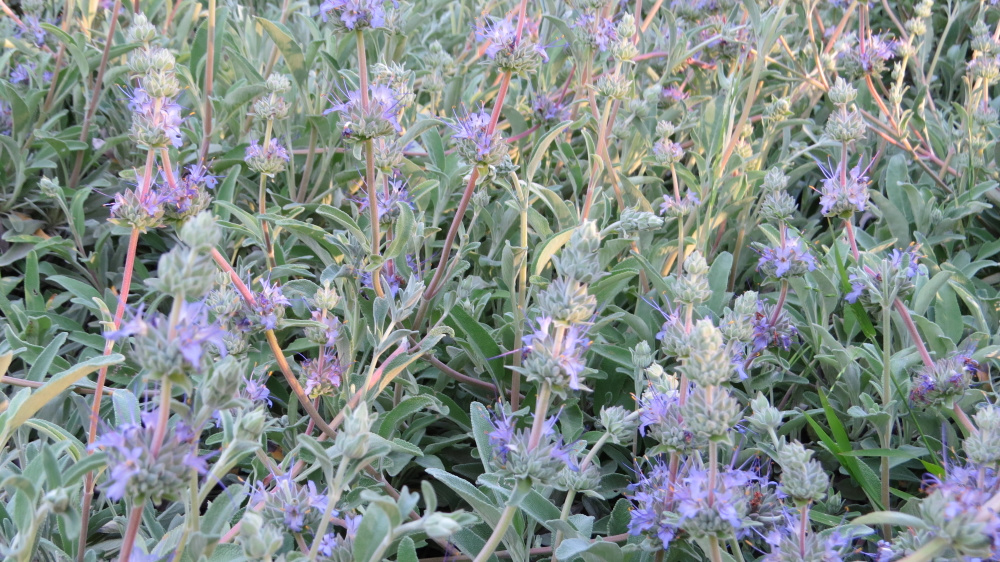 I look forward to coming back
My home is 11 minutes from Descanso Gardens so I'll return as often as I can. Yearly memberships are reasonable and help support its upkeep. Members can show up anytime they like during operating hours without a reservation and can enter the grounds at 8 am before the garden opens at 9.
Seniors get a discount. We all love those!
If you're in Los Angeles and are looking for a tranquil and picturesque environment in a natural setting, be sure to visit. They also have fun Halloween and holiday evening events during normal times.
Every time of year at Descanso Gardens is a different experience. Don't miss it.
Visit the garden's website here.
This post may contain affiliate links. I will receive a tiny amount of compensation at no extra cost to you if you make a purchase.