When I heard that the Storrier Stearns Japanese Garden in Pasadena was having a Festival of Tea and that I could participate in a tea ceremony inside of an authentic teahouse, I signed up right away. I love drinking tea and was eager to try samples served by the Festival's tea vendors and learn more about the delicate art of drinking tea.
A hidden Pasadena gem
The Festival of Tea was the first time I visited the Storrier Stearns garden nestled in the heart of Old Pasadena. It was created in the late 1930s during the time when Japanese Gardens were in vogue by Charles and Ellamae Storrier Stearns. They owned a mansion on Arlington Drive.
Ellamae admired Japanese gardens and wanted one for herself so she hired Kinzuchi Fujii, who was a Japanese American garden designer. It replaced tennis courts that were on the grounds of the mansion. (Work had to stop for a time in 1941 when Fujii was sent to an internment camp during WWII)
The completed garden became a serene and idyllic strolling environment with koi ponds and a 12-mat teahouse. It's now home to the annual Festival of Tea.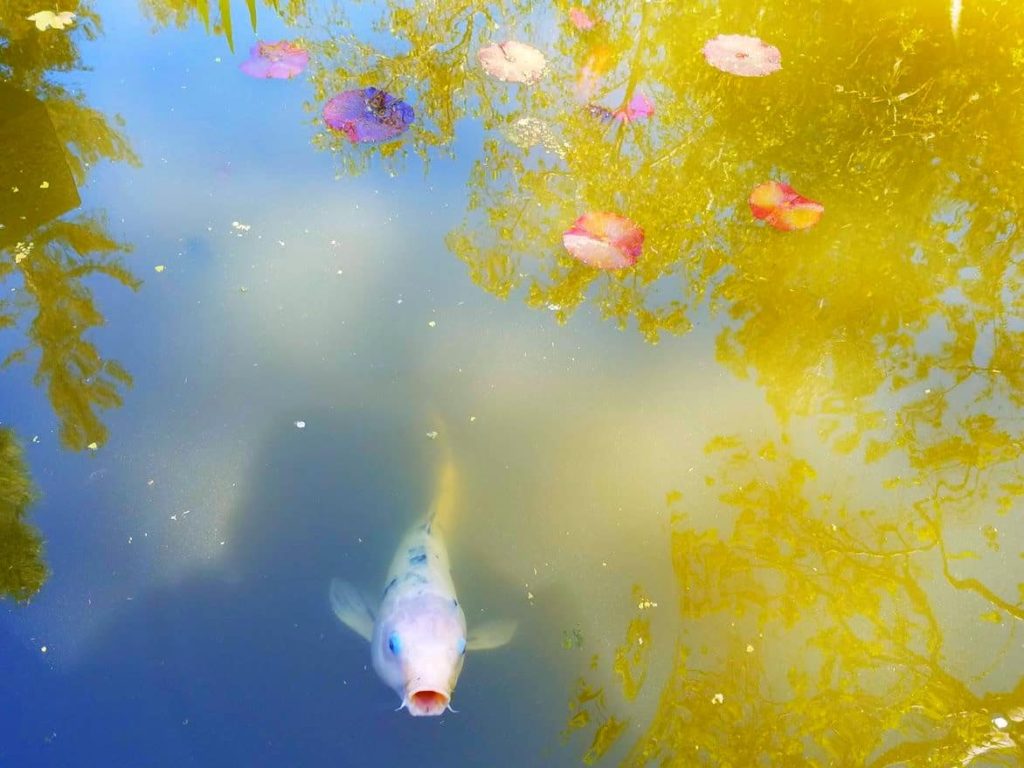 After the death of Ellamae, the property was placed in probate because there were no heirs. It was eventually purchased by Gamelia Haddad, who was a local art dealer. It was all sold off except for the garden and Haddad built a small home for herself next to it.
Ultimately, the garden went into disrepair. Haddad's son and his wife later restored it and made it handicapped accessible. The original teahouse had been destroyed in a fire but a new one was rebuilt. The garden is now listed on the National Register of Historic Places and is a Historical Landmark.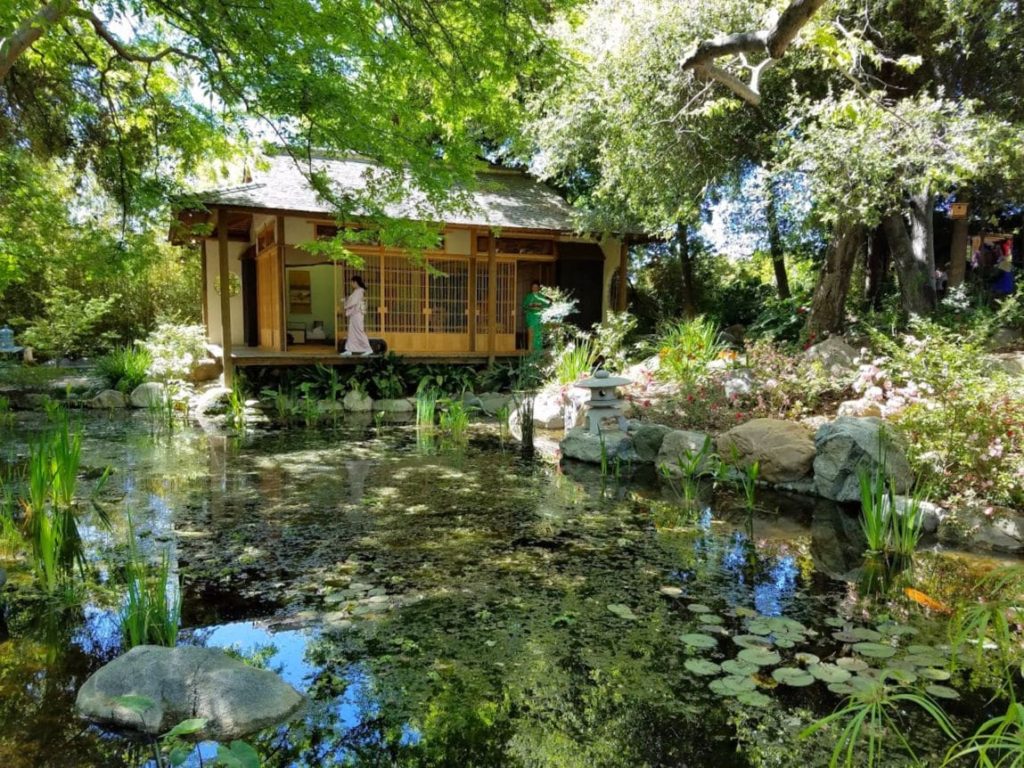 Tea Ceremony and Matcha tea
After walking around the garden, taking photos, and tasting samples from the Festival of tea vendors, I entered the teahouse for the 1 pm tea ceremony. Japanese women in authentic kimonos greeted us.  One of them showed us a water spout where guests are traditionally asked to wash their hands.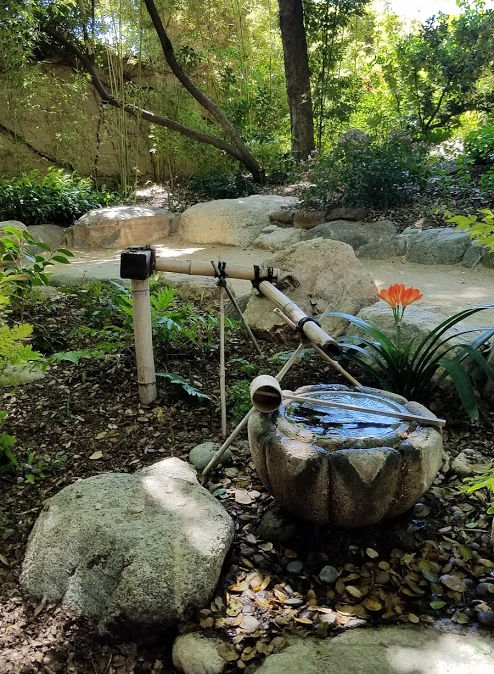 Before entering, we left our shoes at the door, put on socks, and sat on the floor.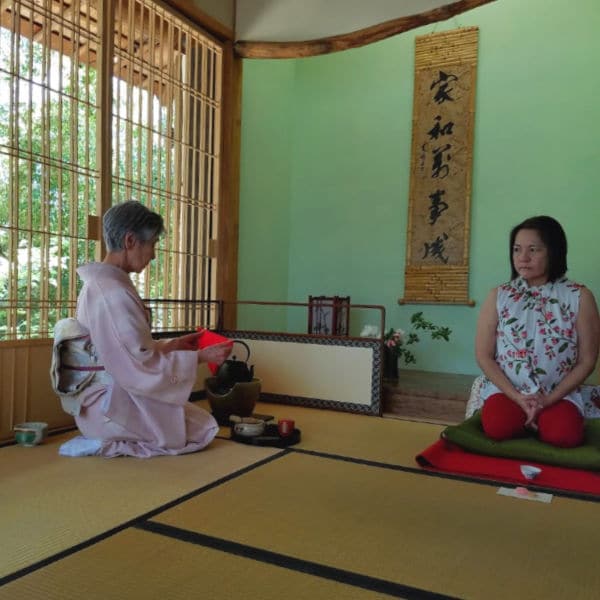 The geishas performed the tea ceremony giving us bowls of Matcha Tea and treats called Wagashi. It's made with sweet azuki bean paste mixed with sugar. At first, I thought they were gemstones.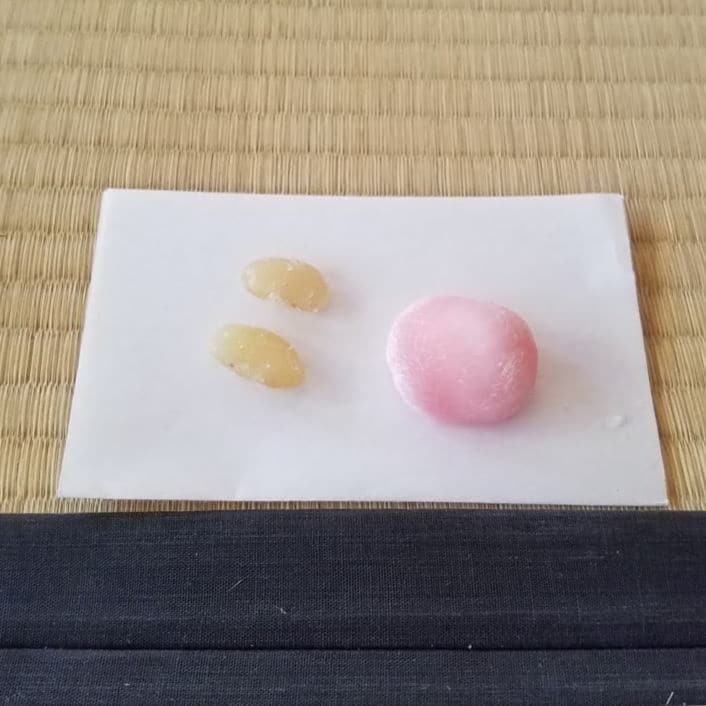 We learned how matcha tea is prepared. It's important that you use the proper tools. Matcha is powdered green tea filled with powerful antioxidants that will boost your immune system. It's even recommended for patients undergoing chemotherapy.
The matcha must be sifted through a sieve before serving to make it as fine as possible. A small amount of it is placed in a tea bowl and steaming (not boiling) water is poured over it. Then, it's carefully mixed with a special bristle brush.
As we were being served, each geisha bowed and we bowed back. Then we held the bowl with one hand underneath to steady it. Before we sipped we turned the bowl counterclockwise 180 degrees. When we were finished we turned the bowl back 180 degrees. After the bowls were retrieved we repeated our exchange of bowls.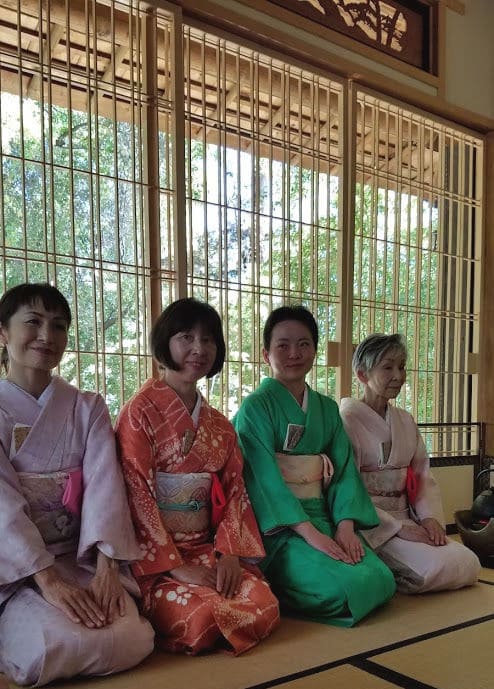 Matcha Tea can also be served cold. Put ½ teaspoon of powder into a bottle and shake it. You can mix it with foods as well like yogurt or ice cream.
Purchase a Ceremonial Matcha Gift Set from Art of Tea by clicking here.
Pu-erh tea lecture
There were also tea lectures at The Festival of Tea. I was invited to go inside the main building on the property to listen to one given by Jeff MacIntosh from Denong Tea in Pasadena He talked about Pu-erh tea and was one of the vendors giving out sample tastings at the event.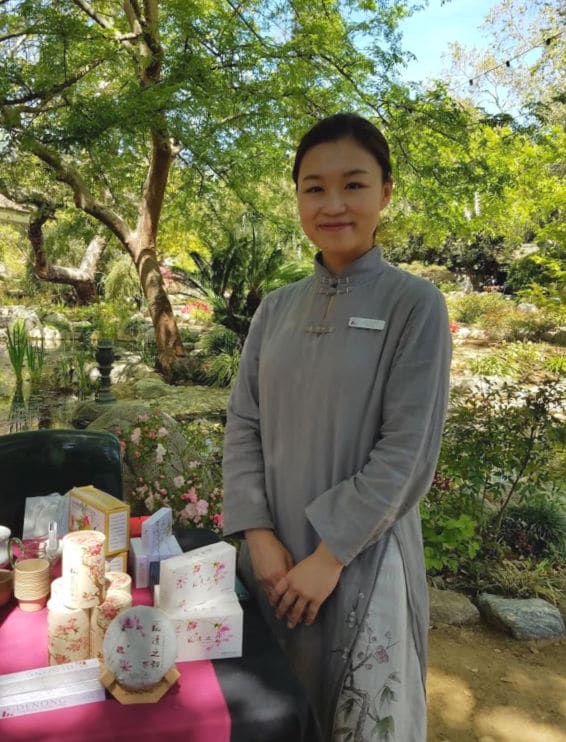 Pu-erh Tea comes from Yunnan China which has a unique and diverse ecosystem. It's the only place in the world Pu-erh tea can grow. Most teas are made from the plant Camellia Sinensis which is a small bush that's durable and can be grown in any part of the world. Pu-erh tea comes from a variation called Camellia sinensis assamica and can only grow in Yunnan and a few surrounding regions where it thrives.
Lisa See is an American writer and well-known novelist who lives in Los Angeles. She spent time in Yunnan and met with many of the local tea masters there including the owner of the Denong Tea. Her experiences there inspired her novel The Tea Girl of Hummingbird Lane and her love of Pu-erh tea.
Pu-erh tea has been around for centuries but wasn't known in America until the 70s when Dim Sum became popular. It helps to digest the fatty oils that are used to make Dim Sum and settles the stomach. I loved its smooth comforting taste and bought some.
There are 6 categories of tea in China
White
Yellow
Green
Oolong Tea
Black
Dark Tea
Pu-erh tea is in the dark tea category and the difference between other teas is that it must go through a process of fermentation. Because of its popularity, it now has its own category.
White yellow, green, and oolong, and black teas get their beauty and taste from post-processing. They can be grown anywhere in the world. After they're picked, the tea master has an important role in the baking, rolling, roasting, and heating of the tea leaves.
It's called the kill-green process which makes the color more pronounced. Most tea has a limited shelf life and will eventually lose its fragrance.
Pu-erh tea is different. It comes from tea trees that are hundreds and even thousands of years old. The process and picking are slightly different than other teas. It has deep roots and an abundant amount of nutrition. It's sundried after it's picked and is taken through a special kill-green process that keeps the enzymes intact so the tea remains alive. When the tea is steamed and pressed into cakes or bricks, it starts a post-fermentation process that allows it to continue to age.
As of the 1970s, there are now 3 categories of Pu-erh tea
Raw Pu-erh – This type of Pu-erh tea has been around the longest. It has a yellow golden color with a floral fragrance and is perfect for spring and summer because it helps release excess heat and toxins in your body. It comes from smaller trees, older trees, and more ancient trees.
Ripe Pu-erh – Once the tea leaves are picked it's sundried and then set into a wet pile. It will sit in a batch for 4-6 weeks that accelerates the fermentation process. This makes the tea become very dark, earthy, with a red wine-like color. It's a nourishing tea that adds heat to the body if your body tends to be cold and is very good right after a meal.
Ripe Pu-erh is perfect to drink in the evening, autumn or winter. The age of the trees and the fermentation process leaves it with less caffeine than most other teas. It also has minimal to no caffeine, which means you can drink it any time of day. You'll find that it's very soothing to your stomach and won't affect your sleep.
Aged Pu-erh – This type of Pu-erh tea is aged the longest from the oldest trees. It's the highest quality you can find.
The older the tea tree, the more it's sought after. Right now, less than 3% of Pu-erh tea comes from ancient trees. Over 90% comes from smaller bushes. Smaller bush teas do not have deep root structures so they may be more aggressive, bitter, or harsh on the stomach. For this reason, you should be careful about where you purchase your tea.
Traditionally Pu-erh tea needs to be aged 5-10 years before it's consumed. However, when it's harvested from ancient trees, you can consume it the same year. Old and ancient trees yield a tea that's very soft, fragrant, and has beautiful characteristics. It's easy on the stomach and isn't bitter.
Not all Pu-erh teas are high quality
If you visit Kunming, which is the capital of Yunnan, you'll see thousands of tea vendors. They'll all tell you that they have ancient arbor trees and sell aged Pu-erh tea. There are over 20 mountains that grow Pu-erh tea. Many of the vendors do not tell the truth so you may end up buying tea that will give you stomach problems if you drink it over time.
Make sure to purchase Pu-erh tea that comes from Yunnan and contains the assamica varietal of Camellia Sinensis.
The best quality of Pu-erh tea will settle and soothe your stomach. If it tastes good when you purchase it, it should retain those characteristics over time. If it tastes bitter, it won't age well. Any tea you drink should enhance your life, your body, and your health.
When choosing any type of tea, find one that's the most enjoyable and comfortable based on your individual body type. Do you run hot or cold? It's also important to be consistent so you can tell how a particular tea will affect you.
If you switch from one type of tea to another and suddenly feel bad, you won't know which tea caused the problem. Stick with one type of tea for at least a few days to see how it affects your body. That will make it easier to determine what tea is best for you.
Good water makes a difference
Another component to enjoying a cup of tea is the type of water you use to brew it. If the water is harsh, even a delicate high-quality tea will taste harsh. It's always best to use a pure, simple, low mineral content water like filtered spring water.
Caffeinated or Decaffeinated?
Tea that comes from older trees will contain less caffeine. If the leaves come from smaller bushes it will contain more caffeine. Most decaf teas are put through a decaffeination process.
Denong Tea has stores in Pasadena, California, Hong Kong, and Taiwan. Their Pu-erh tea is guaranteed to come from old trees and is authentic. It has a beautiful translucent color and aroma that's comfortable and natural, is sweet, floral, and soft on the palate. The company also sells white and black teas that also come from old and ancient arbor trees.
The Storrier Stearns Festival of Tea
The Pasadena Festival of Tea is an annual event at Storrier Stearns Japanese Garden. The garden also hosts other events including other Tea Ceremony demonstrations.
You can visit their events page here. The garden is open to the public Wed, Thursday, and Friday and the second and last Sundays of the month. There's a small admission charge that contributes to the maintenance of the garden and its events.
Visit the Storrier Stearns Japanese Garden website here.
Find the best events taking place in Los Angeles HERE
The Festival of Tea is an annual event at Storrier Stearns Japanese Garden. Do you have similar events where you live? Please tell us about them in the comments below.
This post may contain affiliate links. I will receive a tiny amount of compensation at no extra cost to you if you make a purchase.