If you are a foodie at heart, like I am, you won't find a better selection of international and California cuisine than in the city of Los Angeles. L.A. is an enormous melting pot of cultures so no matter what cuisine you're craving there is a restaurant that will make your taste buds sing. However, it's the street food that makes L.A. a gastronomical hotspot for serious connoisseurs.
It used to be that the first thing you thought of when you saw a food truck was a "cockroach catcher." Food trucks in the old days served mystery meat that mostly made you sick. Now they sell excellent haute cuisine that will satiate even the most discerning palate.
To find the best food trucks in Los Angeles log on to Twitter. Type #foodtrucksLA into the search box to see what trucks are trending and where they're parked for the day.
L.A. street food can be found all year round at festivals, farmer's markets, night markets, parking lots, and even in alleys.
Foodieland Night Market at the Rose Bowl
I've been to all sorts of foodie events in L.A. but I hit the jackpot when I got an email announcing that the Foodieland Night Market would be held during the weekend at Rose Bowl Stadium. It was only $5 to sign up and I thought, "why not?" Saturday and Sunday were already sold out, but Friday was open, so I registered on Eventbrite.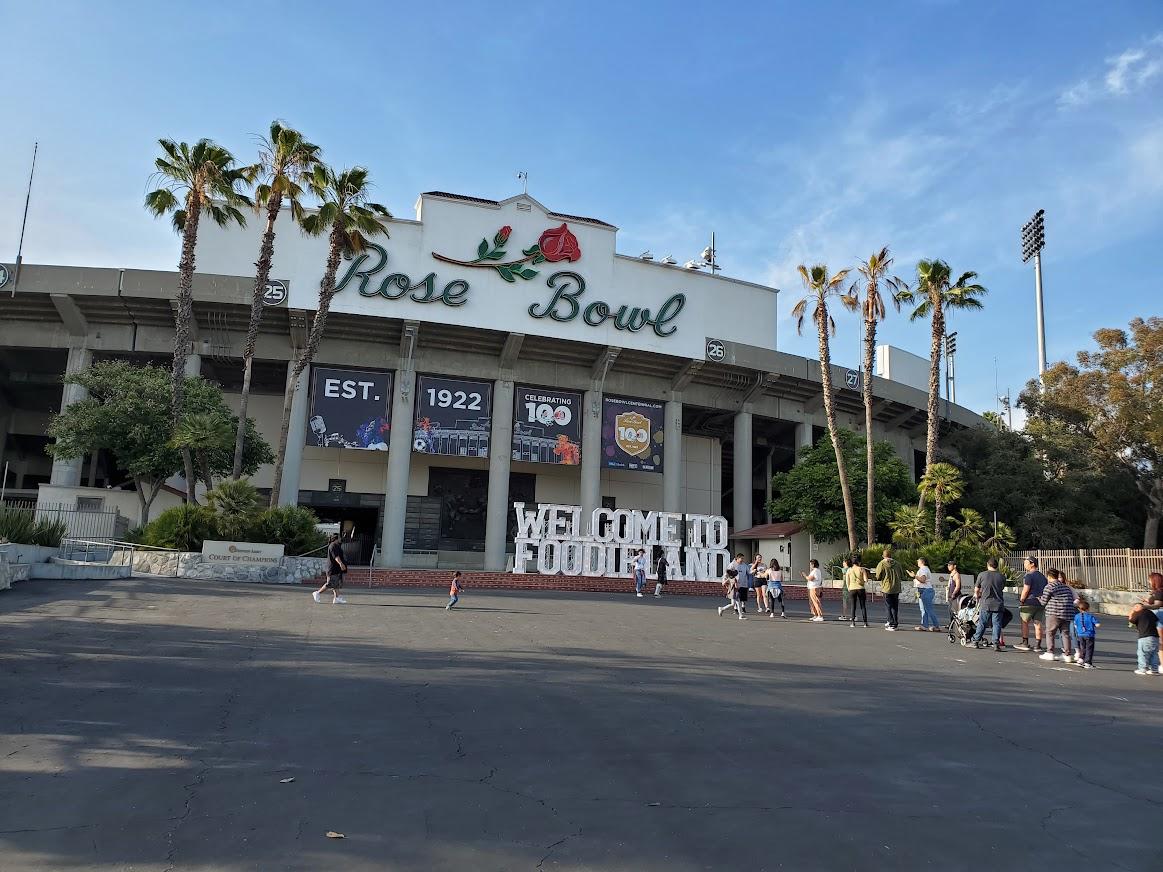 Watch this video of me walking through Foodieland Night Market
Click on the player below
I wasn't sure what to expect and thought it would be a small gathering of vendor booths much like a typical farmer's market. As I drove to the designated parking lot, I saw swarms of cars already parked. The event started at 3 pm but I got there at 4 pm because I didn't want to be the first person to show up.
I took note of where I parked so I could find my way back to my car and walked to the gate. As I entered a large open area, I saw what looked to be miles of food booths stretched from one end to the other. I wondered how they would all get enough business.
There was a long row of food trucks lined up along a fence and I could see a bandstand at the far end. Hundreds of picnic tables were lined up in front of it and several people were sitting in chairs eating.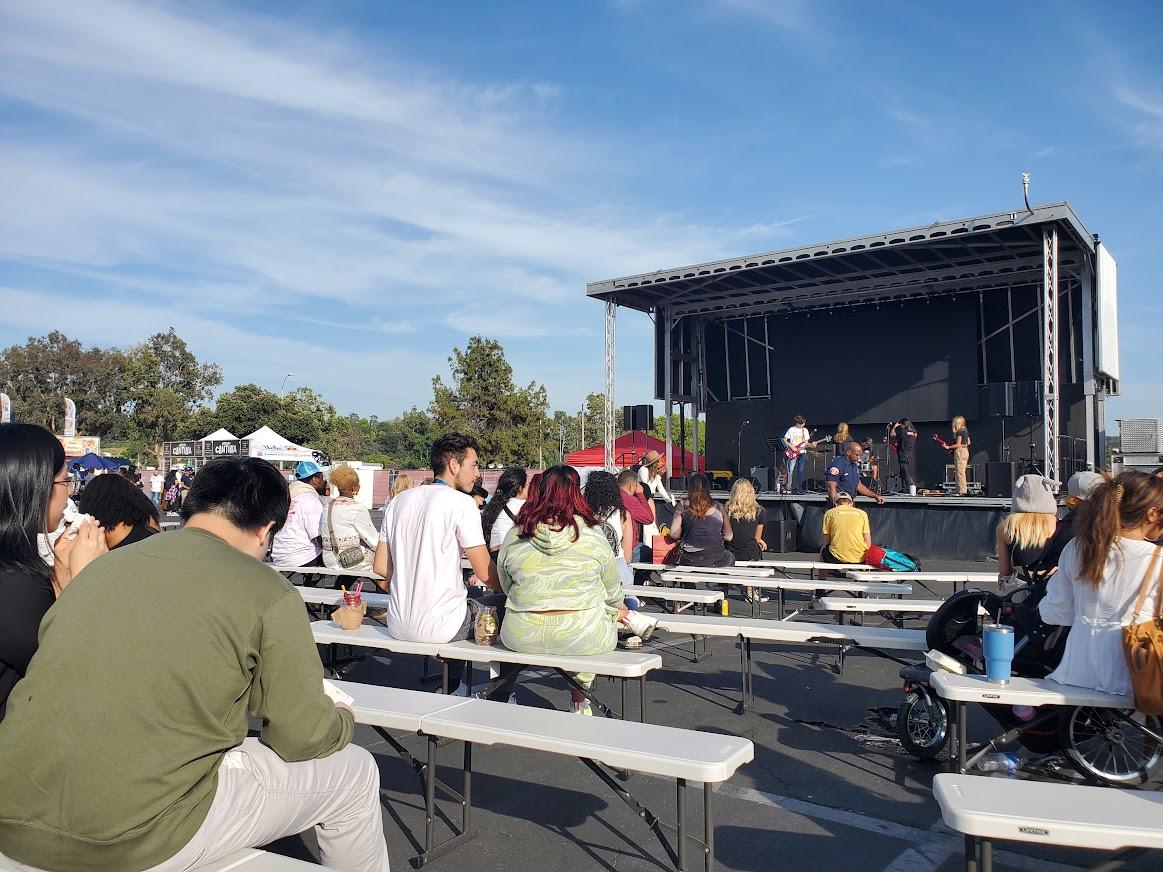 Food tents, food trucks, merchandise booths, carnival games, and arts and crafts tables were spread all the way from where the stage was to the far end of the Rose Bowl.  I walked over a bridge that crossed the L.A . River. It took me to an equally huge area full of food vendors. Each featured different cuisines and I could see that my main challenge would be deciding WHAT to eat.
There was soul food, frog's legs, alligator bites, oysters, Korean, Mexican, Japanese, Chinese, BBQ, Mediterranean, French, Indonesian, vegan, Ethiopian, South American, and more including desserts. Mini cantinas were set up throughout the night market and were serving wine, beer, and selected cocktails.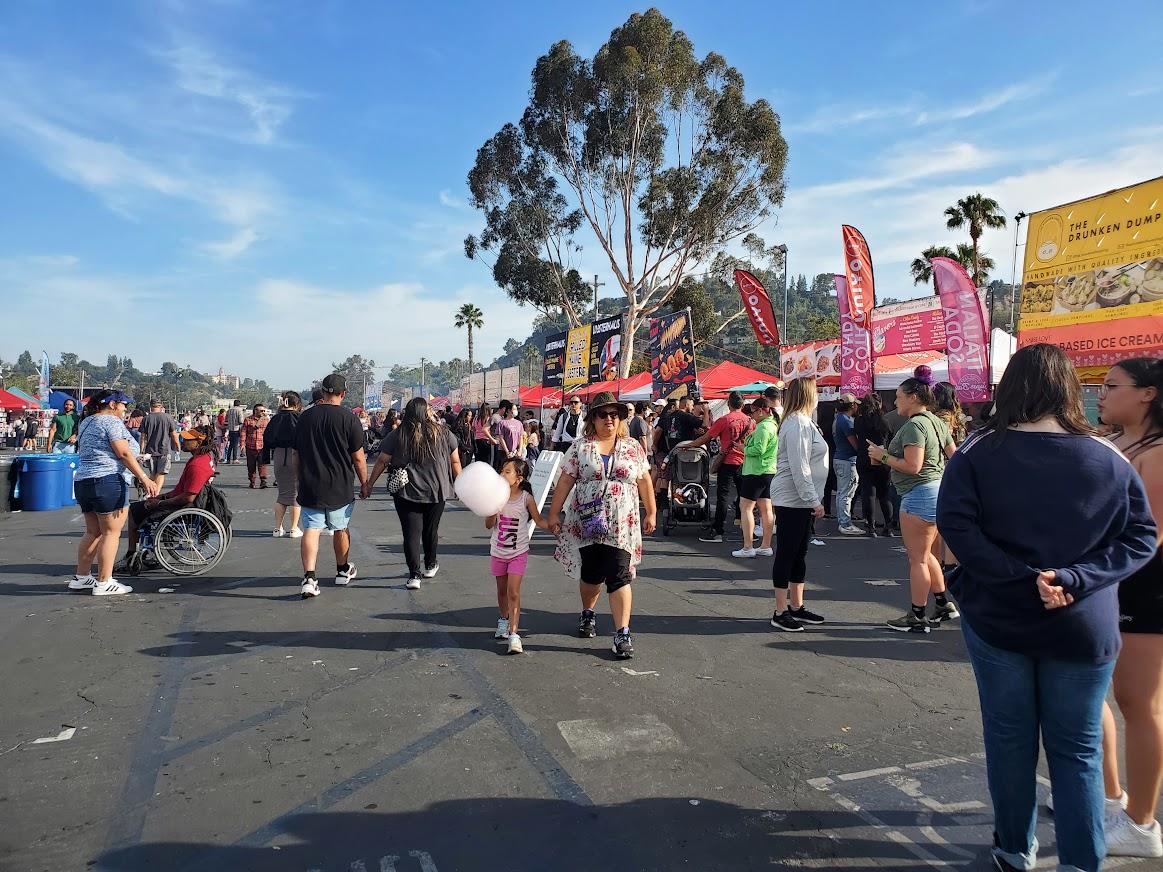 After checking out HUNDREDS of booths, I finally settled on ordering 2 Yakatori chicken skewers with mochi, a can of rose, and a small carton of dark chocolate ice cream.
By 5 pm people had swarmed into the night market by the thousands. When I left around 6 pm there was a long line to get through the gate and I was glad I had arrived early. I left before dark, but can only imagine how much fun the crowd had after having a few drinks and dancing the night away.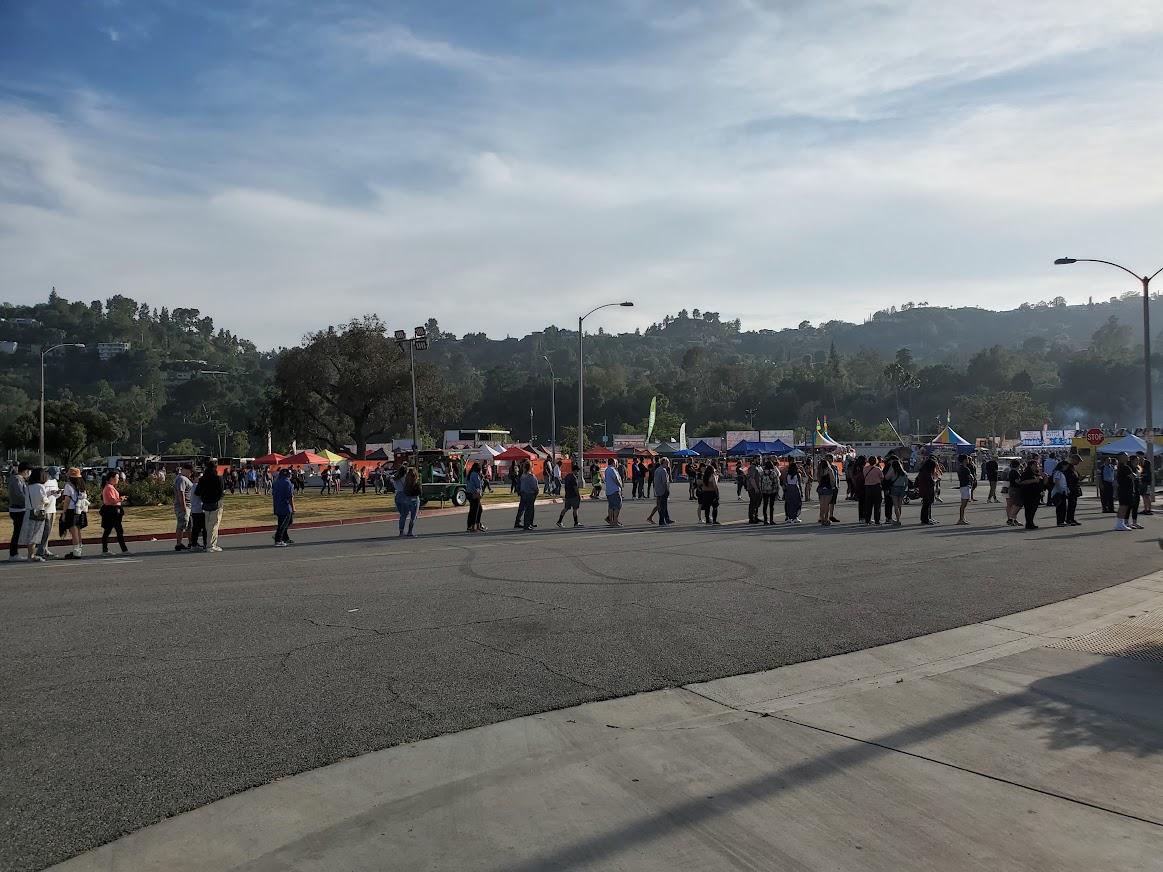 Why you shouldn't miss trying L.A. Street Food
Eating at a great restaurant is wonderful but if you are on the go exploring the city, and don't want to spend a ton on a fancy meal, L.A. street food is well worth trying.
Egg Slut was once a food truck that became so popular, it now has multiple locations including a permanent pop-up at Grand Central Market. That's another food lover's must-visit if you are in downtown L.A.
You can also enjoy a quick and tasty meal eating one of L.A.'s famous street dogs. They are sold by immigrants with pushcarts and you can find them downtown, in city parks, at the Convention Center, and on many streets.
Burbank hosts a monthly Magnolia Park Night Out on Magnolia Blvd on the last Friday of the month. At least 30 food trucks line up on both sides of the street between Hollywood Way and Buena Vista. Between bites, you can shop at the fabulous vintage, thrift, and specialty stores along the boulevard.
Open farmer's markets not only sell groceries but usually have a few food tents or trucks set up. Some of my favorite farmer's markets are in Calabasas, South Pasadena, Hollywood, Downtown LA, and Brentwood.
And don't miss the Original Farmer's Market located in the Fairfax district that features a variety of ethnic cuisines.
Are you hungry yet? Get ready to pig out in L.A.
This post may contain affiliate links. I will receive a tiny amount of compensation at no extra cost to you if you make a purchase.