If you have been around Los Angeles for any amount of time, you may have visited the Original Farmer's Market on 3rd street in the Fairfax District. It's been at the same location since 1934.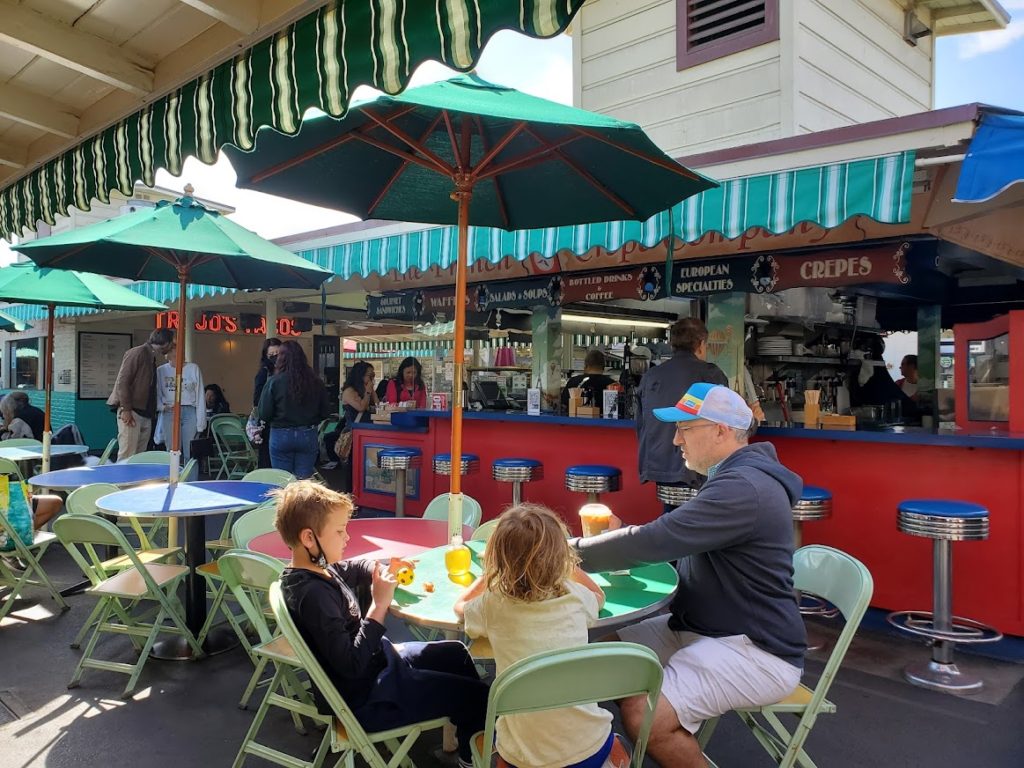 A short history of how it all began
In 1880, a man named Arthur Fremont Gilmore bought the property where the market is now and set up a dairy farm. He had a partner who owned land next door called The Grove. Gilmore discovered oil on his land in 1905, gave up the dairy business, and formed a company called Gilmore Oil. It became the largest distributor of oil products west of the Mississippi until the early 1900s when permits no longer allowed big derricks within the city.
After A.F. died in 1918, his son, E.B., took over and created Gilmore Gasoline which operated until 1945 when it was sold to a forerunner of the Mobile Oil Company.
The property then became a sports and entertainment center called Gilmore Island which consisted of an 18,000-seat football stadium, Pan-Pacific Auditorium, and a Drive-in. It was also used for rodeos and car racing.
In the early 1930s, during the Depression, entrepreneurs Fred Beck and Roger Dahlhejelm approached E.B. with a proposal to use the land for a farmer's market and shopping village. At the time, Los Angeles was one of the largest agricultural producers in the country.
Farmers in Los Angeles County wanted a central location to sell their crops to the public. The Gilmore's gave Beck and Dahlhejelm permission to organize a market and in July of 1934, 18 tenants began selling out of their trucks at 3rd and Fairfax. The market became so popular the sellers requested permanent stalls. By 1936, the Farmer's Market resembled what we see today.
A family owned company and culture
The Farmer's Market is currently owned by Frank Hilty Jr who is the great-grandson of A.F. Gilmore. Most of the long-time tenants of the Farmer's Market have inherited their spaces from their family members.
What you can find at the Original Farmer's Market
The market has always been a popular location for locals to buy meat, produce, fish, and spices. It's also a fun place to meet friends with an array of American, Jewish, gourmet, and ethnic foods. Tourists, who often arrive in busloads, can also load up on Los Angeles souvenirs.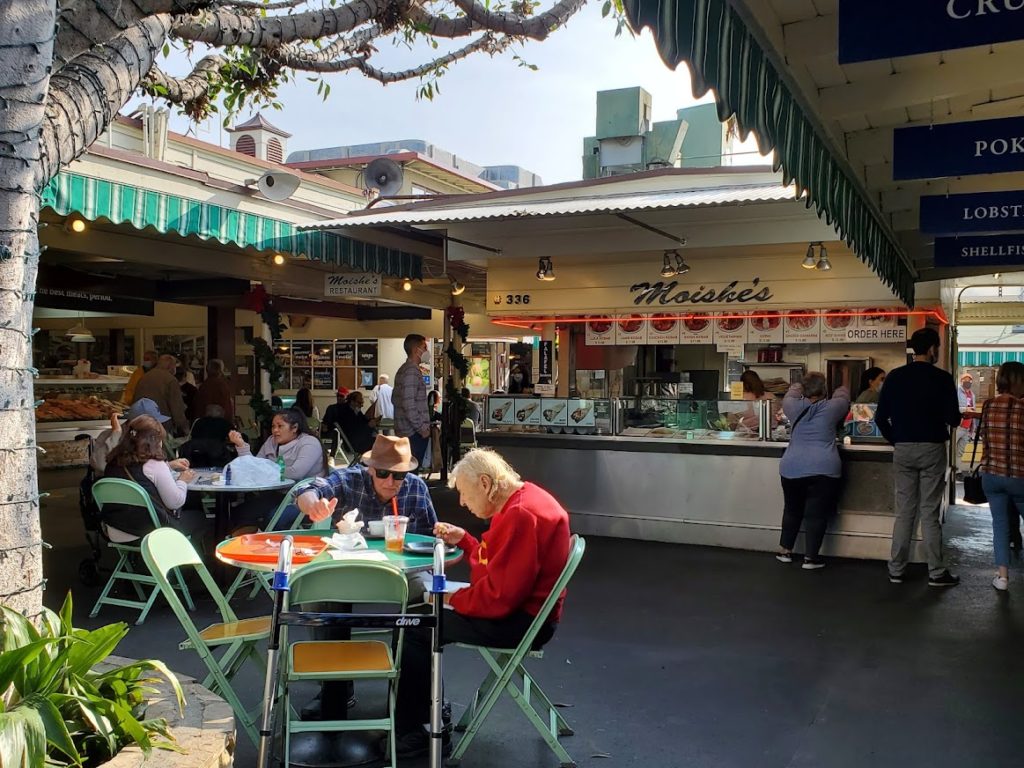 Dupar's Restaurant has been an L.A. institution at the market since 1938. If you eat there, make sure to try their to-die-for banana nut bread and pies made from scratch!
The market is open from 10 am to 8 pm and is a casual and lovely place to enjoy brunch, lunch, or an early dinner. Pick out a vendor or two and sit at any of the outdoor tables within the market on original vintage chairs.
During my last visit, I gobbled down yummy bagel and lox from The Salad Bar, sipped gourmet coffee from Coffee Corner, and indulged in a beignet from the Gumbo Pot.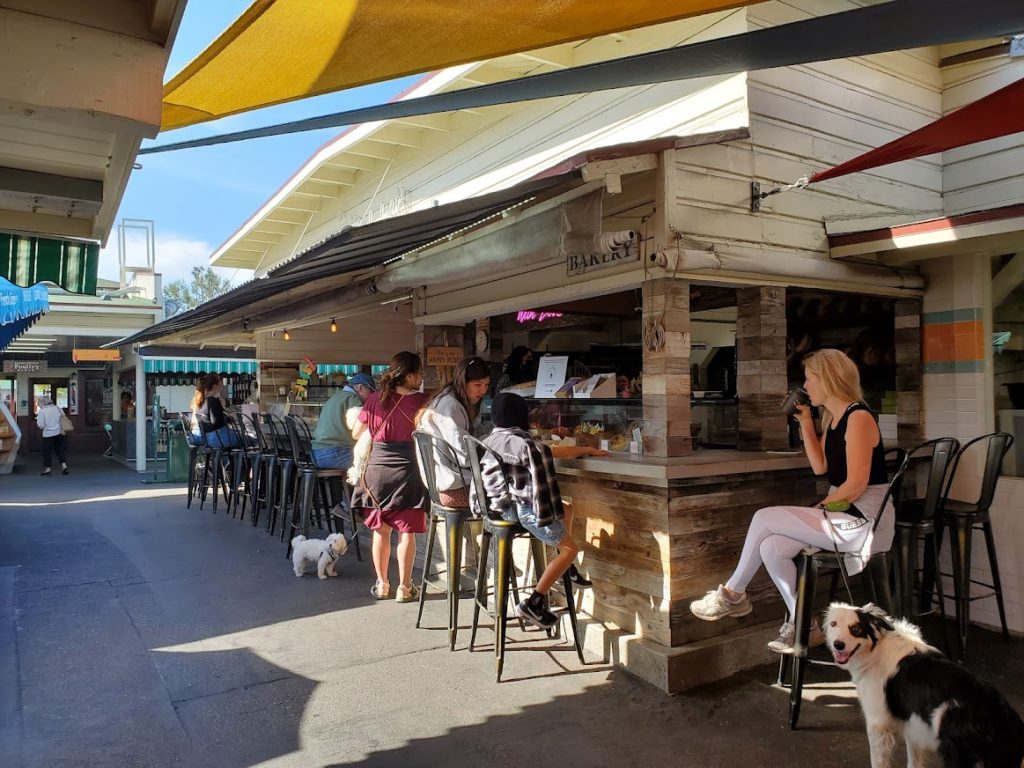 Although the market is outdoors, I've eaten there during a rainstorm. The buildings are covered with tarps and can be leaky, but it's still a wonderful experience.
Locals often go there to enjoy intimate concerts or as a meeting place. It is next door to CBS Studios so there is always a chance you can catch a celebrity or two having lunch or picking up food to take home.
Enjoy special events and shop while you are there
The market hosts a vintage car show every first Saturday in June and other events such as St. Patrick's Day and Mardi Gras celebrations.
You can easily recognize the market from the street by its famous clock tower constructed in 1948. It was sadly graffitied during recent protests but was cleaned up immediately by the community.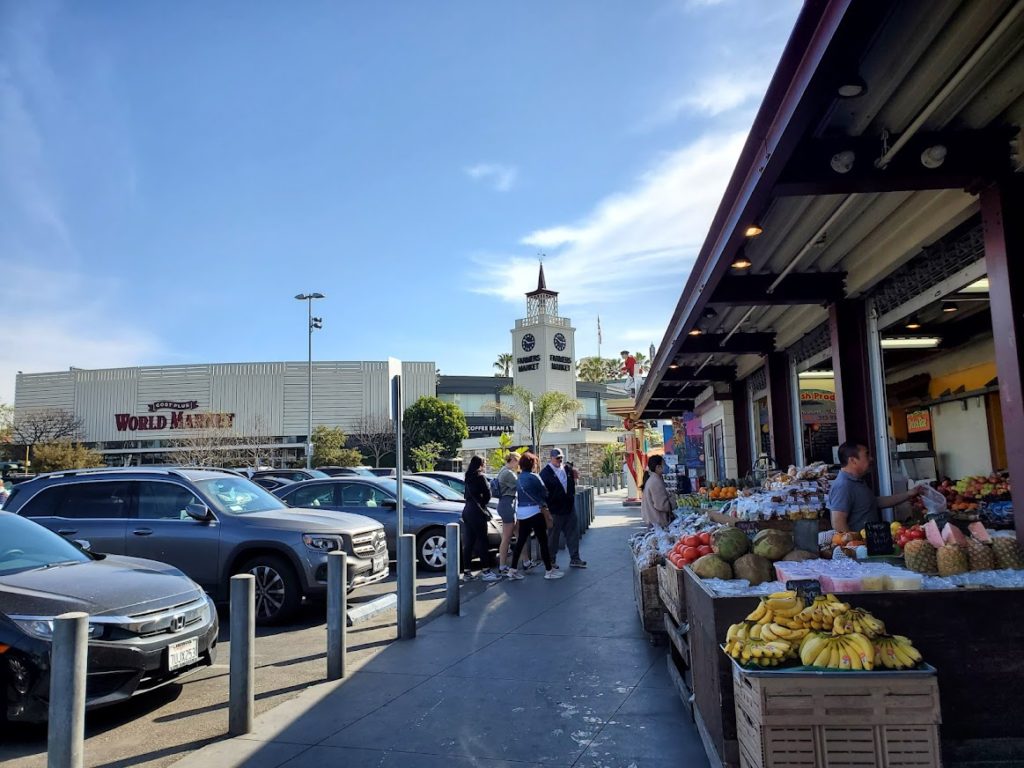 The Grove next door is now owned by Caruso Affiliated and has become a popular high-end shopping, restaurant, and entertainment complex.
This post may contain affiliate links. I will receive a tiny amount of compensation at no extra cost to you if you make a purchase.