TNH Productions, CASA 0101, El Centro del Pueblo & Councilmember Gil Cedillo present Arena A House MUSIC-al at CASA 0101 from June 17th through July 17th at CASA 0101 Theater in Boyle Heights. It's the story of a young Chicano man named Lucio Torrez who is gay and dealing with coming out to his family during the 1990s.
The musical was conceived and written by Abel Alvarado based on his own experiences and was directed by Rigo Tejeda.
Lucio's father, Adan Torrez, is a pastor who is appalled that his son is homosexual and enrolls him in the E.X.I.T. Gay Conversion program hoping he will "pray the gay away" and become normal again. Adan's own brother was murdered for being gay. Lucio's mother and sister are more sympathetic and do not want Lucio to become estranged from the family.
Most of the members of the E.X.I.T. conversion group are there begrudgingly, and the program's founder, Erik, is hiding behind his own homosexuality.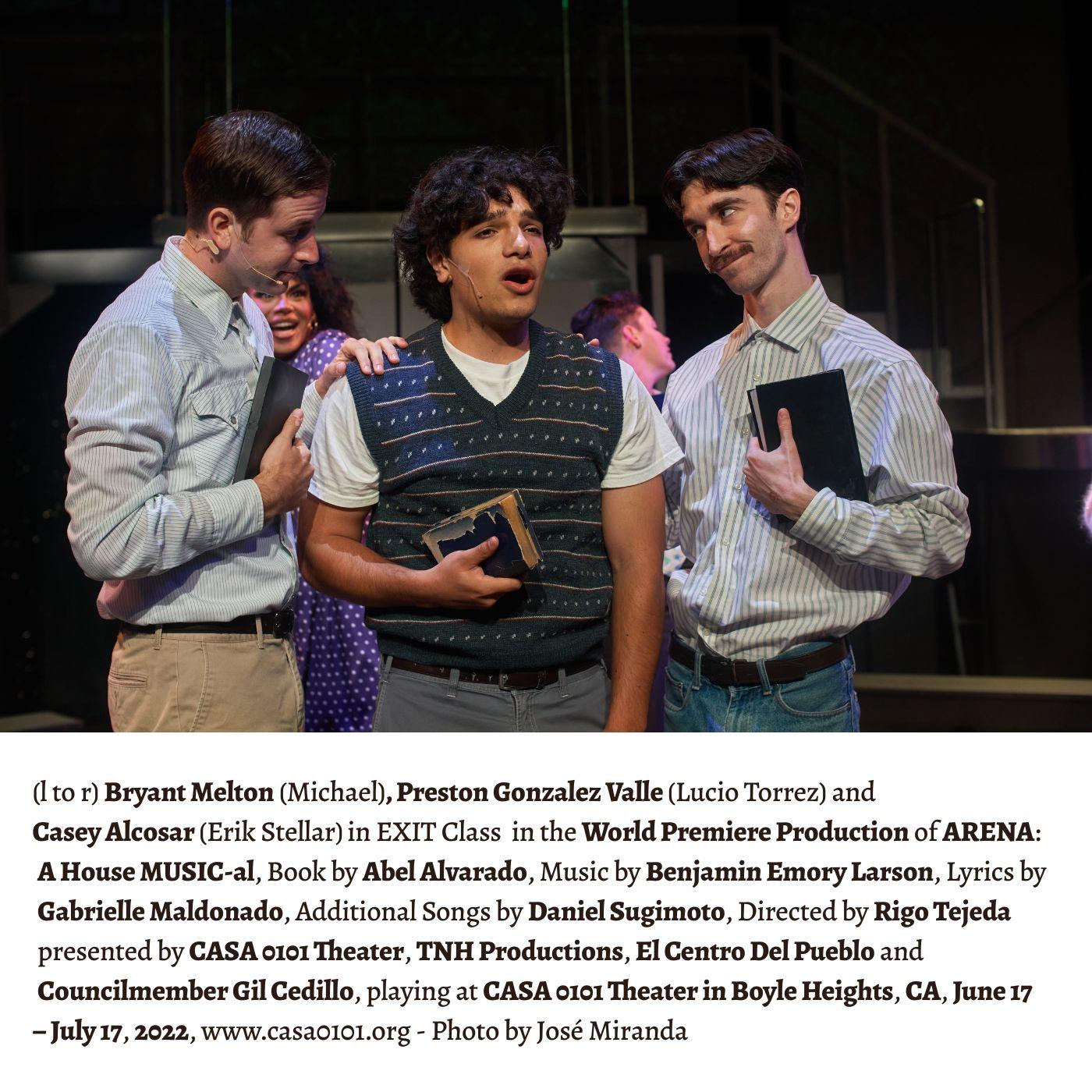 To escape, Lucio and his friends play hooky to party on the town. They find that mainstay clubs like Studio One in West Hollywood and Oil Can Harry's in the Valley are prejudiced against gay men of color and they are harassed by the bouncers at the door. The legendary ARENA Nightclub in Hollywood, owned by a Latino and friendly to LGBTQ of color becomes their refuge.
The timeframe of the play takes place toward the end of the AIDS crisis. AZT was approved in 1987 to treat it, but people were still dying from HIV rapidly far into the 90s as is depicted in the play when one of Lucio's friends dies from it.
During the performance I saw of Arena a House MUSIC-al there were technical mic glitches mostly in the first half as well as several slow cues throughout. However, it was the first weekend and there were probably still bugs to work out. Lines and singing were lost because of it which was unfortunate.
The performers
Preston Gonzalez Valle achieves a believable and impassioned performance playing young Lucio. He is torn between following in his pastor father's footsteps and discovering his true self. Chrissi Erikson plays his sassy sister Angelica and has several comic moments that are delightful. Casey Alcoser is a quintessential flamer as Erik Steller, founder, and program manager of the E.X.I.T Gay Conversion group.
Milton David as Lucio's father and Amy Melendez as his mother both convey deep concern and pain as they struggle to deal with their son coming out.
The Arena ensemble is a colorful cacophony of LGBTQ led by larger-than-life drag queen Ms. Martin Mendez, House of Mirage, and Arena hostess played by Luis Ceja. They dance, sing, and cavort in wild costumes and exaggerated makeup which is entertaining and gives us an idea of what gay nightclub life was like back then.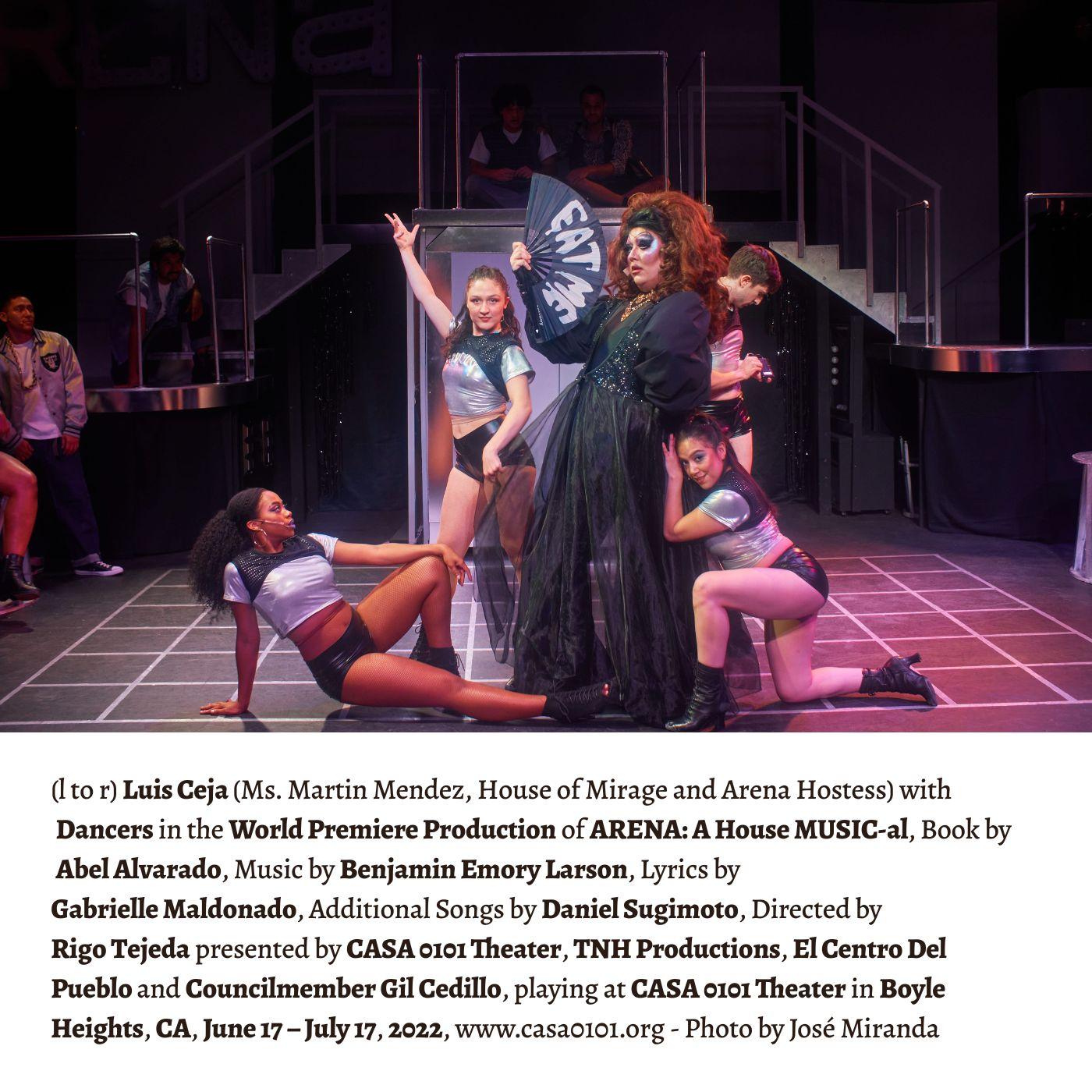 There is a warning in the program about nudity in the production, but it was mainly butt cheeks in thongs and a see-through blouse with pasties. Still, the show is recommended for ages 17 and older.
More poignant moments in the performance include Lucio saying goodbye to his first love who is leaving him to get married to a woman even though he is gay. It is also heartbreaking when his father kicks Lucio out of the house after his family catches him singing at the Arena on TV when he thought they were out of town.
Arena a House MUSIC-al coincides with PRIDE month which annually takes place in June.
For tickets to Arena a House MUSIC-al, contact Casa 0101 Theater
2102 E. First St. Los Angeles, 90033.
323.263.7684
This post may contain affiliate links. I will receive a tiny amount of compensation at no extra cost to you if you make a purchase.