When tourists think of Hollywood, there are two places of interest that come to mind; the Hollywood sign and Hollywood and Vine. Both have been romanticized as the quintessential Hollywood experience and visitors flock to them. Many are underwhelmed.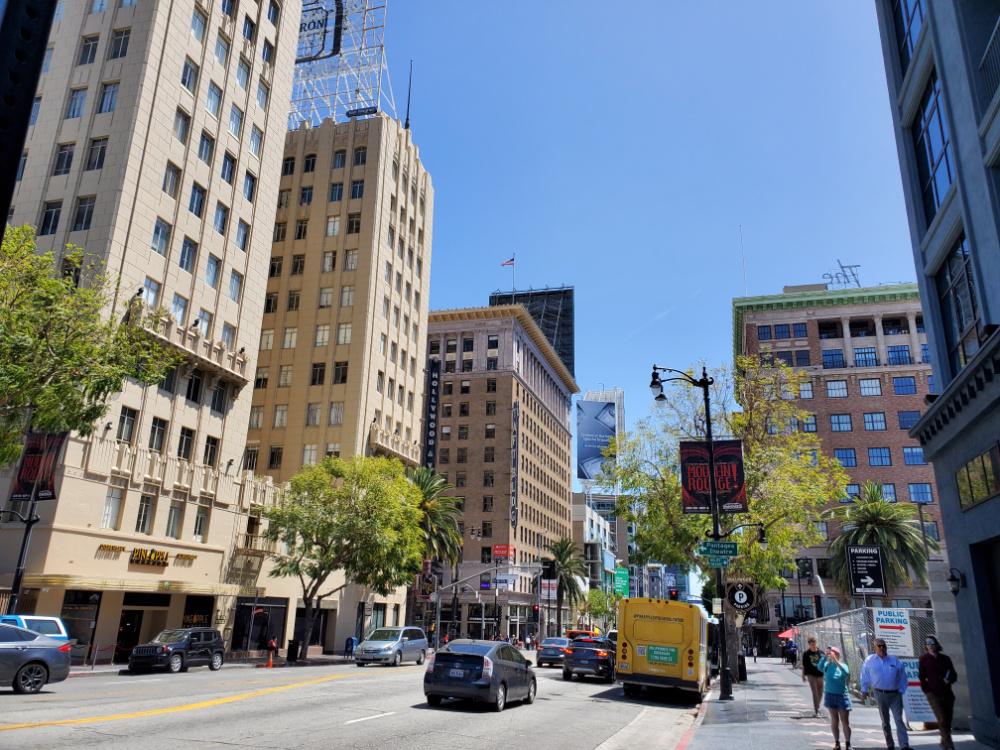 Give me an H-O-L-L-Y-W-O-O-D!
To fully experience the Hollywood sign, which was originally a real estate promotion for a development up in the hills, you need to hike to a vantage point in Griffith Park to get a decent view. That's fine if you are up for a good sweat. Access to it on Beachwood Canyon is cut off except for local residents but that doesn't stop people from standing in the middle of the street while cars are whizzing by.
Hollywood Boulevard may not be what you are expecting
The famous Walk of Fame runs 1.3 miles east to west on Hollywood Boulevard from Gower Street to La Brea Avenue. Most of the action is between Highland Ave and Vine Street. It has a carnivalesque atmosphere much like Times Square in New York City or Fisherman's Wharf in San Francisco. You will encounter pushy tour operators, weird museums, and tons of colorful characters.
It underwent some renovation after being severely damaged by the 1994 Northridge Earthquake but still has a seedy side. There are a good number of homeless people, drug pushers, prostitutes, street kids, and hustlers so if you venture there, hang on to your valuables.
I took a stroll myself with my smartphone and shot a video so I could show you what it's like to walk between Vine and Highland.
Click on the player below
Despite its shady side, it's still pretty cool
My first real adult experience with Hollywood Boulevard was in the mid-70s when I came to town with my head full of acting dreams. I took classes at the Lee Strasberg Institute which was upstairs in an old building near the old Snow White Café (1946) just east of Highland. The cafe was grungy then but now it's a tasty place for breakfast or lunch.
I moved to Hollywood's Beachwood Canyon a decade later in the 80s and 90s and often went down to the boulevard to see movies. As a member of the film industry, I have attended my share of parties, screenings, and happenings there over the years. I have no problem walking around in the daytime, but I wouldn't recommend doing it at night by yourself, especially if you are a woman.
Places of interest to enjoy on Hollywood Boulevard while you are there
If you are into wacky museums there is The Guinness Book of World Records, Ripley's Believe it or Not, Madame Tussauds Wax Museum, and the Museum of Illusions.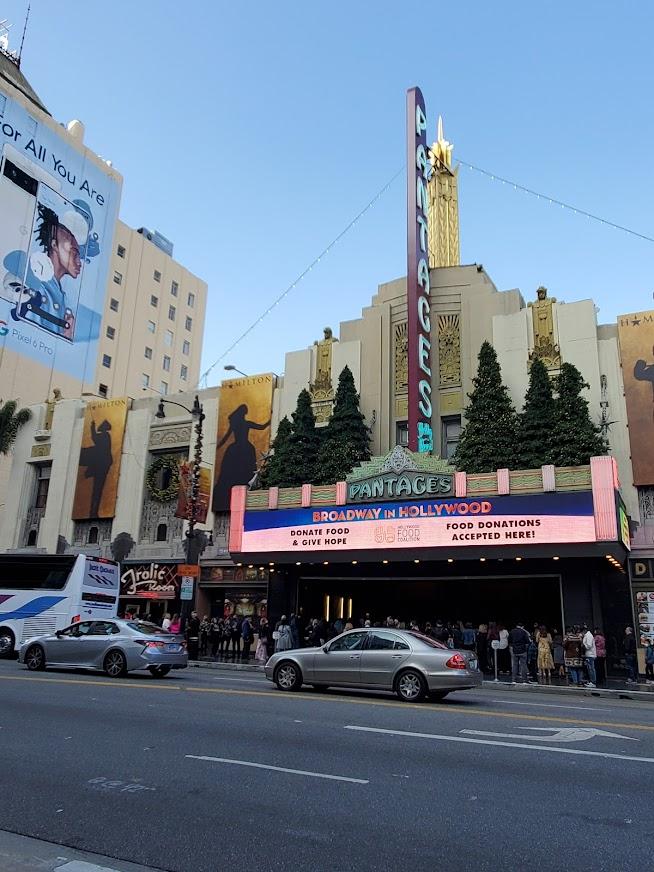 Iconic theaters include The Pantages, El Capitan, The Egyptian (currently under renovation), and the TCL. (formerly Grauman's Chinese)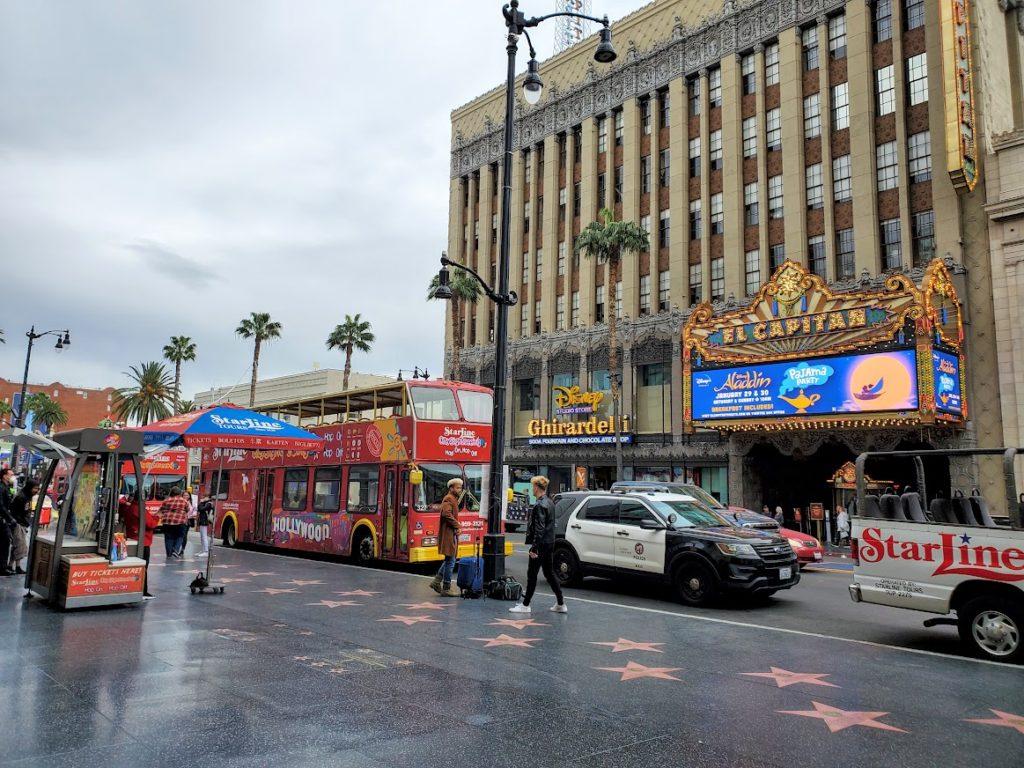 There is also the Dolby Theater and Ovation Hollywood shopping center where the Oscars are held at the corner of Highland and Hollywood. If you are inside the complex, make sure to visit Japan House. It's lovely.
What you probably won't see on the Boulevard
Celebrities.
Sure, you'll see plenty of stars on the sidewalk with celebrities' names, but most stay far away unless they are filming there. You may catch a glimpse of some if there is a movie premiere or on Oscar night but the street gets blocked off and there is heavy security.
I once saw the entire cast of Dancing with the Stars on the street while attending a meeting at Dave & Busters. On another occasion, I went to a screening for a movie starring Arnold Schwarzenegger at the Dolby. He and his pal Sylvester Stallone were there. Afterward, we attended a party for the film by the pool across the street.
The Hollywood Roosevelt Hotel
One of my favorite places to visit on the Walk of Fame is the Hollywood Roosevelt Hotel which was built in 1927. It is the oldest continuously operating hotel in Los Angeles. If you visit the Boulevard, make sure to stop there. It is the site of the first Academy Awards which was held in the Blossom Room in 1929. There are stories about ghosts who may watch you from the shadows, but its beautiful Spanish Colonial design and ambiance are stunning.
There are several bars inside where you can enjoy a vintage cocktail or get a bite to eat. I love to sit outside by the pool where industry people hang out and network. You never know. You may get discovered. The hotel was the filming location of movies such as The Fabulous Baker Boys, Beverly Hills Cop II, and shows like Curb Your Enthusiasm, among many others.
The Jimmy Kimmel Show
Another opportunity to be starstruck is to go to a taping of the Jimmy Kimmel Show. He films his show at the old Masonic Temple next to the El Capitan, now called the El Capitan Entertainment Center. Maybe you'll run into Guillermo.
Need a bong, sexy lingerie, or a tattoo?
If you are walking on the Boulevard, you will pass several lingerie stores. The Famous Fredericks of Hollywood is no longer there, but there is still Hustler Hollywood, Lady Love, and Playmates.
Some of the smoke shops along the way have been there for as long as I can remember. Now that marijuana is somewhat legal in LA, I'm sure they are thriving.
Tattoo parlors, souvenir shops, and Scientology centers are also scattered nearby. There's something for everyone, I guess.
Where to eat and drink
The most iconic eatery on Hollywood Boulevard is the famous Musso and Frank Grill. You have probably seen it featured hundreds of times in films and on TV. It has been continuously open since 1919 and some of the waiters are almost that old. LOL! It's a fabulous place to eat and if you make a reservation make sure to have a martini.
Another very old restaurant, the Pig 'n Whistle has sadly closed for good. It opened in 1927.
There are hidden and not-so-hidden bars on and off the boulevard and are worth stopping in if you know where to look. The Frolic Room is the most visible next to the Pantages. You can't miss its colorful neon sign. Others include Secret, Dirty Laundry, the Lost Property Bar, and Boardners.
One of my favorite restaurants is Miceli's located at Hollywood Blvd and Las Palmas. It's been in operation since 1949. I used to hang out there after doing theatre nearby. You can't beat its amazing Italian cuisine and live music.
Are you into rock?
Amoeba Music has a new location across from the Pantages. It used to be on Sunset Blvd. You'll find all sorts of music there. It isn't quite as extensive as the old Tower Records on the Sunset Strip, but it's close. If you are looking for a cool rock tee-shirt, which is tres chic right now, they have a huge collection with graphics from past and present popular bands.
The best way to get to the Walk of Fame
Parking can get crazy, especially on the weekends. It's not too bad on weekdays if you don't mind walking a bit. You can download the Park Smarter App on your smartphone to pay for the meters. The parking patrol is active there so make sure you are covered.
There is also Uber and Lyft but they can be expensive during peak times. My favorite mode of transportation to the Boulevard is to take the L.A. Metro Red or Purple Lines. There are two stops. One is conveniently located across the street from the Pantages at Hollywood and Vine and the other is smack underneath the Dolby Theater at Hollywood and Highland.
My recommendation is to find a hotel near Universal Studios and CityWalk. There is a Metro stop on Lankershim just beneath it and if you are staying at one of the hotels there, you can take the tram down the hill. The L.A. runs all the way to Union Station in Downtown Los Angeles. It is just one stop to Hollywood and Highland near the Dolby and two to Hollywood and Vine. Make sure to wear comfortable shoes, a mask, and carry hand sanitizer. You may also want to carry a water bottle to stay hydrated.
Tour hucksters are everywhere
Chances are someone will ask if you want to take a tour of celebrity homes. Say no! First of all, most of those homes have big bushes or walls hiding them. Second, it's kind of rude, don't you think?
You can take a fun tour of Hollywood as well as other parts of Los Angeles on Big Bus Tours. I enjoyed them in London and Rome and now they are in L.A. I have also taken Starline Tours to movie locations in Hollywood and Downtown. It was comfortable and entertaining. Pick them up at Hollywood and Highland.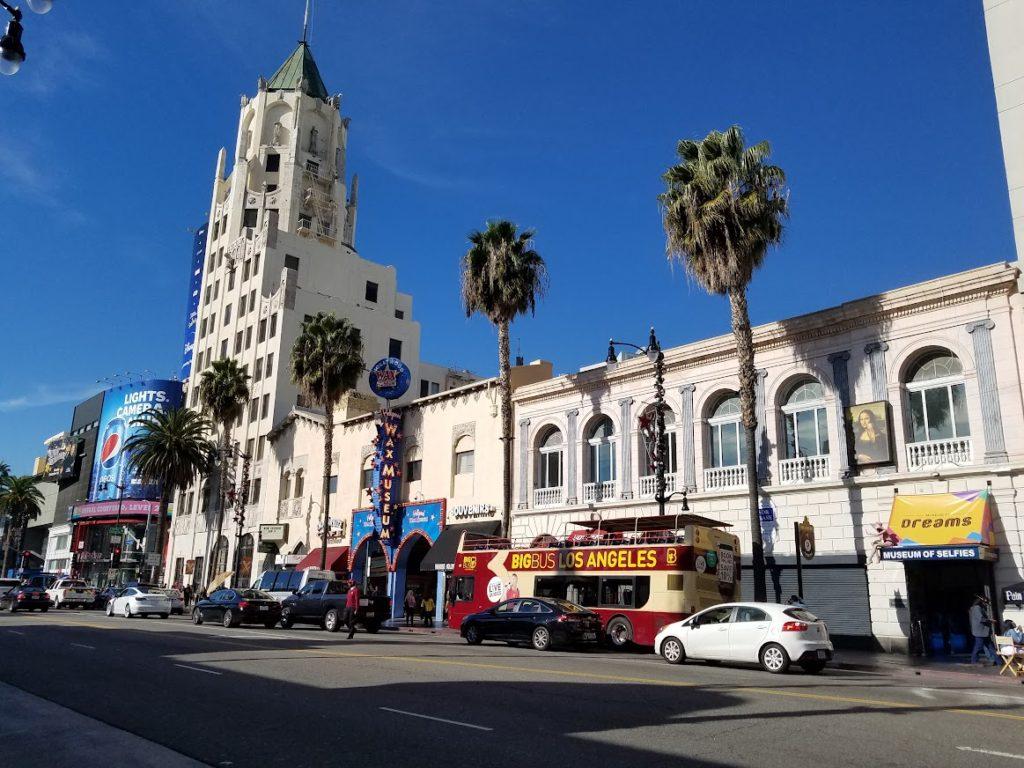 Crazy characters are everywhere
I once rode the L.A. Metro with Darth Vader. When you get to Hollywood and Highland you will see Mickey and Minnie Mouse, Spiderman, Marilyn Monroe, Chewbacca, and all sorts of oddballs. But a word of caution, watch out for those guys. They want your money and may get nasty if you try to shoot a photo with them. The majority are struggling actors, but some aren't so nice. Just say no or give them a buck or two if you want.
I also had a creepy encounter with Cookie Monster at the Observatory. He got pretty testy when I tried to take a photo that he happened to be in.
Don't get me wrong. Hollywood Blvd can be fun to visit and there is plenty of Hollywood history to take in. I just wanted to let you know what it's like in case you were expecting it to be Disneyland.
Click here for things to do on Hollywood Boulevard
This post may contain affiliate links. I will receive a tiny amount of compensation at no extra cost to you if you make a purchase.