Echo Park is a community in Los Angeles not far from downtown that is artistic and diverse. It's where bohemians and hipsters commiserate in gentrified coffee shops, hang out in cozy bars, or shop in far-out boutiques. It also has an edgy side, with its share of homeless, and colorful characters. But one place everyone can go for relaxation and a touch of nature is Echo Park Lake.
Watch this video of my walk around the lake
Click on the player below:
It's a man-made reservoir that was built in 1870 to provide drinking water for the local residents. The lake has undergone massive cleaning and renovation in recent years and is now on the list of "things to do in LA" for those yearning for peace and serenity.
In all the years I've lived in LA I had never walked around it and only passed by on my way to somewhere else. So, one spring day, I decided to give it a closer look. The weather was perfect as I walked around the lake, which is approximately 1 mile and an easy stroll if you're over 50. Families of geese were everywhere with gooselings in tow.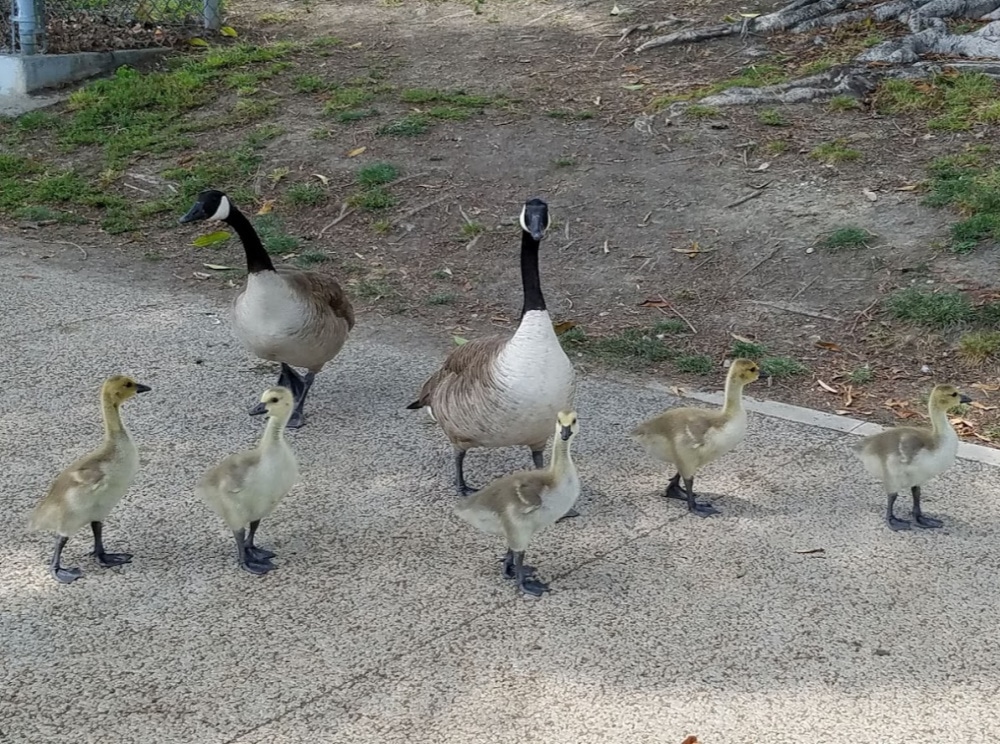 There were plenty of pooches there as well so if you have a dog, it's dog friendly.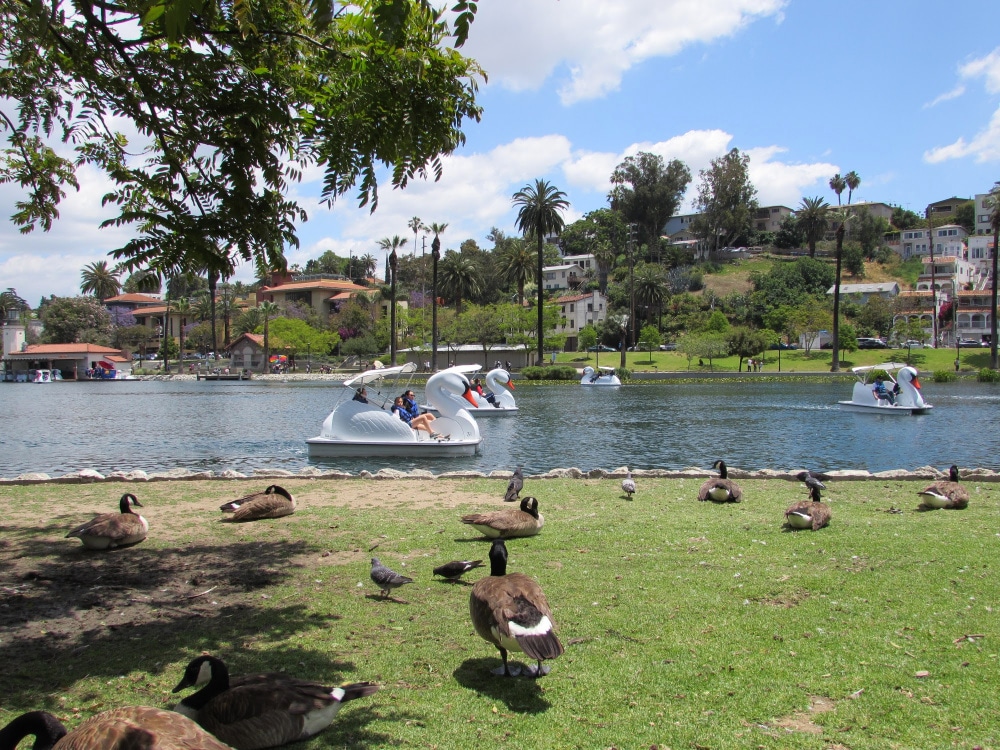 The lake has a striking view of Downtown Los Angeles
On any given weekend, paddlers in adorable swan boats fill the lake and lazily float by taking in the scenery and the nearby skyscrapers.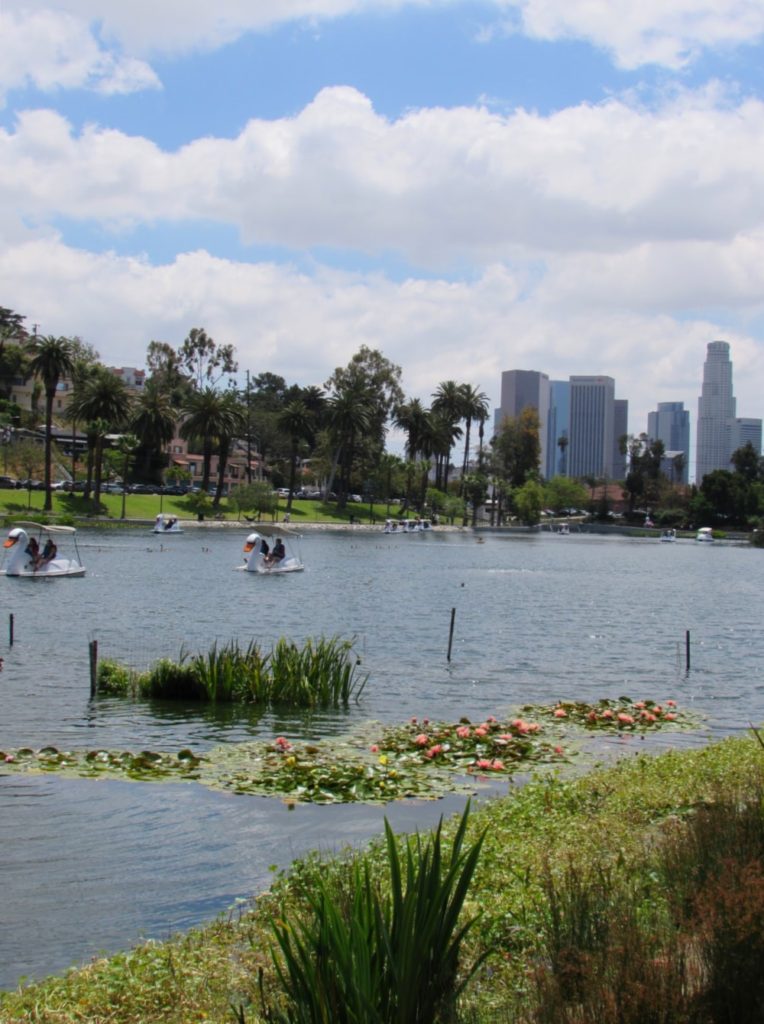 A famous landmark at the northern end of Echo Park Lake is the Angelus Temple where evangelist Aimee Semple McPherson held services at the first mega-church in Los Angeles. The building, which holds almost 9,000 people, was erected in 1923 and looks like a theater on the outside. It is currently the International Church of the Foursquare Gospel.
Not far from the lake is Angelino Heights where you can take a tour of some of Los Angeles's last-standing Victorian Homes.
The Echo Park Lake Lotus Festival
Echo Park Lake has an annual Lotus Festival that takes place in July so if you are there during the summer make sure to take time to go.
It's a celebration of Asian culture with a different country in focus each year. When I attended it was all about Thailand.
Parking is at a premium so if you can take an Uber, it may be worth it.
The lake is filled with joyous paddlers in swan boats, the big fountain flows, and festival tents are erected on the Northern end of the lake.
There are multiple vendors, food stalls, and a tented entertainment area for various ethnic dance groups and demonstrations of Asian culture.
When I was there, Chinese Dragon Boats were launched by teams of rowers who navigated the lake trying hard not to bump into the swan boats.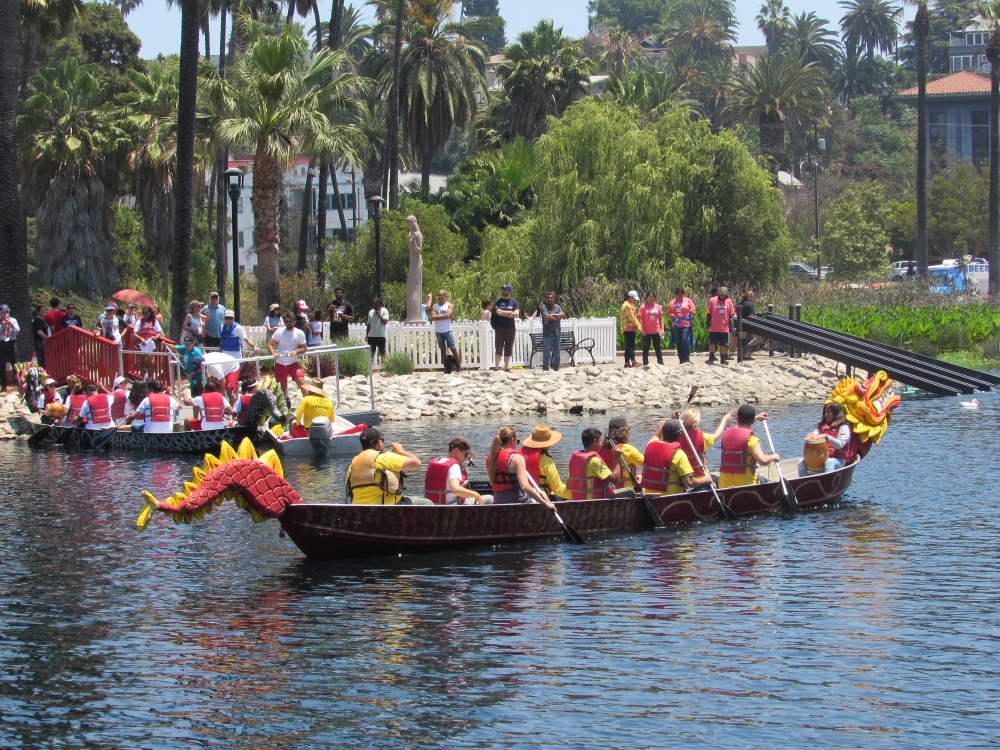 The lake's Japanese-style bridge gives the festival a serene look as it rises above the blooming lotus beds.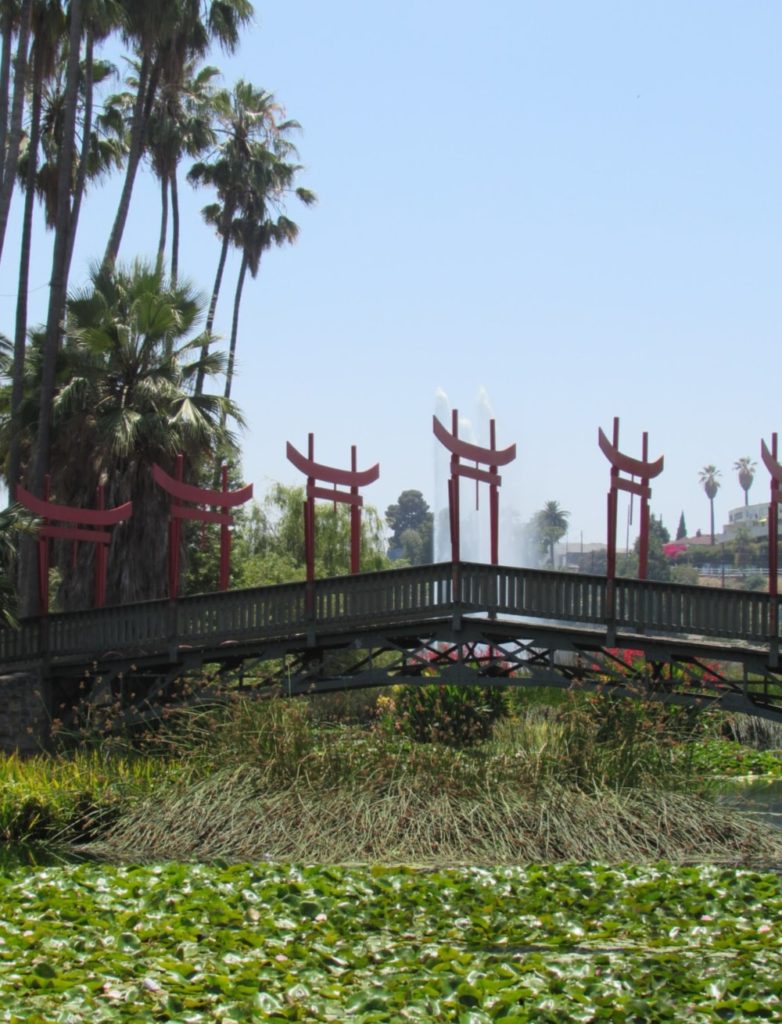 The vendor tents are manned by community organizations, voter registration volunteers, and sellers of Asian and Hispanic jewelry, clothing, and art. There is continuing demonstrations and entertainment throughout the day.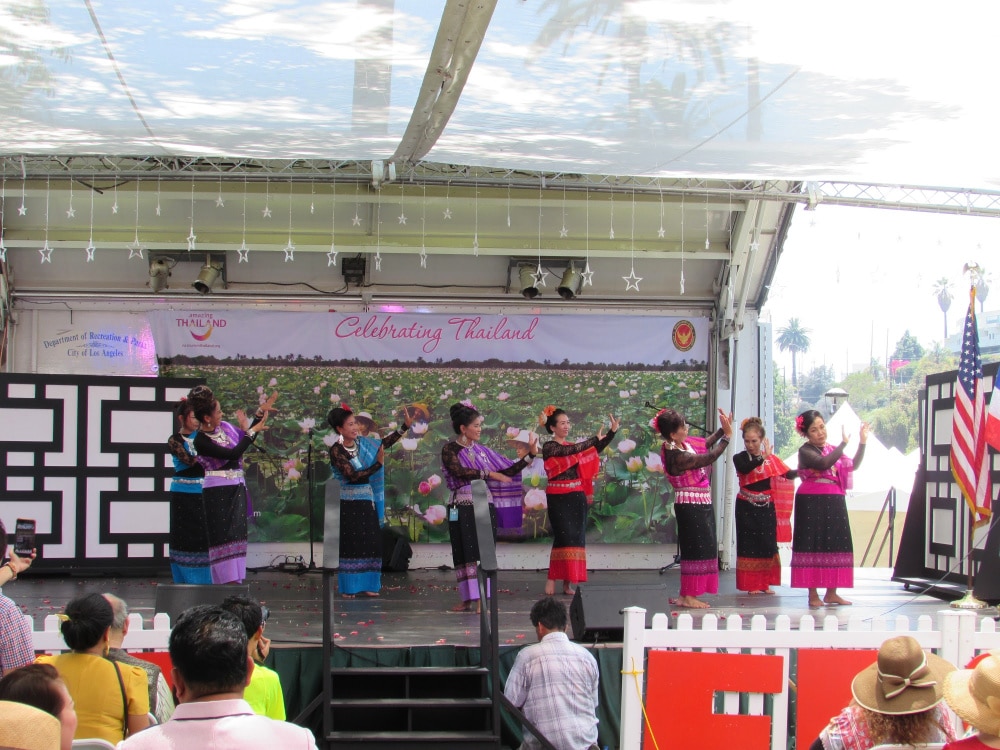 You can also get lunch from Asian and other ethnic food vendors making it a lovely way to spend the afternoon.
It's beautiful all year round
I love urban city lakes and although Los Angeles has several, Echo Park Lake is one of my favorites. I'm so glad it's been revitalized for everyone to enjoy. Anyone who needs a respite while visiting LA will find peace and relaxation there and feel welcome.
Find the best events taking place in Los Angeles HERE
Do you have city lakes where you live? What's your favorite one and what do you love about it? Please leave a comment below.
This post may contain affiliate links. I will receive a tiny amount of compensation at no extra cost to you if you make a purchase.