Art popups are everywhere, and the city of Los Angeles is no exception. You never know where you will find it. Often it can be unusual and exciting. The Unnamed Road is a gallery that doesn't have a building. It's a gallery experiment that promotes exceptional artists in locations throughout the city.
I was invited to preview the Unnamed Gallery's latest popup called Mapping the Dragons: In Uncharted Territory. It is currently being housed at 2270 Venice Boulevard, Los Angeles 90006 in the East Adams district near downtown and runs from Feb 16-25, 2022. The exhibition features 3 diverse artists, Gayle Friedman, Hikaru Hayakawa, and Armando Lopez.
Although each artist has a completely different style, they all explore the theme of confronting their journey in life, their thoughts about how they see the world at large as well as their personal struggles, demons, and dragons.
About the "Gallery"
Unnamed Road Gallery is the brainchild of Lynn Dougherty who has an MA in Art Business from Sotheby's Institute/Claremont Graduate University and Drucker Management School. She also has a background in documentary filmmaking for National Geographic TV, Discovery Channel, PBS, and others.
Artists she promotes include emerging and unrepresented creators of whom some are self-taught, LGBTQ, POC, elder, female, and rural. Popups appear in spaces throughout the city or in private residences.
Mapping the Dragon – The Artists
Gayle Friedman lives in Washington, DC where she received Artist Fellowship Grants from the DC Commission on the Arts and Humanities from 2018-2022. Her first solo show took place in 2018 at the International Arts and Artists at Hillyer Gallery in DC. She was also an artist in residence at Red Dirt Studio in Mt. Ranier, MD.
I talked to her for a little while at the popup. She is a Baby Boomer who creates her art using various objects such as tools she inherited from her father and blue and white porcelain bottles and dishes from her mother. She said it was a learning experience shipping her creations from DC to LA without damaging her work.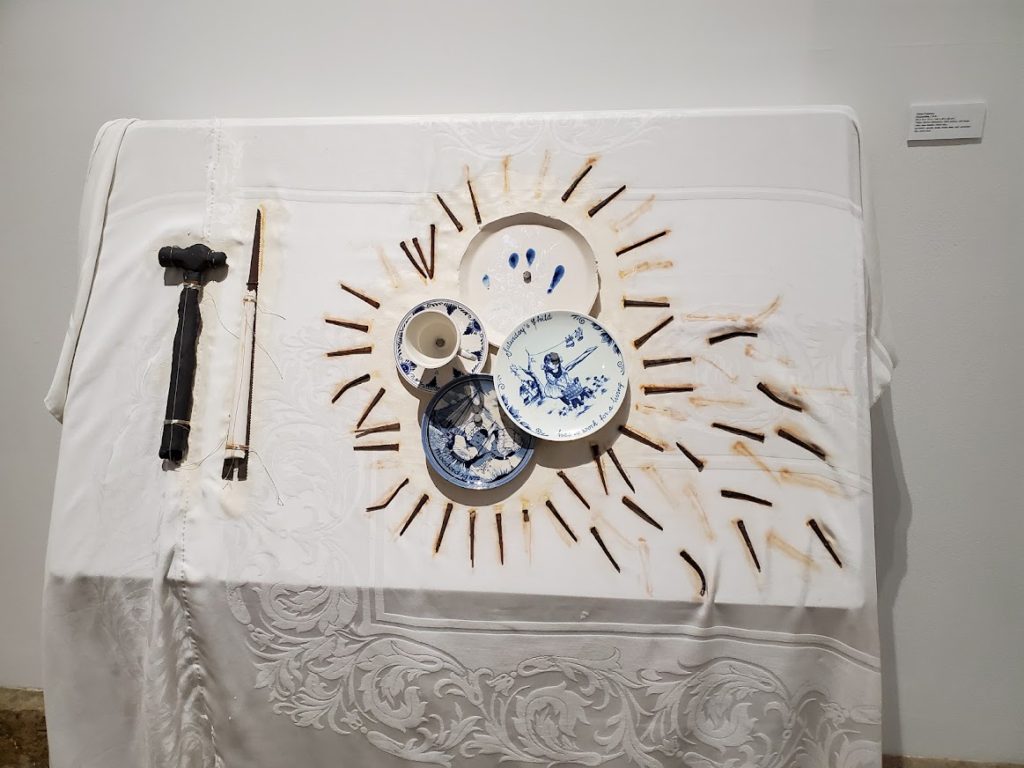 Armando Adrian Lopez taught himself how to paint and sculpt. He was born and raised in a small village in Mexico and immigrated to the US in 1988. His origin is Purepecha which is an indigenous pre-Columbian tribe native to the Sierra Madre Mountains. His artwork reflects the culture in bright colors and spiritual and somewhat frightening images. He currently lives in rural Abiquiu, New Mexico with a partner, and much of the materials he uses to construct his art were collected there.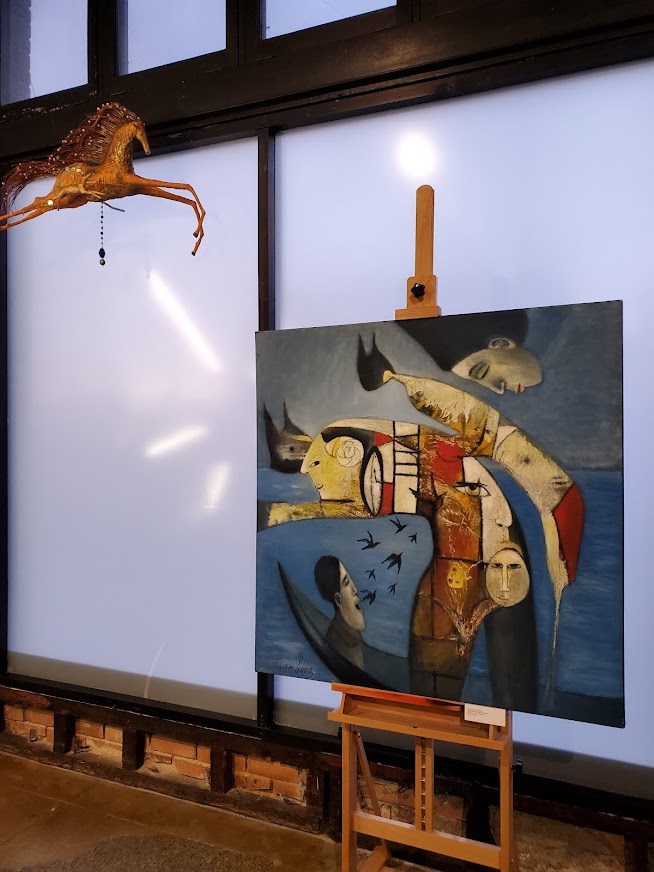 Hikaru Hayakawa was born in Osaka Japan and moved to Los Angeles in 1987. He earned an MFA at Otis Art Institute of Parson's School of Design. I found his work to be quite fascinating as he explores the history of civilization and geography using various media.
On a large piece of wall art called Whirlpool, he maps the earliest areas that humans lived in print, ancient kingdoms, and locations with the latest countries and regions on the outer edges of the work.
He maps the same on a sculpture called Panta Rhei (4,000 years of human history) made of copper tubes etched with names of past and present regions that end in a fountain of water. You could spend hours looking at both.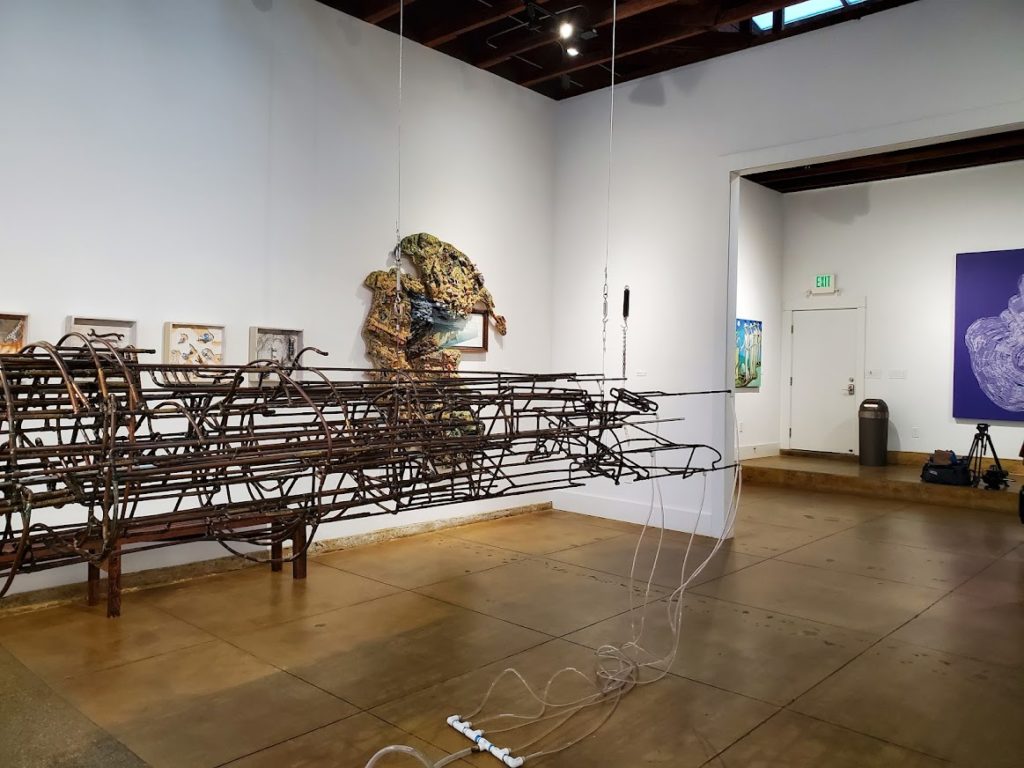 Another work called Destination charts Earth's continents made of wood with mixed media that includes photos from those areas. Rays of light from each continent flow to the center of his creation.
Find art on the road
If you are looking for an exciting art experience, visit the Unnamed Gallery Road website to see what they have in store.
This post may contain affiliate links. I will receive a tiny amount of compensation at no extra cost to you if you make a purchase.